We all dream of living on the beach; the home of those dreams includes a balcony overlooking the turquoise water of the sea and a front door opening right on the soft, white sand …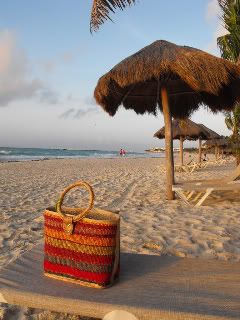 While there most certainly is a lure to this image, in the majority of cases, Mexico real estate buyers will do well to consider properties a couple of blocks back.  Before deciding the only home for you is one directly on the sand of the beach, consider the following points.
More for Your Money & Lower Prices
Direct beachfront property is what everyone dreams of.  For this reason, demand is higher, and consequently prices are higher – noticeably higher.  While a beautiful Puerto Vallarta or Playa del Carmen condo for sale overlooking the beach is still MUCH lower priced than one in similar locations in the U.S., they are still more expensive than very nice condos a couple of blocks back.
If you buy that condo a few blocks back, one of two things will almost always be true:
you will get a condo of similar size and design, in a similar complex for the same price, or
you will get a much nicer or larger condo for the same price
You're Still VERY Close to the Beach
Simply by moving to Mexico's beachfront, you are cutting a few thousand miles off your trip to the beach.  What's a 5 minute walk?
Besides that, most people find the walk relaxing, past cafes, restaurants, shops and galleries.
For those who prefer the walk to the beach, there are dozens upon dozens of properties for lower prices.  For those who prefer to drive everywhere anyway, the options grow exponentially; a 5 to 10 minute drive to the beach is easy enough!
In reality, you can still obsess about beaches!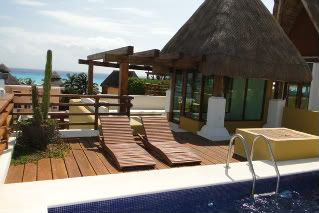 Sunshine, Warmth and Nature Still Abound
All the other benefits of living in Mexico – from warm weather, to modern services, to the low cost of living – are still exactly the same.  Living in a beautiful community with green spaces and tree-lined streets in a very sunny place is by no means a compromise.
BUT … (the exceptions)
There are a couple of cases where you might want to consider direct beachfront instead of looking for lower-priced options back from the beach.
You find a great real estate deal on a beachfront property.  Sometimes, in the case of fire sales, the price difference may be minimal or even disappear altogether. It may not be the best idea to sit around waiting for this kind of deal directly on the beachfront, but if it happens to be available when you are looking, why not go for it?
You plan to rent out your property to vacationers.  Direct beachfront property has a much greater appeal to vacationers who can save money through a beachfront rental as compared to hotels.  It's simply not worth their while to save a few bucks on renting back from the beach for the 5 days they'll be here.  So, if you plan to generate income in this way, make that extra investment!
In most cases, it is completely worthwhile considering a property back from the beach!
Thomas Lloyd graduated from Purdue University Krannert School of Management with a degree in Management/Financial Option Investments. He has been living, investing, and working professionally in Mexico for over 16 years. In the summer of 2009, he received the first federally applied Mexico Real Estate Degree and Mexico Professional Real Estate License S.E.P. #5978657. He is the president of Top Mexico Real Estate. Contact him at (512) 879-6546.
The TOP Mexico Real Estate Network; "Mexico's Leading Network of Specialists for Finding and Purchasing Mexican Properties Safely!"

Todos hemos soñado alguna vez con tener una casa en la playa, ¿cierto?. Una casa amplia, con una gran entrada de aire, sol, quizá una alberca, una parrilla y una hermosa terraza con vista al mar. ¿Se lo imaginan?.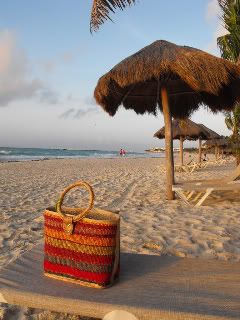 El gran atractivo de ese sueño es, indudablemente, el de la vista. Poder tener al alcance de nuestra ventana, terraza o jardín la panorámica del mar es lo que hace de ese sueño lo que es. Sin embargo, considerar modificar un poco ese sueño puede ser algo conveniente, sobre todo en cuestiones de precio y disponibilidad.
Más por tu dinero: comprar propiedades a algunas cuadras de distancia de la playa.
Las propiedades con vista directa a la playa (ver departamentos en venta en Playa del Carmen) si bien son el sueño por excelencia de cualquier persona, tienden a ser, como todos sabemos, propiedades con un valor elevado. Es por esto que el sueño de poseer una casa en la playa es más real si decidimos comprar a algunas cuadras de distancia.
Las ventajas son muchas, como por ejemplo:
Por el mismo precio (en comparación a una casa con vista a la playa) obtendrías mucho mayor espacio
Por un menor precio obtendrías una casa o departamento del mismo tamaño (a unas cuadras de distancia)
Mismas comodidades.
Las comodidades de vivir a unas cuadras de distancia de la playa son prácticamente las mismas. Podrás disfrutar de la playa cuando lo desees, además vivir más cerca de la ciudad tiene sus beneficios. Estarás más cercano a las tiendas, restaurantes, cafés, mercados así como de los servicios.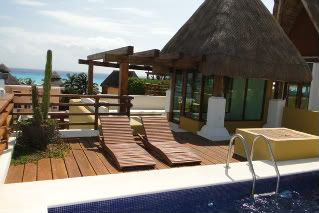 Disponibilidad.
El último factor a considerar es el de la disponibilidad. Cualquier playa o destino turístico concentra su demanda en las propiedades con vista a la playa, lo que con el tiempo dificulta la disponibilidad de estos. La gran variedad en diseños, precios, estilos, conceptos y demás que ofrecen las propiedades sin vista directa a la playa son muchísimo más amplias y variadas. Esta es su gran ventaja, por un precio menor podrías adquirir algo mucho más espacioso, más lujoso y mucho más cómodo.
Considera estos consejos a la hora de comenzar a buscar tu casa, sacarle el mejor provecho a tu dinero es la mejor forma de invertirlo.
www.topmexicorealestate.com, la empresa líder en bienes raíces en México.