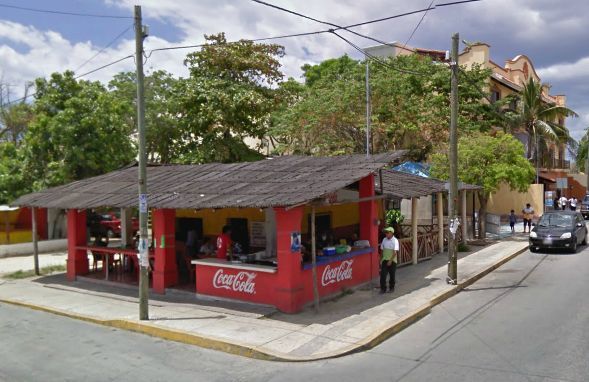 What do tacos have to do with Playa del Carmen real estate?
Well, consider this.  Downtown Playa del Carmen, right in the heart of it all, at the corner of 20th Ave. and 4th St., there is a local taco shop, with covered outdoor seating. It is a "not so nice" little red building with plastic red chairs and tables. While it's definitely a lower-end local place, the tacos are simply amazing!
Whether they are the best "tacos" is a point which would depend on personal taste – but they are certainly, in my experience, the best "barbacoa" in Playa. Barbacoa is deliciously roasted very tender lamb or beef. It is often served with "consume" – the drippings from the roast.
A Different Playa del Carmen
This taco shop is a feature of the old town of Playa del Carmen, when it was still a fishing village on the beach where tourists on their way to Cozumel might stop for lunch while they waited for the ferry.
It is also typical of the old south half of downtown, which is strikingly different from the resorts, luxury beachfront condos, golf communities and even the newer, Italian-style north half of downtown.
Change is Happening as You Read
Because of its superb location – close to the beach, the shops of Fifth Avenue, the nightlife, grocery stores, etc. – this south half of downtown is undergoing a major transformation.  The simple old homes of fishermen (many of which were once quaint, but are now suffering from some neglect) are being replaced by boutique hotels, luxury Playa del Carmen condos for sale and international shops.
For this reason, it currently offers a beautiful balance of comfortable living and access to the local charm and village style of Playa del Carmen – such as these barbacoa tacos.
What's Going to Happen to These Tacos?
I predict that as the transformation continues, much of the older, poorly maintained properties of the south end will disappear in favor of international luxury.
However, I also predict that some of the more appealing features of the old town – like these tacos and similar items – will remain.  This will give the south end charm, combining luxury with local flavor in a way seldom found.
—
Doug Morgan was born in Dayton, Ohio and went to college at Buckeye State. Moving to Louisiana after college, he became President of his New York Stock Exchange company at the age of 28. His later career shifted to Florida and the investment business, where he was a financial advisor and branch manager for over 30 years. He bought his first condominium in Mexico in 2008 (from Top Mexico Real Estate), initially as a vacation home, but a year later he retired and moved full time to Playa del Carmen. Contact Doug at (512) 879-6546.
The TOP Mexico Real Estate Network; "Mexico's Leading Network of Specialists for Finding and Purchasing Mexican Properties Safely!"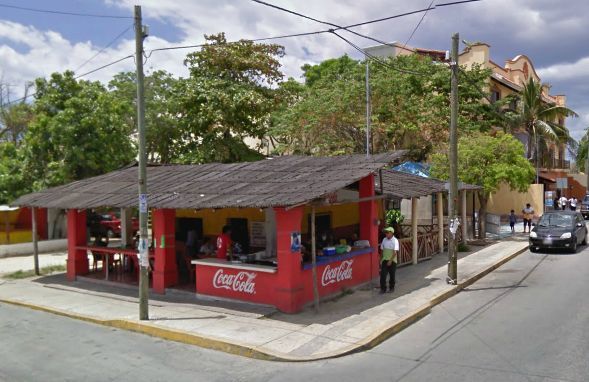 ¿Qué tiene que ver la barbacoa con los bienes raíces en Playa del Carmen?
Bueno, en general no existe una relación estrecha, simplemente es importante señalar que la gastronomía nacional se disfruta al máximo en toda la Riviera Maya. Desde los tradicionales tacos al pastor y asada, a tacos de carnitas, mariscos, barbacoa y birria. Existen por todos lados restaurantes o taquerías con la sazón de todas partes de la república. Siendo una ciudad con una gran cantidad de migrantes nacionales, la variedad de sazones es realmente variada.
En cuanto a barbacoa se refiere, me gustaría recomendarles un pequeño establecimiento en la avenida 20 esquina con 4. Sin temor me atrevería a decir que son los mejores tacos de barbacoa de todo Playa del Carmen. Aunque esa decisión se las dejo a ustedes.
Desarrollo de Playa del Carmen.
Esta tradicional taquería de barbacoa es el claro ejemplo de lo que alguna vez fue Playa del Carmen. No hace mucho, escasos 20 años, Playa del Carmen era un simple pueblo pesquero que uno visitaba para tomar el ferry a Cozumel. Hoy representa uno de los destinos turísticos más importanes del país y el mundo. Lo que antes eran calles de terracería y pequeñas casas humildes hoy son extensos corredores de Hoteles y Resorts de lujo, así como enormes complejos inmobiliarios. La cara de Playa del Carmen ha cambiado.
Gracias a su ubicación privilegiada, hermosas playas, la creación de su famosa Quinta Avenida con restaurantes, cafés, tiendas, boutiques, bares y vida nocturna, y al gran desarrollo inmobiliario, lo que antes eran calles desérticas hoy son hermosos complejos de departamentos en venta en Playa del Carmen.
Si piensas visitar Playa del Carmen esta temporada vacacional no dudes en dar un vistazo al creciente mercado de los bienes raíces en Playa del Carmen. Existe de todo y para todos los bolsillos. Inversiones como esta ayudan a asegurar tu patrimonio, ponte en contacto con nuestros agentes aquí en Top México para cualquier información.
www.topmexicorealestate.com, la empresa líder en bienes raíces en México.