A few weeks ago, Doug posted an update on the construction progress for Hacienda del Rio, a colonial-style retirement community in Playa del Carmen.
Things have come along quite nicely since then, and I wanted to share some more pictures of the model home as it nears completion, as well as the development as a whole.
First, here are the interior designer and I taking a look inside the model home:
Notice the worker behind us, finishing the wall which features an elegant, colonial-inspired exposed stone and plaster combination:
Here we are taking a look at the drainage in the shower, also making sure the practical details are working well!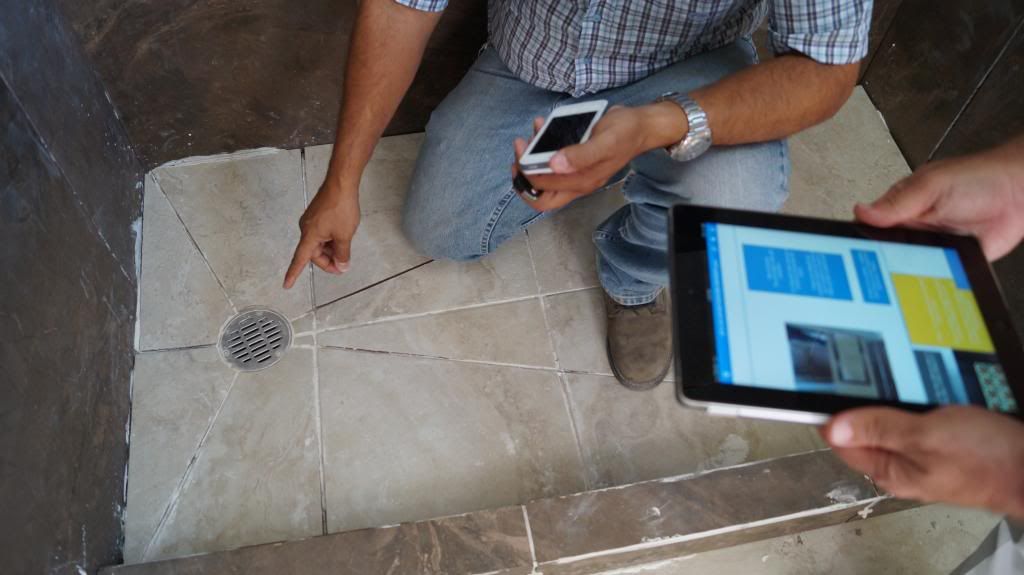 This is the model home from the outside.  Notice the same combination of exposed stone and concrete, as well as the beautiful wood-framed window: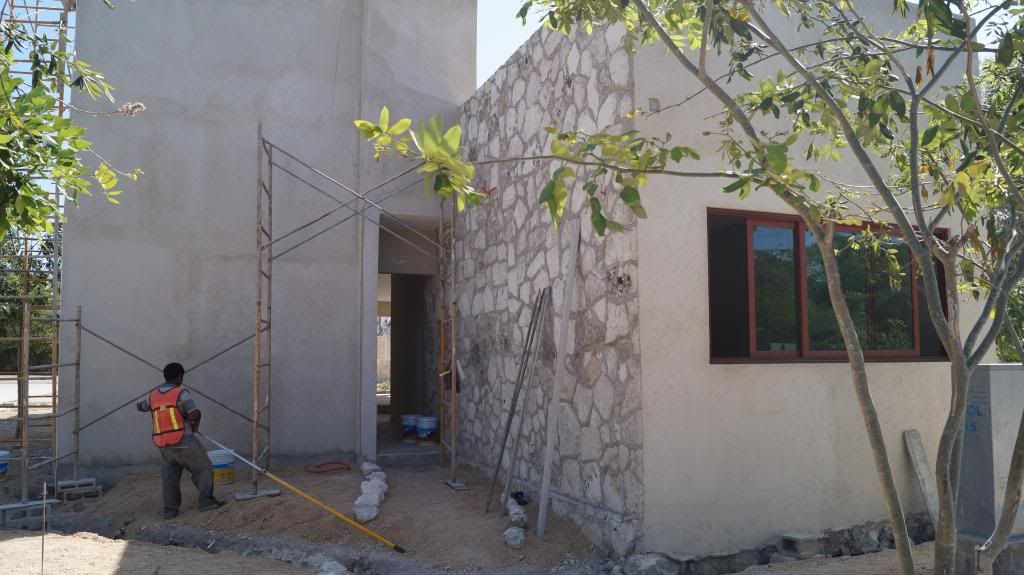 And the rugged wood in door frame:
Here we are on the rooftop patio.  At the top left, notice the fine work in the moldings finishing the edge of the roof: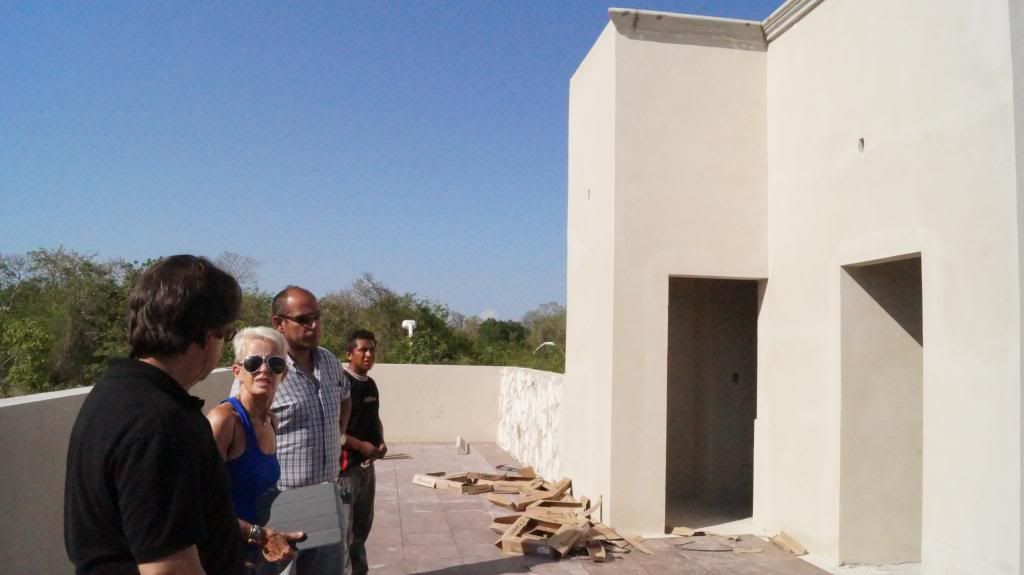 In one of the less finished homes, you can see more of the stonework as well as the large column, again inspired by Mexico's traditional architecture: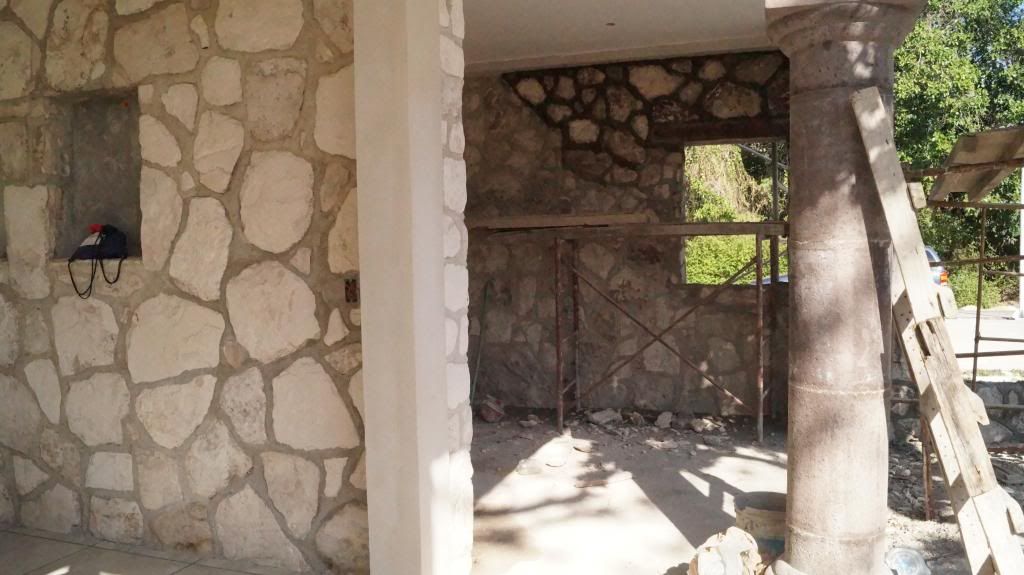 Finally, this is the view of some of the houses still in the earlier stages of construction: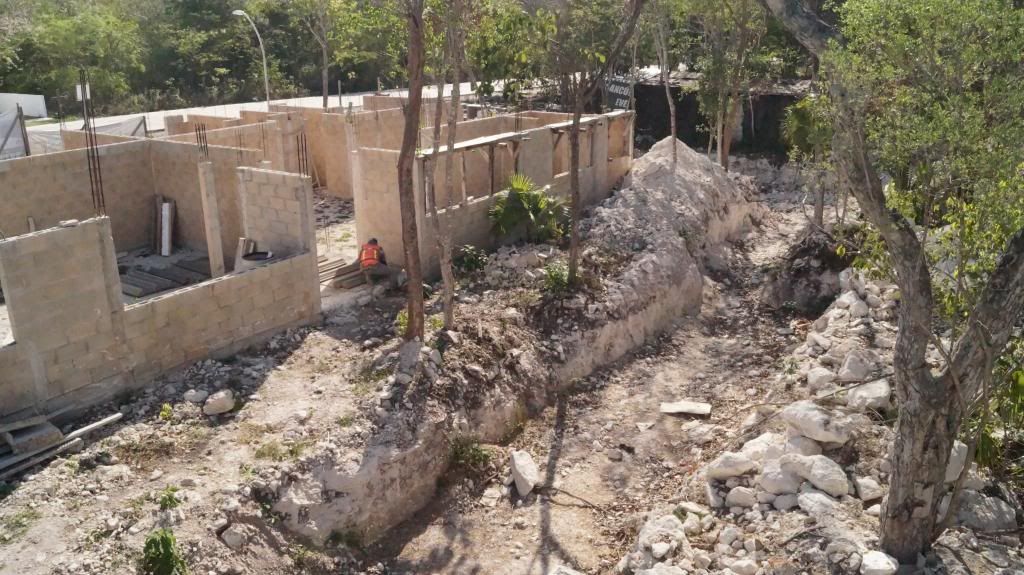 I look forward to seeing these beautiful homes completed, and I will certainly share more pictures when they are!
—
Thomas Lloyd graduated from Purdue University Krannert School of Management with a degree in Management/Financial Option Investments. He has been living, investing, and working professionally in Mexico for over 16 years. In the summer of 2009, he received the first federally applied Mexico Real Estate Degree and Mexico Professional Real Estate License S.E.P. #5978657. He is the president of Top Mexico Real Estate. Contact him at (512) 879-6546.
The TOP Mexico Real Estate Network; "Mexico's Leading Network of Specialists for Finding and Purchasing Mexican Properties Safely!"

Días atrás Doug escribió un post sobre los avances de construcción en Hacienda del Río, un desarrollo residencial ubicado en la parte norte de Playa del Carmen y enfocado a personas retiradas. Con un diseño y estilo colonial en sus terminados, las casas comienzan a tomar forma.
Me gustaría compartir con ustedes algunas fotografías que recién tomamos de la casa modelo:
Aquí con la decoradora interior, dentro de la casa modelo.
Aquí podemos ver como se están terminando de dar los últimos detallas a las paredes terminadas en piedra.
Haciendo revisión de la plomería y de la comodidad interior de los baños.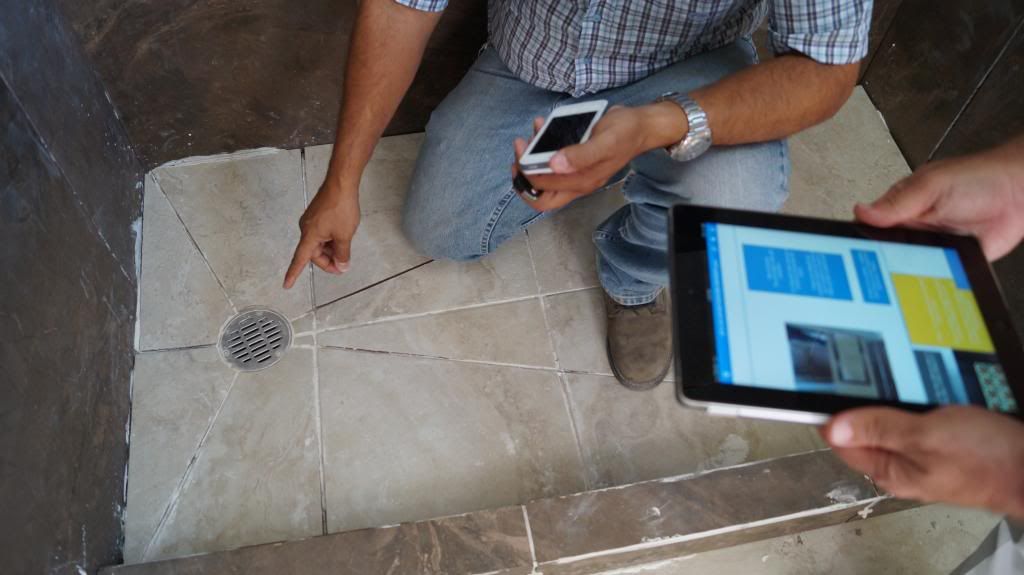 Aquí una vista de la parte exterior de la casa, con terminados en piedra también, madera y hermosas ventanas corredizas.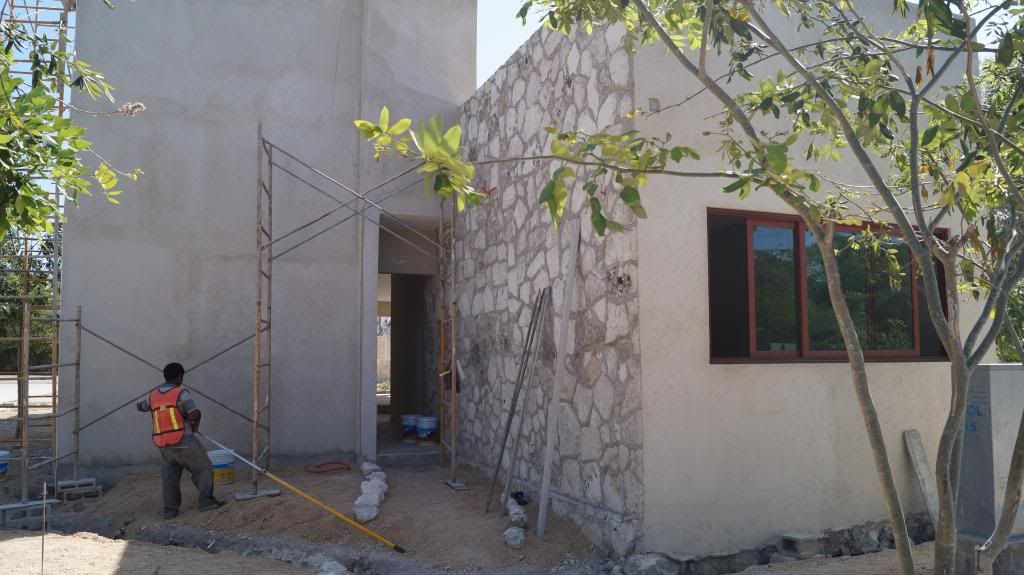 Marcos de puerta en madera para ese toque colonial.
En la parte superior se encuentra la terraza y el área de lavado.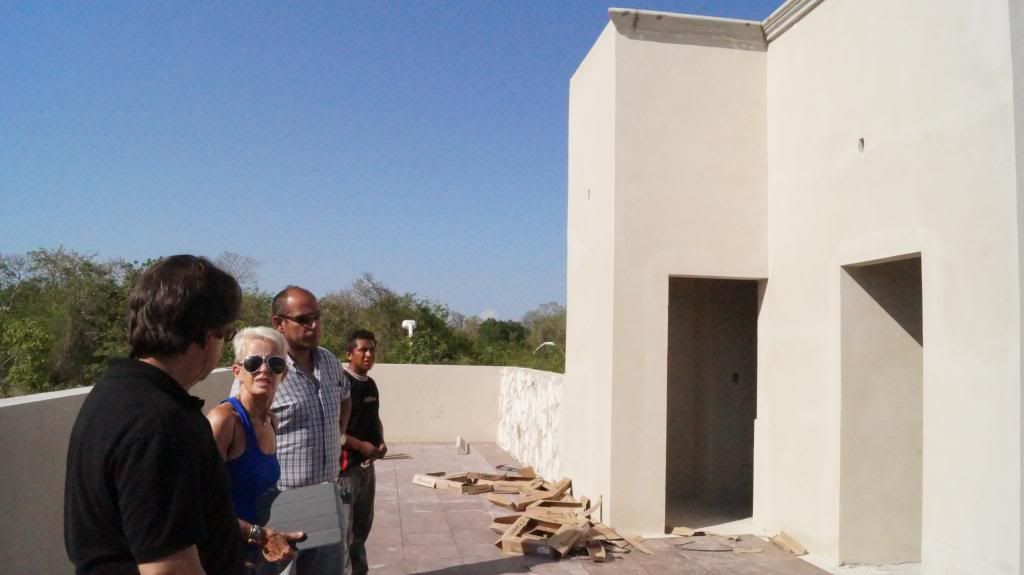 Aquí pueden observar los arcos y los detalles de las columnas para ese acabado colonial que se busca en Hacienda del Río.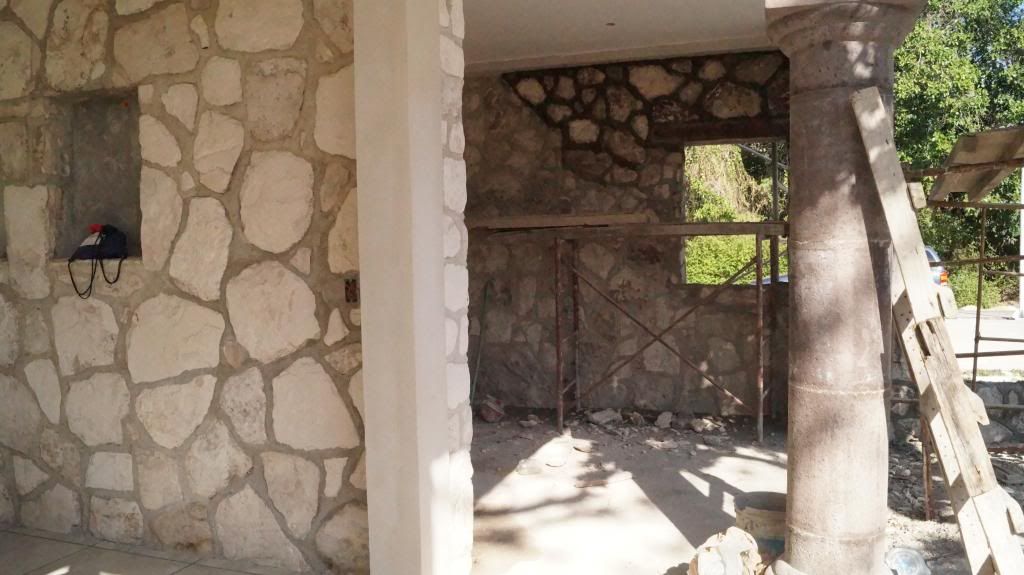 Finalmente podemos observar el avance del resto de las casas y la alberca en forma de río que las rodeará.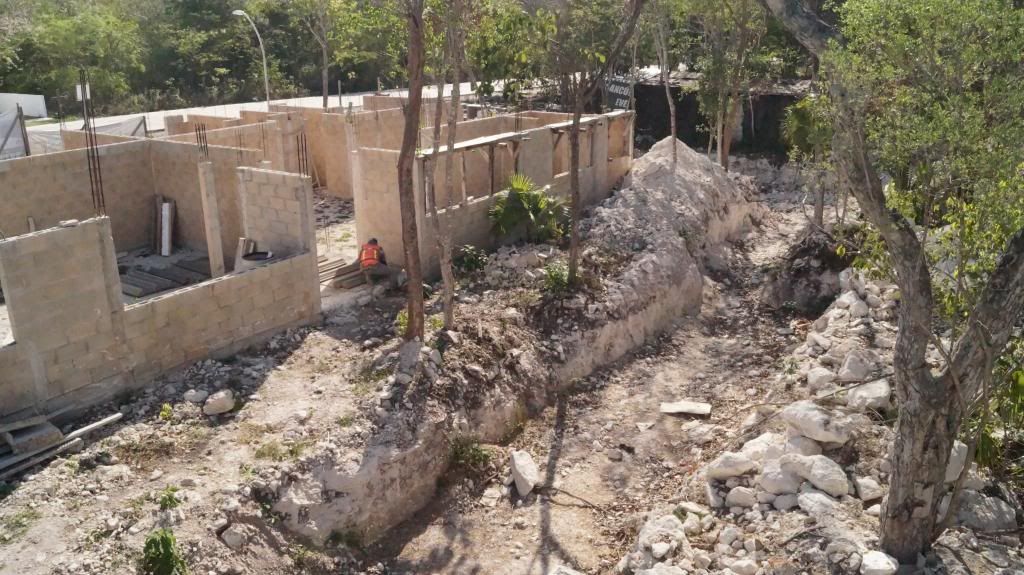 Estén al pendiente de nuestras actualizaciones y visiten la casa modelo de Hacienda del Río. El mejor sitio para sentarse a disfrutar de la cómoda vida de Playa del Carmen.
www.topmexicorealestate.com la empresa líder en bienes raíces en México.