When we talk about Playacar, Playa del Carmen's most upscale gated community, we tend to lump it together as one.  Or, when we do separate it, we make the natural divisions of Phase I (along the beachfront) and Phase II (around the golf course.)  This is precisely what we've done on this blog when we have our community spotlight on Playacar.
Yet, everyone who knows the community will also know that there's a distinction within Phase II, which is defined by one single main road looping around the golf course.  There is:
the east stretch which is within a comfortable walk of the beach (just through Phase I)
the north stretch which is within walking distance of downtown and all its shops, and also very close to the beach
the "back" part along the highway, not really a walk away from either downtown or the beach (highlighted in translucent red on the map below)
The back part – I can just hear people scoffing; "Oh, that's great you're in Playacar, but you're so far away from everything."
But I say, "Hold the boat!  There's more to this part of Playacar than you first imagine!"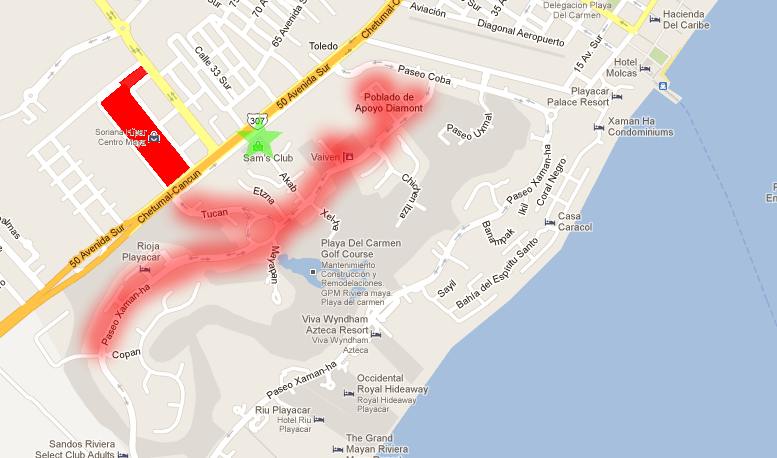 Distinct Location Advantages
While it's not within walking distance of either the beach or downtown, it still has these huge location factors in its favour:
A nice, large mall around the corner, (marked in red on the map)
A movie theater, bowling alley and supermarket at the mall
A Sam's Club and several inexpensive but nice Mexican-style restaurants likewise around the corner
State-of-the-art private hospital around the corner
A highway-side bike trail with a designated lane
Direct access from the Cancun-Tulum highway for easy arrival
The mall, stores and restaurants are within a short walk.
With the designated-lane bike trails running throughout Playacar, it is also fast, easy and very safe to head down to the beach or downtown on your bike, within about 10 minutes.  The trails are shaded with tall trees to make riding comfortable even on hot days.
Most Advantages of Playacar
This area also offers all the benefits of the rest of Playacar, minus the walk to the beach:
location next to the golf course
nice, well designed homes and properties
tree-lined streets
security
excellent property value
And the Price Factor …
Now, here's the clincher; because these properties are just a little further from the beach and downtown (still only a short bike ride, as I said above) the prices tend to be noticeably lower.
For example, at the lower end of the spectrum, we find this beautiful, 2-bedroom condo in a nice complex for only $130,000 USD.  Or a large 3-bedroom unit for $265,000.
Sure, there are more expensive properties available, but in most cases you simply get more for your money than other parts of the same neighborhood, and the properties even compare well to downtown.
So …
If it's important for you to be a 10 minute walk from the beach rather than a 10 minute bike ride, I'd say sure go for the pricier part of the neighborhood.  But if being right next to an important shopping and commercial center sounds nice, and you'd like to save a little more on that dream home, consider looking in Playacar's "back yard."
—
Doug Morgan was born in Dayton, Ohio and went to college at Buckeye State. Moving to Louisiana after college, he became President of his New York Stock Exchange company at the age of 28. His later career shifted to Florida and the investment business, where he was a financial advisor and branch manager for over 30 years. He bought his first condominium in Mexico in 2008 (from Top Mexico Real Estate), initially as a vacation home, but a year later he retired and moved full time to Playa del Carmen. Contact Doug at (512) 879-6546.
The TOP Mexico Real Estate Network; "Mexico's Leading Network of Specialists for Finding and Purchasing Mexican Properties Safely!"
Cuando hablamos de Playacar, el residencial más exclusivo en Playa del Carmen, tendemos a agruparlo junto como uno solo. Sin embargo, es recomendable separarlo. Playacar tiene 2 divisiones naturales, Playacar Fase I y Playacar Fase II, la primera es la que rodea la parte cercana a la playa y la segunda la zona residencial que rodea la parte del campo de golf. En este blog siempre que hablamos de Playacar tratamos de especificar de cuál de sus fases estamos hablando.
Todos los que conocen la comunidad de Playacar saben que cada una de las fases tiene sus ventajas. En particular la Fase II tiene la ventaja innegable de su ubicación:
La parte Este se encuentra a un corto paseo de distancia de la playa (Fase I).
La parte Norte colinda con el centro de la ciudad y sus tiendas, restaurantes y cafés; además de sus playas.
La zona sur colinda con la carretera y con el acceso a la avenida principal de la ciudad.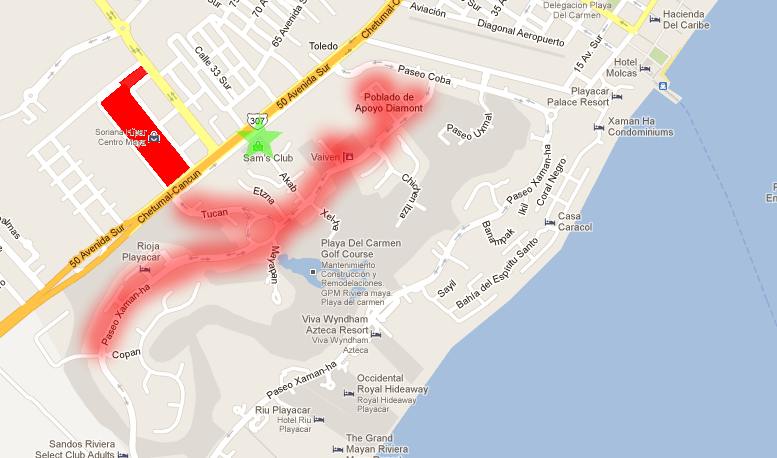 Ventajas de su ubicación.
Aunque si bien no se encuentra frente a la playa y a la zona de las playas del centro de la ciudad, Playacar Fase II ofrece otro tipo de ventajas, como:
Centro comercial en la esquina (marcado en rojo en el mapa)
Cine, boliche y  supermercado en el centro comercial
Sam's Club y varios restaurantes a la vuelta de la esquina
Hospital privado también a la vuelta de la esquina (considerado el mejor en Playa del Carmen)
Ciclopista en el lado de la carretera
Acceso directo desde la carretera a Tulum y Cancún
Las ciclopistas, que recorren todo el interior de Playacar, así como parte de la carretera federal, son de gran ayuda ya que acortan las distancias tanto a la playa como al centro de la ciudad a solo 10 minutos de distancia.
Ventajas dentro de Playacar Fase II
Además de su ubicación otras de las ventajas de Playacar Fase II son:
Cercanía al campo de golf
Residencias de alto nivel y diseño
Avenidas amplias de 3 líneas
Seguridad las 24 horas
Gran plusvalía
¿El precio?…
Ahora, este es el verdadero factor decisivo, ya que estas propiedades se encuentran un poco más lejos de la playa y el centro (aunque como ya hemos visto es en realidad muy poca la distancia), los precios tienden a ser notablemente inferiores a los de Playacar Fase I.
Por ejemplo, en el extremo de los precios bajos se encuentra este precioso departamento en venta de 2 recámaras por sólo $ 130,000 USD, además de este departamento en venta (un poco más grande) de 3 recámaras por solo $265,000 USD. 
Claro, hay propiedades más caras disponibles, las hay de todos los tamaños, lujos y precios, pero en la mayoría de los casos encontrarás que Playacar Fase II es mucho más barato que Playacar Fase I, esto sin tener que sacrificar la más mínima comodidad.
www.topmexicorealestate.com la empresa líder en bienes raíces en México.