What are your shopping habits? Do you like to walk to nearby boutiques?  Do you prefer to drive to the mall?  Of course, there are different shopping habits for different needs – e.g. groceries vs. clothing.  However, most people have certain preferences or tendencies for their shopping, and can look for a condo for sale in Playa del Carmen accordingly.
Let's look at some different shopping preferences:
1. Driving to the malls and big stores. Being a walk or bike ride away from the beach is more important that stores.  You have no problem hopping in the car to shopping and you prefer to go to the bigger, international stores and Playa's two large, modern malls.  With a Seven-Eleven or the like around the corner for anything small, you do just fine.
For this kind of preference, you'll probably prefer living in one of the gated communities, like El Cielo or Playacar, or even on a resort like Bahia Principe.
2. Walking to the malls. Maybe being very close to shopping is the most important part for you, and you don't mind driving or taking a cab to the beach or two go out on the town at Fifth Avenue. An option not to overlook is that there are nice new residential communities near the mall, a walk or short bike ride away.  The two large malls have supermarkets, movie theaters, food-courts, restaurants, shops for office supplies, jewelry, clothing, furniture, appliances and much more.  One even has a bowling alley.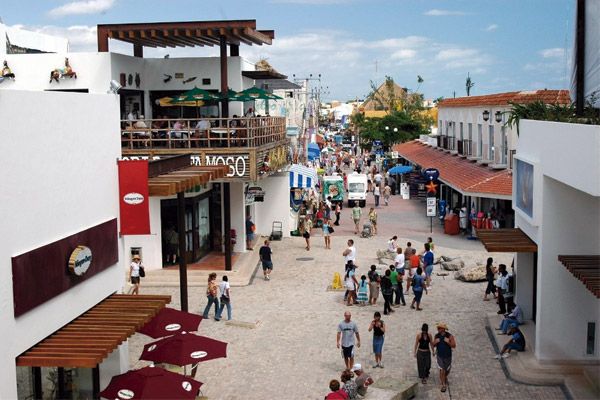 3. Boutiques and shops. If you prefer getting up in the morning and walking out of your condo to go browse shops on the way to the beach – anything from upscale boutiques for clothing and jewelry to cigars – imported or handmade on site – you'll enjoy life downtown!
4. The local way. Many expats enjoy living a very local lifestyle – shopping at local markets, small fish shops with the daily catch, fruit and vegetable stands, shops with more traditional Mexican decor and clothing etc. Besides a rather quaint lifestyle, many people also prefer the freshness, flavor and originality of these places – not to mention the very low prices!
Downtown is also ideal for this, although some of the older working-class communities next to downtown also offer nice condos and elegant homes to enjoy the nearby local lifestyle.
Of course, Playa del Carmen is very small, and whichever location style you choose for your main preference, the rest is always there, only a short drive or bike ride away!
—
Bea Lozano holds degrees in business and computing.  With years of intense business experience, she uses her skills to coordinate Top Mexico Real Estate's marketing strategies and web site. To contact Bea, call (512) 879-6546.
The TOP Mexico Real Estate Network; "Mexico's Leading Network of Specialists for Finding and Purchasing Mexican Properties Safely!"