by Bea Lozano
As the fourth and last part of my series on bike trails, (at least, the last one for now) I will draw your attention to the new stretches of bike trails at the north end of town.
Up until now, the north end of central Playa has been a low income working neighborhood that started out as a shanty town.  In recent years, this has begun to change with the construction of an upscale, professional golf course just north of this community (designed by Nick Price.)  Just this year, a brand new upscale resort hotel opened up in the space between this community and the beach (walkable distance.)
To make the access to these two new upscale tourist items more attractive (and probably to promote the beginnings of gentrification – see Playa del Carmen's Most Spectacular Transformations – The Paradisus Hotel in North Town) the municipality built a brand new access road from the highway with a palm lined median, decorative, stamped concrete, nice lamps, benches and a bike trail.  It's called Pintores Ave.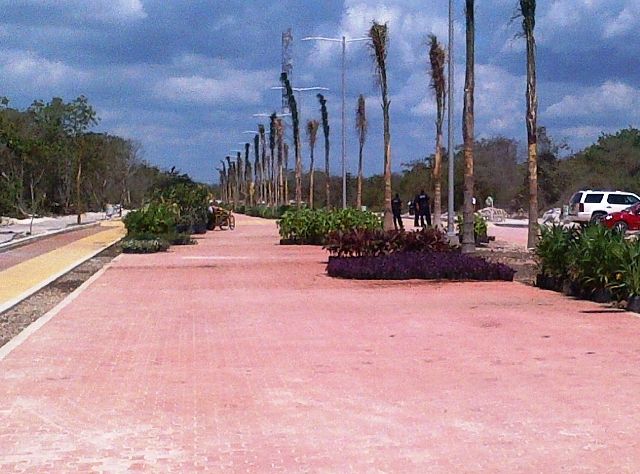 (Notice the bike trail at the left side of the picture.)
At the point where Pintores Ave. ends at the entrance to the golf course, there is a nice bricked beach access, and it connects with Fifth Ave.  This is the same Fifth Ave. which is the hub and heart of all the area's tourism activity downtown; however, before the building of this hotel, the street was nothing more than a mud trail in this part of town.
When the hotel was finished, the developer also paved the street with decorative stamped concrete and installed lights, benches, palm trees, gardens and a second nice new beach access on the other side of town.
 (The bike trail can be seen in the left center of the image.  Most it's blocked by people.)
So far, these stretches of bike trail at the north end (Pintores and Fifth) connect only to each other and not to any other bike trail.  The plan seems to be have a fully connected network of trails running through the entire city in the future.
TOPMexicoRealEstate.com; Mexico's Leading Network of Specialists for Finding and Purchasing Mexican Properties Safely