by Thomas Lloyd
In yesterday's post (Fresh Sea Food in Playa del Carmen The Local Way! Part I – Fishermen), I talked about Playa del Carmen's local fishermen.  Today I'm going to write a little about the local fish shops.
The kind of place that the locals will buy their freshly caught seafood in is the little fish shops or "pescaderias."  The normal way of buying the fish is cleaned, but with the head still on, and fried fairly crisp in very hot oil. They fry the fish as you order, so it's still hot by the time you get home. The sides of the fish are usually cut deep several times – I assume this is to make it fry faster. It certainly makes the whole thing crispier!
Of course, you can by the fish raw and prepare it yourself, and ask to have the head removed. (When I've done this, usually another customer in the shop will ask them to throw it in with his order; they make a kind of soup of fish heads.)  In any case, the fish is sent home wrapped in paper and tied up in two plastic bags.
Usually one day a week, the pescaderias will sell ceviche, which is a blend of raw seafood (fish, calamari and shrimp) cured in lime and mixed with tomato, onion and seasonings.  It's eaten on tortilla chips or tostadas.  It's very tasty!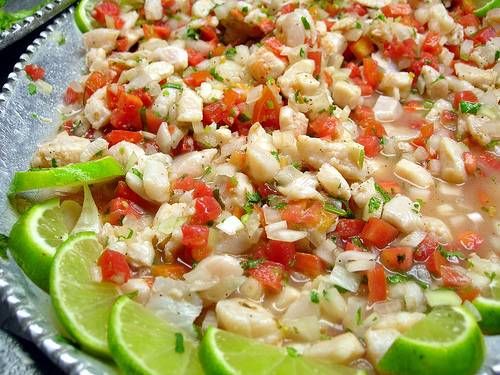 Some local fishermen will also drive around with a pick-up truck selling their own catch (or that of a family member) directly.  They store the fish in coolers on ice!  However, this will usually only be seen in the lower-income neighborhoods.  (Oranges and some other fruit are likewise sold for cheap prices in a similar fashion.)
Of course, there's the complication of fish names and language.  If you go into these shops, all the fish is on display under glass.  You can point to the one you want without knowing the name for it.  They'll weigh it and tell you the price.  If your Spanish hasn't reached the point of understanding numbers yet, they would probably jot it down for you. Prices are very low. Chances are, they'll bump the price up a few pesos seeing you're a foreigner, but it will still be a good deal cheaper than other options.
For anyone who's not terribly intrigued by the idea, there are many nice seafood restaurants.  Usually, Walmart and the similar supermarkets include similar seafood options – good quality and good prices! – but it's pretty certain that you won't be getting the early morning catch from your local beaches! (Whether that's a good thing or not all depends on your personal preferences …)
TOPMexicoRealEstate.com; Mexico's Leading Network of Specialists for Finding and Purchasing Mexican Properties Safely