by Bea Lozano
Fifth Avenue is truly the heart the Riviera Maya.  It's a vibrant street with a large variety of things to do, ranging from artwork to lively bars.  It is a place where everyone can enjoy themselves; in the evenings you see retirees, young couples, groups of friends and families.
It's definitely one of my favorite places to spend time – not only in Playa del Carmen but anywhere!  What's great about it is that you can enjoy excellent food, good shopping and a very relaxed, international atmosphere only steps away from some of the top beaches in the world.  Today and tomorrow, I'm going to post a series of nighttime pictures. Today's theme is artwork and local crafts.
The first few pictures are from a store that has a neat mix of traditional, religious, new age and "beach-bum" style handicrafts.
This one is of a shop that sells lamps made out of sea-shells. (There are also some beautiful lamps made out of a kind of dried gourd or squash.  I don't have pictures right now, but I'll get some another time.)
This store sells handmade blankets and decorative nicknacks.  (Notice the ever-present images of the Virgin of Guadalupe, which can also be seen in the pictures of the store above.)
Finally, this is a roadside table (a favorite form of vending in Mexico) selling traditional, brightly colored bracelets and necklaces, as well as other decorative items made of beads and yarn.  Notice the traditional clothing of the man behind the table.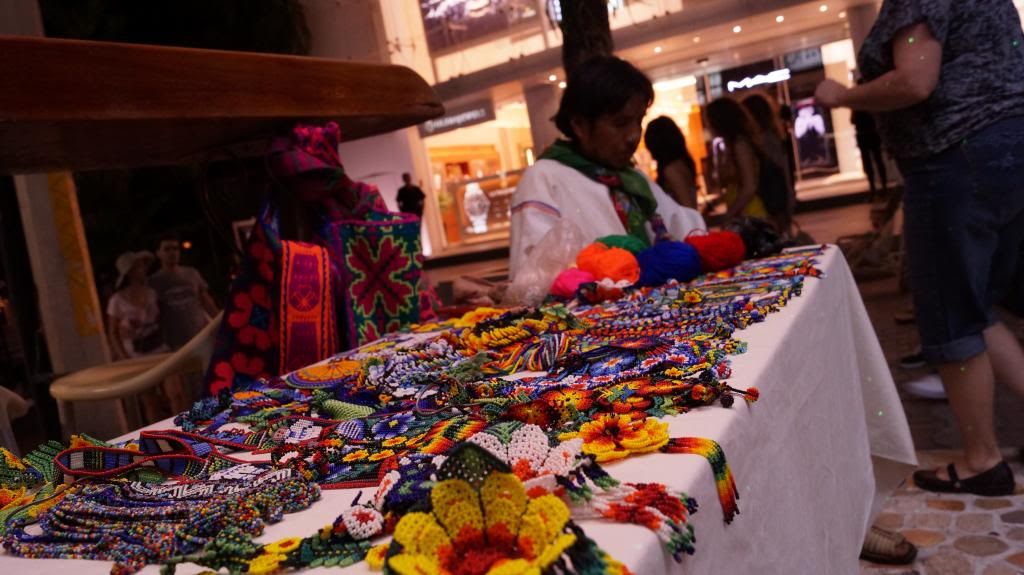 Tomorrow I'll share some pictures of restaurants and the international atmosphere of Fifth Avenue!
TOPMexicoRealEstate.com; Mexico's Leading Network of Specialists for Finding and Purchasing Mexican Properties Safely