After many long hours and several months of studies, I am happy to state I have another Mexico Real Estate diploma under my belt I enjoy the studies to refresh my memories about the Mexico law pertaining to real estate (Dr. Carlos Calvo for example) but also to learn more issues or expand upon new issues regarding investing money and buying property down here in Mexico for us Mexican foreignersThis knowledge, my team and I put to work for you the buyers when you go searching for your ideal Mexican getaway See property options at www.TOPmexicorealestate.com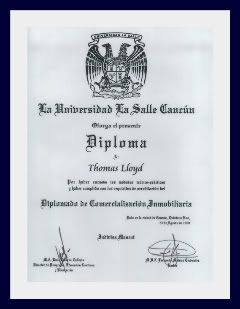 I wanted to touch a little back on the topics of the Bank Trusts for us Mexican Foreigners looking to invest in Mexico If you are just starting the process to buy some property in Mexico, first, take a quick view at some of the frequently asked questions that my team and I put together FAQ on Buying Property in Mexico One of the first steps that you should undertake is to familiarize yourself with the Mexico Bank Trusts and how this tool functions with your investment and acquisition View my previous blog on Mexico Bank Trusts Part I.
Mexican Foreigners (Americans, Canadians, British, Europeans etc.) can buy property in Mexico. Even property right on the Mexico Oceanfront Basically there are two processes of purchasing Mexico Property depending on the location of the real estateWithin the Mexico Restricted Zone or outside of the restricted zone.
MEXICO REAL ESTATE RESTRICTED ZONE
In my previous post, MEXICO REAL ESTATE BANK TRUSTS, I touch upon the definitions of the Fideicomisos, the fideicomisario and other definitions of buying within this zone If you notice, the restricted zone is defined as 50 km from any ocean front and 100 km from any country border (the USA and the central American countries) Please recall, a Bank Trust is not a lease, and has a term of 50 years which can be renewed for another equal amount of years One of the processes that I will include in this post pertains to obtaining the permit from Mexico`s Ministry of Foreign Affairs Basically, the foreign investor when obtaining a permit, is agreeing to the Calvo Clause which is based on an Argentinian lawyer called Dr. Carlos Calvo This clause or this agreement basically states that the Mexican Foreigner will not attempt to utilize their home country law or government to settle disputes regarding their Mexico property BUT instead, the Mexican Foreigner will consider themselves as Mexicans and utilize the Mexican law in any such matters So, before you start the process to open up a Bank Trust with your bank of choice, you will need to obtain the permit from the Ministry of Foreign Affairs department The bank will usually coordinate these activities
MEXICO REAL ESTATE NON-RESTRICTED ZONE
Now if you are planning to acquire Mexico Real Estate in the interior of this country, or beyond the 50 Km from the Mexico Coastline then a different process is needed Simpler First, you still must obtain the permit or the agreement from the Ministry of Foreign Affairs department regarding the Calvo Clause After, no need to establish a bank trust, you can hold the property outright You will be required to show legal presence in the country during the contractual phase of the purchase (this applies to both acquiring within the restricted zone or acquiring within the non-restricted zone) Legal presence is with an FMT or FM3 or FM2
I will be touching on more detailed information in future posts regarding these themes, or feel very free to write me if you have any specific questions on any type of help you need when going to purchase Mexico Real Estate.
Thomas Lloyd
(512)879-6546