Last week end, we spent the afternoon snorkeling for turtles.  We went with some good friends who have been searching on options for a Mexico retirement life.  In their study, they have been analyzing if there are enough activities in the zone to keep them entertained and if there are activities to keep their families entertained when visiting.  Their thoughts on a Mexico real estate retirement home has opened their eyes to many new options which were not available five years ago.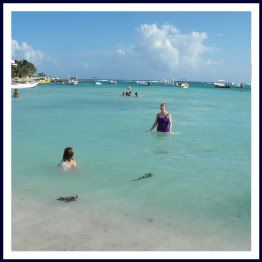 There are many activities to enjoy while on Mexico retirement.  When people have come on vacations, we hear the comment very often, "7 days is way to short of a time".  Here in the Yucatan peninsula, people with extra time, are able to explore and to visit many interesting attractions.  The most popular and favorite pass time are the beaches and the Caribbean waters.  Hundreds of beaches line the Riviera Maya from Northern Quintana Roo, the island of Cozumel, Tulum,  down into the country of Beliz.  Another up and coming popular pass time is exploring the Mayan culture and ruins.  Quintana Roo is in the heart of this ancient culture with hundreds of sites scattered in cities and little pueblos off of the main roads.  Tours can be arranged to travel and learn this amazing civilization with their secrets and baffling knowledge of the stars and solar system. 
As more non-Mexicans evaluate, and choose a Mexico retirement life, a common question that we hear is "If I live so far from my children and grandchildren, will they be willing to come and visit us?".   But from the comments of people who have actually bought their winter home or their Mexico retirement property,  "My grandkids are begging to come down to visit".   There are many activities that children of all ages enjoy here in the Mexican Caribbean.  For the young kids there are water parks such as the Xcaret park which has underground Rivers, cenotes, and a museum about the sea life.  Next to this park is XTREME which has zip lines above the jungle and rafts that are used to float in more underground rivers.  A large water park with over 10 water slides and automatic wave maker is located in Cancun.  Older children will find entertainment at the popular beach clubs, and night life activities of 5th avenue in Playa del Carmen.  Water sports are extremely popular activities to learn such as scuba diving, snuba, surfing, kayaking, sailing, skiing, kit boarding and the list goes on and on.  There is never a dull moment in the Riviera Maya.
Last week we spent the afternoon enjoying one of these water sport activities that grandparents and young children all enjoy;  Snorkling in Akumal in search of sea turtles.  Sea Turtles come in close to shore to feed upon the turtle grass.  You need to be a little patient, and quiet, and some of the most beautiful turtles will appear in the grass, or come gently swimming into sight.  Effortlessly, gliding, and swim next to you as if you were not even present.  Kids are fascinated with turtles.  The size of the sea turtles also amaze children and make the experience unforgettable.  For grandma and grandpa, probably even more exciting than for the kids.  The best part is being able to share these memories with the grand kids. 
The quality of the Mexico retirement life can be very surprising to many people.  Images of dirt roads, poor building structures, deterioratinginfrastructure is a stereotype image that many of us imagine.  But when people see amazing natural settings that Mexico has to offer, their breath is taken away.  The culture, ancient civilizations and ruins, water parks, international restaurants are activities that pleasantlysurprise many a guest and visitor here in this country.  And the far off "dream" of owning property in Mexico all of a sudden seems like a very attractive option both for the life style and for the pocketbook.  Write to us to learn more.
Thomas Lloyd graduated from Purdue University Krannert School of Management with a degree in Management/Financial Option Investments. He has been living, investing, and working professionally in Mexico for over 15 years. In the summer of 2009, he received the first federally applied Mexico Real Estate Degree and Mexico Professional Real Estate LicenseS.E.P. #5978657. He is the current president of TOPmexicorealestate, you can contact him at (512) 879-6546 or through the company's web site www.TOPmexicorealestate.com NETWORK

"Mexico's Leading Network of Specialists for Finding and Purchasing Mexican Properties Safely!"