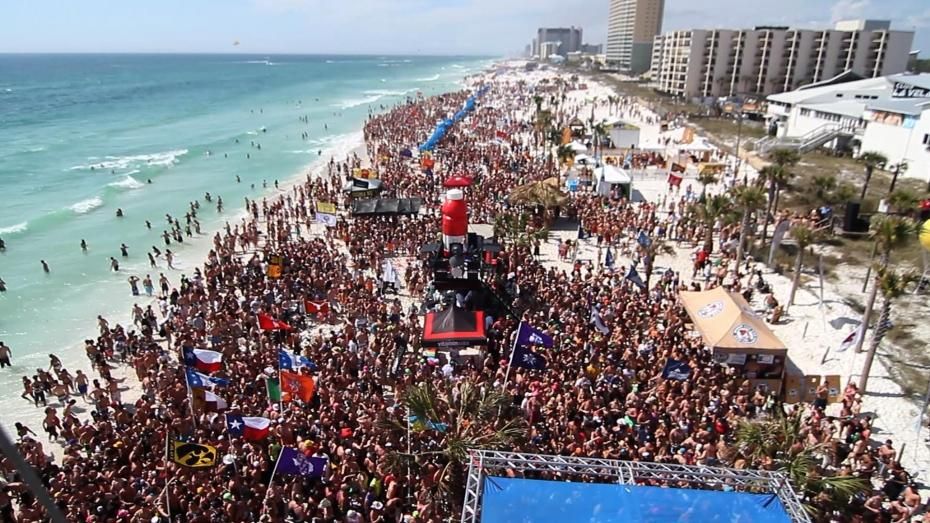 March has finally arrived and you know what that means –Sunshine, flowers, and beautiful Spring!  And with all of that also means the famous and well known Spring break is just around the corner!
Depending on where you are living in Cancun and the Riviera Maya this might be startling news as within the next couple weeks Spring Breakers will be coming to invade Cancun and other select places in the Riviera Maya.
But fear not, we've got the scoop! There are plenty of ways to hide from those energetic spring breakers and we also have some food for thought for prospective Cancun home buyers.
Already own property in Cancun?
If you are living Cancun, Puerto Morelos, or some sections of Playa del Carmen you may be subject to spring breaker activity.  For many the solution is to use this time to make a personal escape and take a vacation of your own, but rather to a quieter destination.  If you are already living in Cancun perhaps taking a trip south towards Tulum, Akumal or heading north to visit Merida can be part of your plans.
The wonderful thing about living in the Riviera Maya is that there are endless small escapes right within your reach.  And besides even those living in paradise still can use a change up from time to time.  So use this time to explore and enjoy different parts of the region.  Just think of it has hitting two birds with one stone.  Hiding from spring breakers can be considered your spring break as well.
Are you thinking to buy a home in Cancun or the Riviera Maya?
If you are considering purchasing property in Cancun or someone where in the Riviera Maya, it is always important to learn about the lifestyle of each city.  Cancun is a wonderful place to live but it still remains to be a huge touristic destination and closely associated with its sparking nightlife and spring break activity.
If you are not so into the idea of the upbeat city life and Cancun and all that it attracts, considering buying properties in Tulum, Akumal and residential neighborhoods of Playa del Carmen can serve to be the best bet!
While each of those areas may see a general increase in tourism during this time period, in many cases that increase will come from an older generation looking to escape the crowds and business of Cancun.  So relax and know that you have plenty of options for real estate in the Riviera Maya.
Renting to Spring Breakers
If you own property in Cancun this could also be a chance to gain great income!  Renting to spring breakers, however, should always be done with caution as spring break is closely associated with excessive alcohol consumption and partying.  Take very careful consideration to make sure that your Cancun property will not get destroyed in the process.
Remember, if you are purchasing a home for rental income you should always consider the demographic you wish to target.  With that being said, if you are going to rent your property to the typical spring breaker profile consider this when furnishing your home and setting your rental price as well.   Always ask for a sufficient security deposit in case there is damage to your property.
For more advice about buying property in Cancun and to learn more about the lifestyle talk to your certified Mexico Real Estate agent.
­-By Andy Welbourne
TOPMexicoRealEstate.com NETWORK; "Mexico's Leading Network of Specialists for Finding and Purchasing Mexican Properties Safely!"