Choosing the best place to live in the Riviera Maya might be a difficult endeavor; after all, every area has its own special charm and attractions. Here at Top Mexico Real Estate we aim to inform our clients about the characteristics of the different areas through the Riviera Maya, so they can make an informed decision when picking the right neighborhood.
Puerto Aventuras is a small community with a little bit more than 6,000 inhabitants, the second largest population in the Solidaridad County; just behind Playa del Carmen. Puerto Aventuras is a gated community close to the beach with all the amenities you will need to live a comfortable, fun life. Puerto Aventuras features hotels, condos and custom homes to choose from.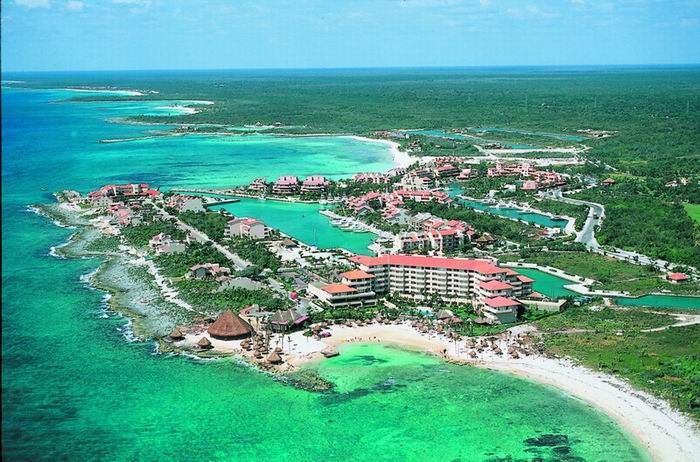 How to get there:
To get to Puerto Aventuras you need to fly into the Cancun International Airport and then drive south 55 miles on highway 307; it is about an hour drive. One of the great things about Puerto Aventuras is its location as it is situated between Playa del Carmen and Tulum, an ideal spot to explore everything the Riviera Maya has to offer.
Everything you need for a happy life in the Caribbean:
Puerto Aventuras might not be as known as Playa del Carmen or Tulum, but there are plenty of things to do and see around the area. Here is a list of things to do in Puerto Aventuras.
The Beach:
Puerto Aventuras has three different beaches, with all sorts of watersports like jet skiing, snorkeling, kayaking, water skiing, windsurfing, scuba diving, fishing, boating; the list goes on and on. One of the beautiful things about Puerto Aventuras is that these beaches exclusively serve the residents and visitors of Puerto Aventuras, so forget about crowds!
Golf and Tennis Club:
Puerto Aventuras has a beautiful 9 holes par 36 golf course, professionally designed by Thomas Lehman. While playing a round of golf you can enjoy the magnificent jungle views and see some of the local fauna such as deer and iguanas.
A game of tennis, anyone? The tennis courts are surrounded by the tropical jungle. The court is open from 7:30 am to dusk and features synthetic grass.
The Marina:
If you love to travel in style, Puerto Aventuras has the largest full service Marina on the Yucatan coastline. Whether you arrive by water or just enjoy watching the comings and goings of the yachts and fishermen, the Puerto Aventuras Marina offers a world-class boating experience for everyone.
Restaurants and bars:
Puerto Aventuras offers its residents a wonderful array of restaurants and bars, to cater to everyone's taste and budget. A fancy dinner by the marina, a few margaritas with friends or traditional Mexican food, whatever you fancy!
Now if you have any question about Puerto Aventuras, please feel free to contact any of our TOP BUYER'S REPRESENTATIVES and we will be glad to help you find your very own piece of paradise.
And remember, here at TOP MEXICO REAL ESTATE…
We make it happen!
We would like to thank Porto Bello for sponsoring this blog. Porto Bello is a located in the exclusive gate marina community of Puerto Aventuras. To learn more about Porto Bello, please click here.