Mexico is a wonderful place to live for expats, a traditional destination among American and Canadian retirees looking for a Tropical Paradise to call home.  There are so many things to love about Mexico:  year-round warm weather, beautiful colonial cities and beaches, as well as low costs of living.
Taking all of these in account is not hard to understand why over a million North American expats have chosen Mexico as their retirement haven. Despite the alarming articles in newspapers and on TV, there are many safe areas in Mexico; where foreigners live happy and productive lives.
Mexico is such a popular destination among foreigners that has almost five times as many retirees as the global average: 23% compared to 5% in other countries. The top three nationalities of expats in Mexico are American, 42%, Canadian, 10%, and British, 6%.
Expat Insider is a worldwide survey, where over 14,000 expats were asked about their living situation and happiness levels while living overseas. People from 195 countries measured their life standards, happiness and rated their country of residence.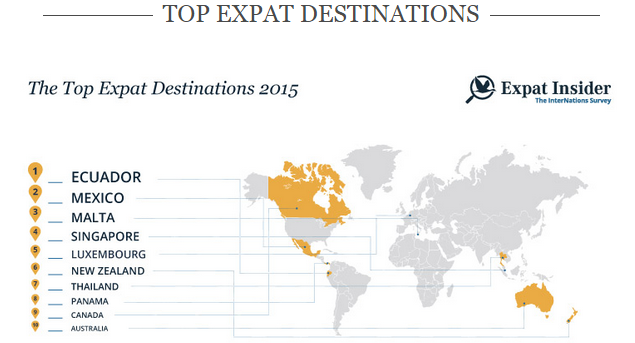 Mexico has excellent rates due to the low cost of living, people friendliness, excellent medical care and closeness to home. Foreigners living in Mexico also reported a high level of happiness, taking the third place on the poll: just behind Ecuador and Costa Rica.
Other areas in which Mexico rated really well were "feeling at home" and "the friendliness of locals". Results were also positive in areas like "Personal Finance Index" and "cost of living" with an 87% rate of approval.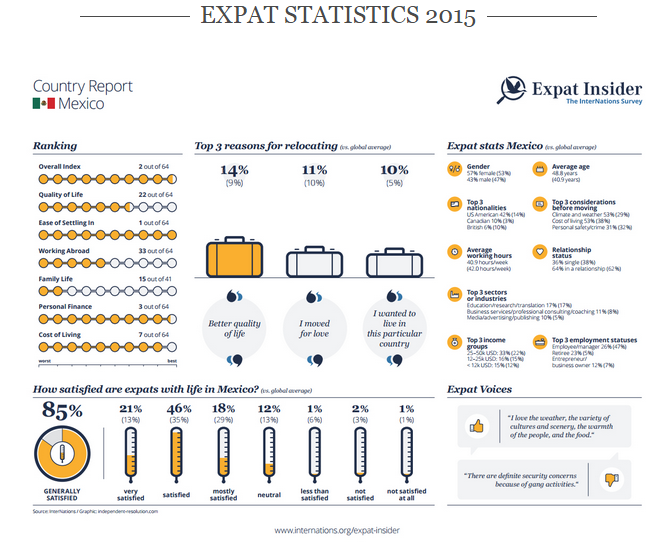 As in any other country, there are areas that need some improvement: expats living in Mexico gave low ratings to the public transportation system, personal safety and political stability. Among the foreigners working in Mexico 73% were satisfied with their jobs but there is dissatisfaction regarding work-life balance, long-working hours and job security.
If you have ever dreamed of living or retiring in Mexico, you need to know this is a reality for many foreigners. Mexico is close to home, cheap and has friendly immigration laws; a perfect place to call home.
For many it all starts with finding the right property, and here at Top Mexico Real Estate we have thousands of beautiful properties in the best areas of Mexico: colonial, modern, beachfront… we have them all!
Contact one of our professional Top Mexico Buyers' Representatives, we specialize in helping foreigners find the right property. We have over a decade experience working in real estate, and the certifications to help you purchase your dream home in a fast and safe manner.
And remember, here at Top Mexico Real Estate…
We Make It Happen!