One of the great things about living in Playa del Carmen is the ability to enjoy so many special events on a regular basis. Whether it´s the Jazz Festival in November or the BPM Festival in January, Playa del Carmen is full of arts and culture. That's why I look forward to the Riviera Maya Film Festival every year, and all the excitement it brings.
I like movies, doesn't everyone? So the opportunity to catch up on some festival screenings from the past few months is great. The main screenings are being held at the new Teatro de la Ciudad, Plays's top arts facility, and it really must be said that this is a huge step forward for the organizers. The majority of the remaining screenings are being held at the Cinemex theatres in Centro May, which is located just off the highway outside of the Playacar Phase 2 security entrance.
Today the organizers of the Riviera Maya Film Festival took over the Blue Parrot nightclub and restaurant for the first of 2 days of press conferences and special talks with filmmakers and industry. After a busy weekend that kicked off with screenings of Julieta several guests enjoying the sun and pool while the guest speakers spoke of their work, the dance floor area of the venue taken over by journalists and other guests of the industry.
Blue Parrot is located at 12 street and the beach and is one of the oldest clubs in Playa. Living downtown here affords the benefits of a short walk to a venue like the Blue Parrot, and just due north you'll find this beautiful 2 bedroom condo.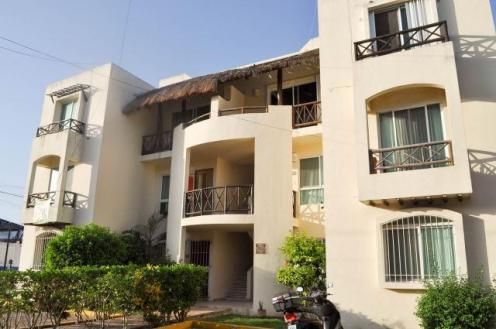 This cozy condo is located in a private complex of Playa del Carmen and is ideally located a few blocks from 5th Avenue and the beach, close enough to all the action but far enough from the noise. It's 2 bedrooms, 2 bathrooms, kitchen, living area, private parking and is a secure complex.
If you walk a couple of streets over to 6 avenue you'll find this beautiful building which has multiple units inside just like this one here. It's ideally located close to Juarez Avenue and the highway, making it easy to get to, with everything at your fingertips. These condos feature two bedrooms and they are located right in the heart of Playa del Carmen. They have 105 m2 of construction. Additionally, it is close to all the necessary services, supermarkets and banks.
The Riviera Maya Film Festival continues until Thursday night, when it will close with a screening of the new Miles Davis film by American actor Don Cheadle. Tickets are available online, so make sure to check if you are interested in going. Also, check out our website for Valle Bambu and see what homes we have to offer near Centro Maya, where the other films will be showing until Thursday.
Now, for more information about any of our properties in Playa del Carmen or anywhere in the Riviera Maya please check our website and contact one of our agents.
And remember, at Top Mexico Real Estate…
we make it happen!