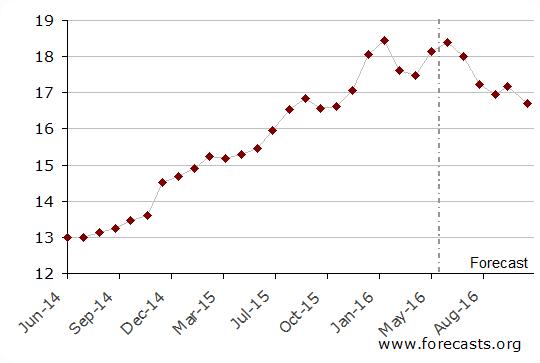 On Monday June 13  Mexico's peso dropped to its´weakest point in four months, with backs in Mexico City banks paying out as much as 19.04 pesos for an American dollar. Bad news for Mexico right? Well, it depends on who you are. For readers of this blog who are planning on moving to Mexico or even just for a vacation you might have a different opinion once you get here.
When you arrive here as a tourist it will seem like everything is on sale. For many years travelers to Mexico have become accustomed to making quick calculations that involved moving a decimal place one to the right when converting dollars to pesos.  Recently it´s moved up to 15:1 and that is expected to continue its´ slide downwards throughout the remainder of 2015, possibly as far as 17. For US tourists traveling to Mexico, your dollars will go continue to go further than before and you´ll be able to enjoy the discount.
So when Mexico´s is begins having it troubles turns out to be a big win for the tourists. This will depend, of course, on how much of your U.S dollars you ultimately trade in. When you do it´s best to avoid the banks and exchange your money at a ¨casa de cambio¨ where you´ll be able to find a competitive rate. Things like fuel, labor and some other domestic products have become relative bargains for tourists and will continue that way.
Also read: Retire in Mexico and Make Your Savings Go Further
Businesses in the Mexico, in particular those in the coastal areas that are primarily based around tourism, will see its´ local restaurants and tour companies with an influx of foreigners who eager to hand over their valuable bills, especially for those who are commissioned-based, so don´t forget to tip your service provider. They´ll appreciate it that much more.
If you who earn a living in dollars, as most readers of this blog likely do,  then know this: now is the best time to visit and enjoy a Mexican lifestyle that is currently ¨on sale.¨ Do you need any other reason? Start planning your trip now and enjoy more of what Mexico has to offer.
Now if you have any questions about Mexico market or any of the Top Mexico Real Estate properties we have listed anywhere throughout Mexico, please feel free to contact any of our Top Mexico Buyers' Representatives  and we will be glad to help you find your very own piece of paradise.
And remember, here at Top Mexico Real Estate…
We Make It Happen!