The Riviera Maya is a foodie's paradise, with people from all over the world setting down roots in this beautiful country, and bringing their traditional, cultural recipes with them. Causing a fusion of culture and flavors with so many restaurants that you are sure to find one that suit your mood.
Set right on the Caribbean Sea, the Riviera Maya is known for its fresh seafood caught daily by the local fisherman.  There are so many options, you could have fish, shrimp, octopus, calamari, the list goes on and on, and you can't visit the Riviera Maya without trying the seafood tacos. Trust me, you will not be disappointed and they will probably go down in the books as the best seafood tacos you have ever eaten. Here are the top budget friend, delicious spots to enjoy the best seafood tacos around.
La Floresta
La Floresta is a no frills, large outdoor restaurant with delicious food. The food is so good that the restaurant is always full. This is a favorite spot for locals and tourists alike.
Immediately upon arriving you are served a bowl of homemade chips and Pico de Gallo, which is to die for. I suggest ordering the fresh fish tacos which are fried, light and crispy, cooked to perfection and the shrimp tacos which are delicious, they are both served in a homemade tortilla.  The tacos at La Floresta are only 20 pesos each. They also have a variety of ceviches and ice cold beer.
La Floresta is a cash only restaurant and they close early, so make sure to get there before 6:00pm.
La Floresta: Playa del Carmen
14 Norte and the Carretera federal highway
Playa del Carmen, Q. Roo
Chiltepin
Chiltepin has really good food, ice cold beers and a small pool that you can take a dip in. What's not to love!
This is one of my favorite place, it has reasonable prices good food with a mix of tourist and local alike. They offer a variety of tacos ranging from 22 – 40 pesos, so mix and match and try different flavors. They also have fresh ceviche and if you are not a fan of seafood they have arrachera tacos, hamburgers and beer bucket specials.
Chiltepin: Playa del Carmen
Calle 34 and 15th Avenue
Playa del Carmen, Q. Roo
(984) 147-2487
www.chiltepinmarisquillos.com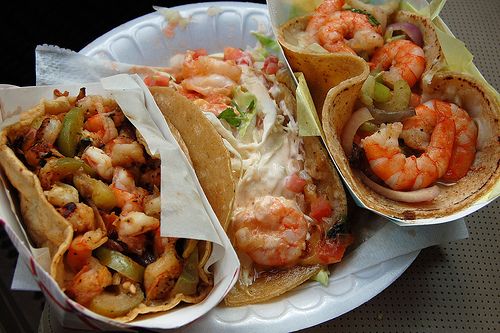 Los Aguachiles
Los Aguachiles is a popular restaurant in the Riviera Maya, so expect to see a crowd outside and to have to wait for a table. Los Aguachiles has many delicious menu items and a wide variety of seafood platters including aguachiles, tostadas, tacos and several others!
I have tried all the tacos on the menu and I can't pick a favorite, they are all so delicious. We often bring our friends or family who are in town to Los Aguachiles and it is always a huge hit. Feel free to experiment at this restaurant because you will not be disappointed!
Los Aguachilies: Constituyentes                                                   Los Aguachilies: Playa 34                                                            
Ave. Constituyentes Mz. 63 Lt. 3                                                   Calle 34 and 25th Ave.
Playa del Carmen, Q. Roo                                                               Playa del Carmen, Q. Roo
Los Aguachilies: Tulum                                                                   Los Aguachiles: Cancun
Ave. Tulum MZA. 40 LTE. 1 Centro                                                Ave. Nichupte MZA. 4 LTE. 1 Super MZA. 17
Tulum, Q. Roo                                                                                   Cancun, Q. Roo
www.losaguachiles.mx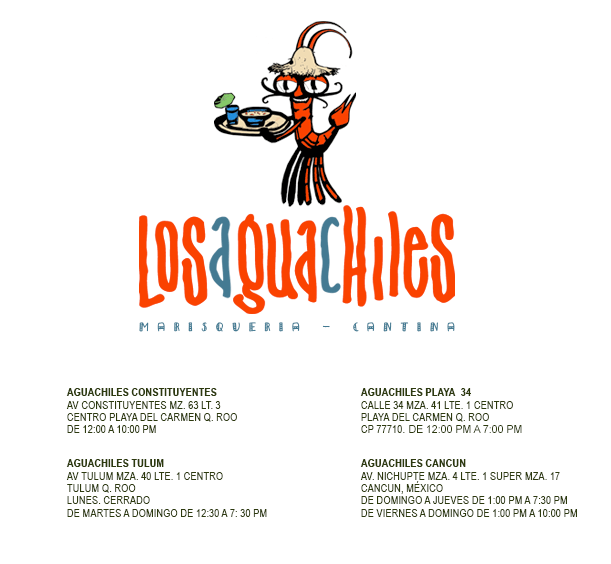 Mateo's
Mateo's is a beautiful place with a jungle setting to have a nice dinner. The price at Mateo's ranges from 70 – 280 pesos, which is reasonable for Tulum.
The restaurant features a coffee shop, a bar and the restaurant, so there is something to suit everyone's mood! Their classic margaritas is one of the best I have ever had. Mateo's offers grilled fish, battered fish or shrimp tacos served on a flour or corn tortilla. The platter comes with four tacos, a side order of rice and beans for 120 – 170 pesos and you can also add a salad for 40 pesos. If you do not like seafood there are plenty of other options such as burgers, fajitas, and burritos.
Mateo's: Tulum
Tulum Beach Road-Boca Paila KM 5.2
Zona hotelera Tulum, Q. Roo
(984) 179-4160
www.mateosmexicangrill.us
We hope you enjoy the gorgeous beaches, the beautiful sunsets, and the delicious restaurants in the Riviera Maya. Keep posted for more popular places to eat at around town!
And remember, here at TOP MEXICO REAL ESTATE…
We make it happen!