Beach #17 on the Countdown to the Best Beach in the Riviera Maya: Playa Paraíso
We don't get tired of mentioning it: the Riviera Maya is blessed with hundreds of beautiful beaches, all of white sand and clear blue waters filled with the most diverse and beautiful underwater life one could ever imagine. Amongst those hundreds of beaches you can find throughout this gorgeous paradise is Playa Paraiso.
Not to be confused with Tulum's Playa Paraíso (which, to be fair, is also part of the Riviera Maya), this beach is located a short five minute drive south of Puerto Morelos, or a ten minute drive north of Playa del Carmen. Although the beach has a public access – like every beach in the area – it is only surrounded by hotels such as Iberostar Paraiso and the Grand Mayan Palace.
Like most secluded and not widely known beaches, Playa Paraiso keeps true to its name: paradise. Being "far" from the popular beaches of Playa del Carmen, it has little to offer in the sense of entertainment, food or drinks; but the view, the tranquility and the beauty make up for everything else it lacks.
If you want to get away from the crowds (although the hotel guests will be sharing the beach with you), from the hustle and bustle of the busy cities and from the "buy this, eat here, drink with us" atmosphere, then you've picked the right beach!
Playa Paraíso: Getting There
Getting to Playa Paraíso is really easy, as it is located between the two main cities of Puerto Morelos and Playa del Carmen.
Driving: If you are driving from Cancun, you need to take the highway 309 south towards Playa del Carmen. Approximately 33 km south of Cancun, right after passing over the Puerto Morelos overpass bridge, you will find the Iberostar and Grand Mayan Palace hotels. The public access is located right by the hotels. If you are coming from Playa del Carmen, you need to drive north towards Puerto Morelos until you reach the mentioned hotels.
Taking a Taxi: Taxis may be somewhat expensive depending on where you are coming from, but they are an easy way to make sure you get to the right place. Just call a cab from wherever you are and ask them to drive you to the public access of Playa Paraíso (make sure you specify which one so you don't end up in Tulum!).
Public transportation:
Colectivos: Collective vans are easily accessible on the highway, or at their starting points in Cancun, Tulum and Playa del Carmen. If you are in Cancun, you need to hop on a van heading towards Playa del Carmen and ask to get off at Playa Paraíso. If you are coming from Playa, then hop on a van that is headed towards Cancun and do the same thing. Vans charge 35 pesos or less, depending on where you hop on.
Buses: Public buses that stop throughout the highway are accessible from the ADO terminals. They are called Mayabs and drive from Cancun towards south Quintana Roo, and back, making predetermined stops, sort of like colectivos. You may ask at the ADO bus terminal if they stop anywhere near Playa Paraíso or the above mentioned hotels.
Playa Paraíso: Things To Do
Please remember that this beach is secluded and is accessed mainly by the resorts' guests. This means that there are no restaurants, bars, beach clubs or anything that you may go to. The hotels do not allow "outsiders" to use their facilities, but you may rent the watersport equipment.
You can enjoy a nice, long walk down the beach.
Water activities are popular on all beaches; you will probably be able to rent kayaks, or go on a fishing, snorkeling or diving tour.
You may go snorkeling or swimming in the ocean on your own, as well.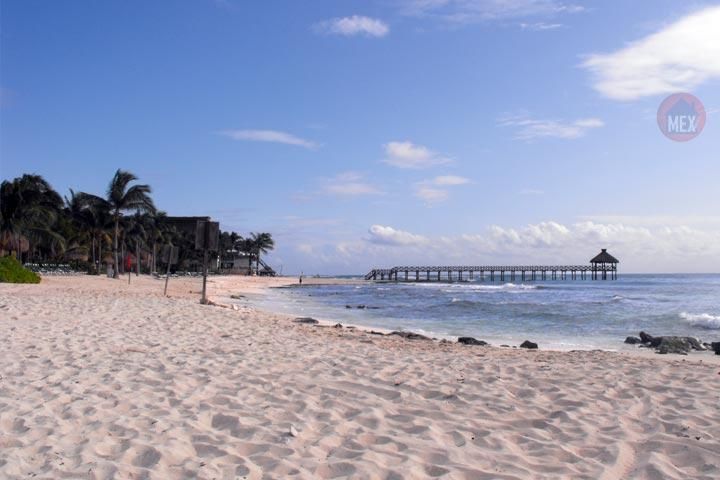 Playa Paraíso: Recommendations
As mentioned before, there is nothing else on this beach other than the hotel facilities, so here are some recommendations to take into consideration:
Because you will be unable to rent out palapas, umbrellas or beach beds, we recommend you bring a chair and your own umbrellas for personal use.
Bring your own towels because – unless you bring your own chairs – you will be sitting or lying down on the sand all day.
Make a quick stop at a convenience store beforehand and stock up on water, sodas, snacks, or anything else you like to enjoy when spending the day at the beach.
Remember that there is little to do, so bring a book, iPad, mp3 player, or the likes, to keep yourself entertained while sunbathing.
Don't forget to bring your sunscreen.
So there you go, it sounds like a perfect day in paradise, doesn't it?
Learn about all the different beaches in paradise by following our Top 25 Beaches in the Riviera Maya countdown every Friday! If you are looking for the perfect beach, make sure you check out our options. We aim to provide you with the best information about living in the Riviera Maya!
Top Mexico Real Estate specializes in helping foreigners become homeowners in the Riviera Maya! If you plan on vacationing often or retiring in the Riviera Maya, contact one of our Top Mexico Buyers' Representatives. We will be happy to walk you through the process of becoming a homeowner in Mexico.
And remember, here at Top Mexico Real Estate…
We Make It Happen!