Holy Week, according to Christianity, commemorates the passion, death and resurrection of Jesus. It is celebrated every year between March and April, depending on the year. The Holy Week takes off with Palm Sunday, which represents the entrance of Jesus into Jerusalem. Holy Monday, Holy Tuesday and Holy Wednesday follow Palm Sunday, eventually arriving to Holy Thursday. Thursday's mass gives opening to the following three days, known as Easter Triduum, which is made up of Good Friday, Holy Saturday and Easter Sunday (or Resurrection Sunday).
According to Roman Catholic religion, Jesus was sacrificed on Good Friday; Holy Saturday and Easter Sunday represent his resurrection. While in big cities around Mexico, and the world, you may encounter religious processions, and even see people committing to sacrifices (such as actually carrying a cross on their back, beating themselves with whips, or simply walking barefoot), the biggest sacrifice most people will make is the abstinence from meat.
Holy Week and Easter Sunday are fasting days. Traditionally, fasting meant that you would sacrifice to only one meal per day on Holy Thursday and Good Friday; abstinence from meat (red and white) is the most common sacrifice people make these days. Hence, fish and vegetables become the main ingredients during this time.
If you are looking to keep true to this sacrifice, check out the Top 5 Seafood Restaurants where you can enjoy delicious meat-free meals during Holy Week and Easter:
Where: 5th Avenue with Constituyentes Avenue, Downtown, Playa del Carmen; or 34th Street with 25th Avenue
Price range: $$
What you can eat: An aguachile is a chili-spiked ceviche in Mexico, and this restaurants lacks none of it! You can expect to eat tacos, tostadas, ceviches, cocktails and more. Everything comes accompanied by delicious home-made salsas.
Website: www.losaguachiles.mx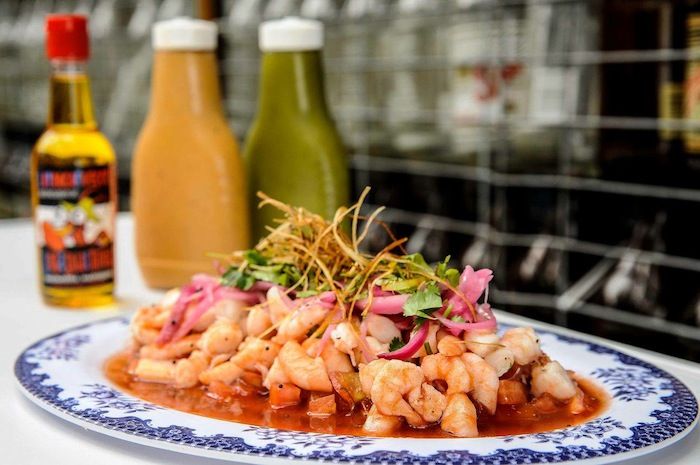 Where: 12th Street between 1st and 5th Avenue, Downtown, Playa del Carmen
Price range: $$ – $$$
What you can eat: Blue Lobster Seafood Restaurant offers all types of seafood and fish, from soups to salads, to appetizers, to risotto, fish fillets, fish pastas, and much more. You can also order their famous lobsters (they're called Blue Lobster for a reason) and enjoy a delicious meat-free meal.
Website: www.bluelobster.com.mx
Where: 5th Avenue between 22nd and 24rd Streets, Downtown, Playa del Carmen
Price range: $$$
What you can eat: This restaurant is owned by famous Mexican Chef Aquiles Chavez and specializes only in seafood. You can expect to eat nothing less than delicious food here. You can eat the catch of the day, grilled octopus, ceviche, fish tacos, and even shrimp pizza. There are many options for those seafood lovers out there.
Website: www.lafisheriaplaya.com.mx
Where: 5th Avenue with 32nd Street, Downtown, Playa del Carmen
Price range: $$-$$$
What you can eat: On their website they say that their chef, Charles Parkes, is a fresh produce lover. They are a 100% seafood restaurant, hence their "from the ocean to your table" concept. You can expect to eat seafood cocktails, tuna carpaccio, ceviches, pasta with seafood or their amazing grilled seafood.
Website: www.elmuelledeplaya.com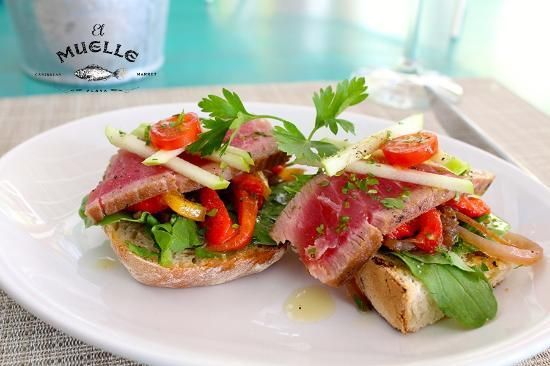 Where: 38th Street between 5th Avenue and the ocean, Playa del Carmen
Price range: $$
What you can eat: Although this restaurant is not 100% seafood, they do serve some delicious "out of the ocean" food. For lunch you can expect to eat fish salad, fish sandwiches, shrimp Scampi, fish fillet with garlic, and more. For dinner you could have shrimp, tuna, or fish fillet, all marinated differently and accompanied by different fittings.
Website: www.lacuevadelchango.com
So, now you know where you can eat this Holy Week and Easter Sunday without breaking the sacrifices one is supposed to make! Or you can just go to any of the above-mentioned restaurants – or any of the other hundreds of delicious seafood restaurants in Playa del Carmen – any day of the year and enjoy some great Mexican seafood gastronomy.
This year, Holy Week will take place from Sunday, March 29 and will conclude on Saturday, April 14th, which is the Saturday before Easter Sunday.
Top Mexico Real Estate has helped thousands of foreigners become homeowners in the Playa del Carmen and throughout Mexico! If you plan on retiring in Mexico, or are looking for a vacation real estate property, please feel free to contact one of our Top Mexico Buyers' Representatives who will gladly help you through the process of purchasing property in Mexico.
And remember, here at Top Mexico Real Estate…
We Make It Happen!