Beach #15 on the Countdown to the Best Beach in the Riviera Maya: Akumal Beach
Most beaches are just that: beaches. Beautiful white sand, gorgeous blue waters…everything you want a beach to be. But sometimes, beaches come with amazing surprises. Akumal Beach is #15 on our Top 25 Beaches in the Riviera Maya, and for good reason! Akumal (which means Place of the Turtles in Mayan) is home to juvenile and adult sea turtles. Not only that, but it's a beautiful and tranquil bay, as well.
Akumal is a bay surrounded by coral reef, which stops the break. This makes the water seem pool-like, calm and wave-less. The deepest parts are approximately 6 meters and it hosts all types of life; from corals, to fish, to seahorses, rays, and turtles, Akumal is a large, natural aquarium!
Located south of Playa del Carmen, and north of Tulum, it is easily accessible and a beautiful place to spend the day, or weekend, at. Akumal beach offers all types of activities, from snorkeling to diving, and has an array of delicious restaurants, as well. A day at Akumal Beach will never be boring. And, if you visit during the right season, you may also encounter nesting sea turtles and hatchling releases from the Akumal Ecological Center (CEA).
Akumal Beach is unique in that ecology, nature and tourism go hand in hand. The town's people and the Ecological Center work together with snorkeling guides and tourists in order to preserve the bay in all its glory for the juvenile sea turtles that call this place home. Donations can be made to help with the efforts.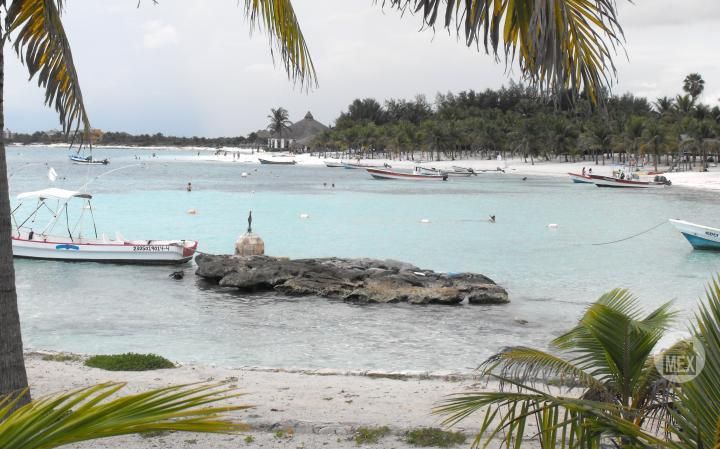 Akumal Beach: Getting There
Akumal is divided into Pueblo (town) and Beach. It is very easy to reach Akumal from any point of the Riviera Maya, as it is located 20 minutes south of Playa del Carmen, and 20 minutes north of Tulum.
Driving: If you have a car (rented, or otherwise), all you need to do is get onto the Federal Highway 309 and drive south (coming from Playa del Carmen), or north (coming from Tulum), until you reach Akumal. It is very well signaled. If you are coming from the north, it is right past Sirenis; if you are coming from the south, you need to pass the Bahia Principe resort. Akumal Pueblo is on the west side of the highway and is mainly where the workers live; you want to go to Akumal Beach which is where all the tourist attraction is.
Taking a Taxi: A taxi will charge you over $300 MXN to drive you to Akumal. A taxi from the airport will cost $900 MXN, or more. However, if this is the alternative you want to take, just mention to the driver that you want to go to Akumal Beach and they will drive you all the way down to where the main access is.
Public transportation:
Colectivos: Colectivos are readily available on the highway. However, you can also take one from the van central on 15th Avenue with 2nd Street in Playa del Carmen. Hop on the one heading towards Tulum and ask to be dropped off in Akumal. Cross the overpass bridge and walk approximately 5 minutes until you reach the beach. Coming from Tulum, you will need to take a van headed towards Playa del Carmen. You will already be dropped off on the east side of the highway, so there is no need to cross the overpass bridge. The colectivo should cost no more than $3 USD per person.
Buses:  You can take the Mayab buses at the ADO terminal, heading towards the south. These buses make stops as they drive down the highway, so just make sure you ask the driver to point out the stop at Akumal.
Akumal Beach: Things To Do
Akumal offers an array of fun activities for the whole family, mostly nature related. Here is a list of things you can do while visiting Akumal Beach:
Snorkel with sea turtles – this is the main attraction in Akumal. Just remember to respect nature by not touching or harassing the turtles, and by not stepping on the corals. You will not only see turtles, but you will probably also see rays, all types of fish (even barracuda!), and the diversity of its corals.
Go diving – there are two dive shops in Akumal ready to take you out on amazing dives just past the reef where you can encounter adult sea turtles and many other species.
Visit Yal Ku Lagoon. Located approximately 10 minutes from Akumal Bay, this lagoon is a mix of fresh and salt water, giving life to beautiful marine life.
Go fishing, catch your fish, and have it cooked at La Cueva del Pescador restaurant.
Eat at one of the many delicious and fresh restaurants – most of them offer catch of the day – and enjoy great Mexican and international cuisine.
Rent a kayak and paddle throughout the bay.
If visiting during nesting season, walk on the beach looking out for nests (do not touch them, of course).
Visit the Ecological Center for information about marine life and the possibility of taking a night tour to see nesting sea turtles (during season May through September).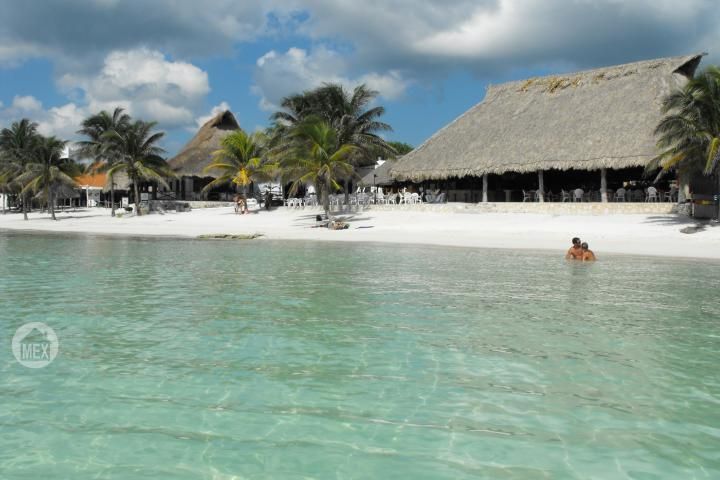 Akumal Beach: Recommendations
Akumal is a small fishing town, however, they don't lack any services. You can find everything from restaurants, to medical clinics (if necessary), convenience stores, shops, bars, and more. Nonetheless, it's always best to take some things into consideration:
Bring money – Akumal is an expensive place. Food, tours, and souvenirs are all pricey so it's best that you are ready to spend.
Use biodegradable sunblock and put it on 30 minutes before going into the water – as mentioned before, Akumal is an ecological town working on saving the marine ecosystems. Sunblock bleaches corals and kills fish, so be considerate when using it.
Make sure you listen to your guide, or locals, about how to treat marine life (no touching, harassing, or stepping on things).
Although Akumal looks like a pool, it is still the ocean, so rent out life jackets before going in for a swim – better be safe than sorry!
Be careful when snorkeling and do not to touch anything – corals are home to sea urchins, and they hurt.
Akumal does not have beach clubs and does not rent out beach beds (unless you're a guest at one of the hotels), so make sure you bring towels and shade.
Remember to have fun and enjoy the beautiful and natural marine life that calls Akumal home! This beach is one of the most popular destinations when visiting the Riviera Maya; it is beautiful, calm, and does perfectly well as a day's getaway destination.
You can continue learning about the best beaches in the region by following our Top 25 Beaches in the Riviera Maya countdown every Friday! If you are looking for the perfect beach, make sure you check out our options. We aim to provide you with the best information about living in the Riviera Maya!
Top Mexico Real Estate is the leading website in real estate in the Riviera Maya and throughout Mexico. We help foreigners find their dream homes in paradise. If you are looking to invest in a vacation, retirement, or full-time property in the Riviera Maya, feel free to contact one of our Top Mexico Buyer's Representatives. They will happily guide you through the process of becoming a homeowner in Mexico!
And remember, here at Top Mexico Real Estate…
We Make It Happen!