Beach #13 on the Countdown to the Best Beach in the Riviera Maya: Puerto Aventuras Beach
Puerto Aventuras is not as popular as other Riviera Maya destinations, but this location offers its visitors not only a beautiful beach; but also an exclusive marina and a golf course.
Puerto Aventuras is a private subdivision, but you can always visit their many restaurants and enjoy all of the amenities it has to offer; such as an exclusive shopping area, an aquarium and many other perks.
Forget about the crowds, traffic and noise and enjoy a private beach surrounded by nature!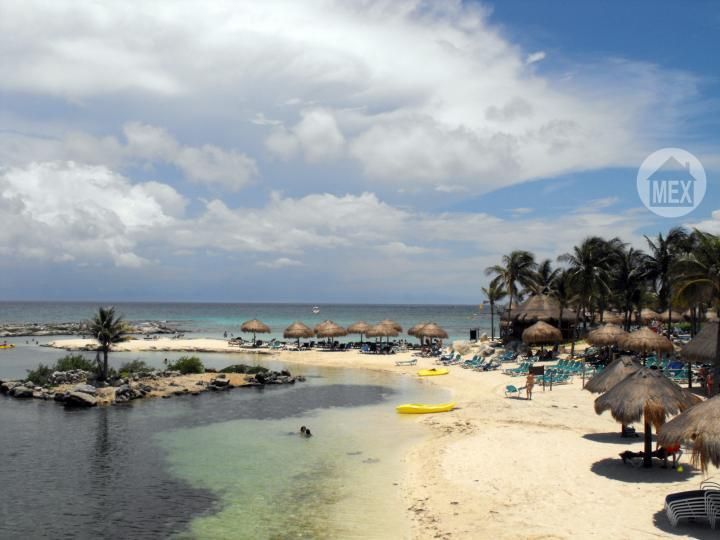 Puerto Aventuras Beach: Getting there
Driving a Rental Car: If you are coming from Cancun or Playa del Carmen you need to get on the federal highway 307 southbound towards Tulum (55 miles from Cancun/15 from Playa del Carmen) and follow the signs. In order to get to the beach you have to turn left in the overpass and get through the checkpoint. The security guards will ask for your ID and they will let you through.
Taking a Van/Taxi: This might be convenient if you are not planning to do other activities and just want to spend the day in Puerto Aventuras. Ask around at the airport or taxi station, shop around on the internet and try to find the best fare.
Public Transportation: If you are on a budget, Colectivos are a good way to get to Puerto Aventuras. They are white mini vans (10-14 passengers) that drive between Playa Del Carmen and Tulum, all along the 307 federal highway. To stop them wave your hand in the air. Once the van stops get in and tell the driver where you want to go. Make sure to ask for the price to your destination. The fare from Playa del Carmen to Puerto Aventuras costs approximately $2 US.
Puerto Aventuras Beach: Things to do
CEDAM Museum:
The CEDAM museum showcases items recovered from shipwrecks and excavations around Puerto Aventuras, as well nautical items from the past. The entrance is free and the visit can be done in about an hour, an excellent choice for the hottest hours of the day or on a rainy afternoon.
Swim with the Dolphins:
This is a perfect activity for anyone visiting Puerto Aventuras, as bookings are not required; which allows more flexibility for your itinerary. If you want to learn more about these tours, visit their website.
Golf:
Puerto Aventuras had the first golf course in the Riviera Maya, designed by the renowned PGA player Thomas Leman. This golf course offers an amazing 9 hole Par 36 surrounded by beautiful vegetation, and cool breezes from the sea. For more information, visit their website.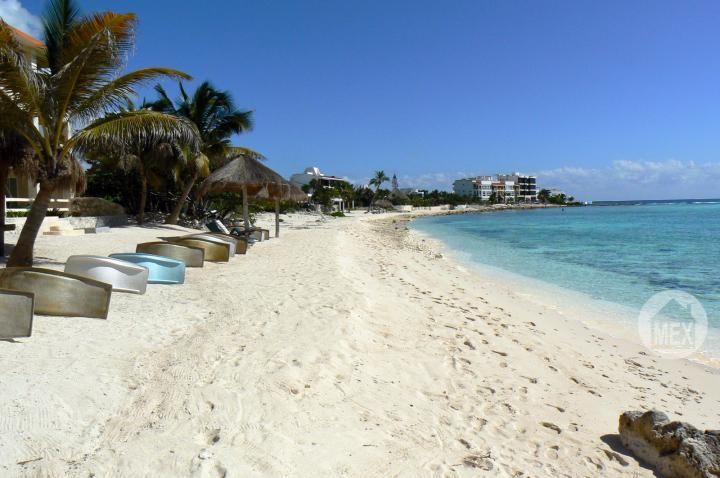 Puerto Aventuras: Recommendations
Puerto Aventuras is an excellent destination for a day trip, make sure to arrive there early to enjoy a full day in the premises.
The access is restricted, but free of charge.
Walking around the marina is an excellent way to enjoy the views and even have the opportunity to see dolphins in the canals.
Walking is the ideal way to get to places within Puerto Aventuras, make sure to wear comfortable shoes.
Keep up to date with the best beaches in paradise by following our Top 25 Beaches in the Riviera Maya countdown every Friday! If you are in search for the perfect beach to spend the day at, make sure you check out our options. We aim to provide you with the best information about living in the Riviera Maya!
Top Mexico Real Estate is a local American-Owned company that specializes in helping foreigners become homeowners in Mexico. If you are looking for a second home or to retire in paradise, feel free to contact any of our Top Buyers' Representatives. Browse through our beautiful properties, we are sure you will find your dream home.
And remember, here at Top Mexico Real Estate…
We Make It Happen!