Despite their name, the whale shark is neither a whale nor a mammal; it is a slow-moving filter feeding shark and the largest known fish species. The whale part of the name comes from its sheer size. The whale shark is an Ovoviviparous species, this means that it keeps its eggs inside her body and once they are mature; tiny whale sharks emerge alive from the mother's body.
The whale shark has an extremely thick skin, in some cases up to four inches thick. In addition, their skin has a much darker tone than the rest of the fish with white patterns comprising dots, vertical and horizontal lines; making really interesting patterns.
The whale sharks huge mouth can be as big as five feet long, but swimming alongside a whale shark is 100% safe as they have no interest in consuming humans. They also have a filtration system that does not allow the passage of anything bigger than small fish like sardines and their many rows of tiny teeth are located in the back of their mouth; so they can not really harm anyone.
Whale Shark Teeth
Source: http://www.flmnh.ufl.edu/fish/gallery/descript/whaleshark/whaleshark.html
These majestic animals have an advanced filtration system that allows them to eat without having to swim, compared to other animals that require them to move forward to push water inside their mouth. The whale shark is able to use their gills to pull water into their mouth, where it accumulates plankton, krill and other small seafood like sardines or anchovies.
These fish live in tropical waters at an average 700 meters deep. They are generally solitary animals, but are grouped when they find an area rich in food.
The whale shark is known to be the world's largest fish, with verified specimens as long as 40 feet; that is as long as a trailer. There are many reported sightings of much bigger whale sharks, over 65 feet long; but they have not been documented and therefore are considered a myth.
Despite its imposing size, whale sharks are completely harmless and peaceful creatures. Tourists can swim very close them, and in the past visitors were even allowed to even touch them but this is no longer permitted.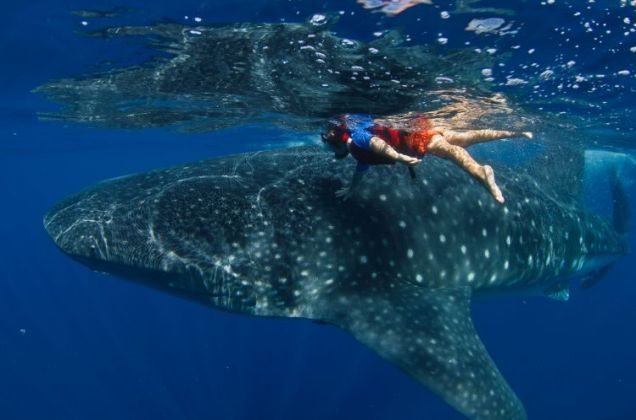 Summer is the best season to observe these magnificent creatures, especially the months from June to September. The Riviera Maya has many tour companies that organize whale shark tours, which includes everything you need to enjoy this experience.
If you live in the Riviera Maya or are vacationing here, the best places to find whale sharks are in the area between Isla Mujeres, Contoy and Holbox Island.
Each year an estimated 1,400 whale shark reach the coasts of the peninsula, and about 200 approach the islands of Holbox and Contoy in the state of Quintana Roo.
Swimming with the whale sharks is a once in a lifetime experience, remember this is a peaceful creature but there have been reports of them attacking boats; after being harassed. If you are going on a whale shark tour, respect the whale sharks and follow the indications given by your tour guide.
Would you like to partake in unique experiences like this all the time? Consider retiring or purchasing a vacation home in Mexico there are so many things to do here, you will never run out of once in a lifetime experiences.
From dreaming to owning your dream home in Mexico, Top Mexico Real Estate has a decade team of Top Mexico Buyers' Representatives with the experience in helping foreigners become homeowners in Mexico.
Top Mexico Real Estate…
We Make It Happen!