The miracle of life is an amazing thing. For millions of years life on our planet has been the sole pillar of everything we know and love. It all really comes down to creating life, and keeping it that way for millions upon millions of years to come. And to be able to witness the miracle of life – be it human or otherwise – is a unique experience that not very many people get to live in their lifetime.
Amongst the many amazing species that call the Riviera Maya home is the sea turtle. In the world, there are eight existing sea turtle species – and most of them are critically endangered. Of these eight species, seven of them live and nest in Mexican beaches. We are a privileged country! And out of those, four nest in the gorgeous, pristine beaches of Quintana Roo.
However, due to heavy tourist congestion, sea turtles start migrating south to find isolated beaches that less humans transit through. And if that seems impossible, they settle for those where there are sea turtle protection programs that (try to) control the traffic of people. One of those places, and the most popular for both swimming with these majestic animals and witnessing sea turtle nesting season, is Akumal.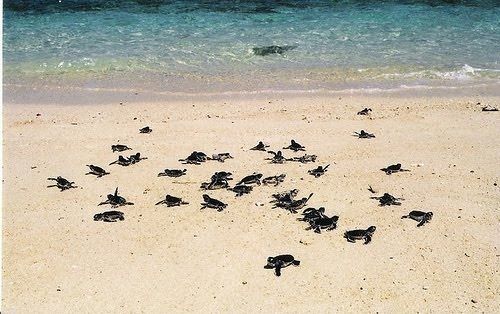 Akumal means "Place of the Turtles" in Mayan ('Ak' means turtle; 'Umal' means place). The name is, of course, justified, as this is not only one of the most important nesting beaches in the region, but it is also one of the biggest natural homes to juvenile sea turtles in the area. This tranquil bay area – very popular amongst tourists – is home to approximately 40 juvenile sea turtles. This is their natural habitat, as it is a popular feeding area for them due to the amounts of sea grass that the bay possesses.
While these juvenile turtles come and go on a daily basis, the phenomenon known as "sea turtle season" refers strictly to the nesting season, which takes place between May and September every year. Now, this season is not a general rule for all eight species, but to the three that nest in Akumal: caretta caretta (loggerhead), chelonia mydas (green turtle), and the occasional eretmochelys imbricata (hawksbill turtle) – hey, now you know three scientific names to impress your friends!
Life Cycle
The most common species to nest in the region are the loggerhead and the green sea turtles, with record over 900 nests in 2013 (in Akumal) throughout the whole season, for both species. However, there are also leatherbacks and hawksbill nests found throughout the state. The life cycle of a sea turtle is fairly simple:
Mating – adult female sea turtles come out to the beach to nest between May and September. They can lay anywhere between 80 and 120 eggs, depending on species.
Incubation – this period lasts approximately 45 to 55 days.
Hatching – after the incubation period, hatchlings pop out of their shells and make their way out to the ocean*.
The Lost Years – the first three years of a sea turtle are referred to as "the lost years" because they migrate to different feeding areas and are hard to keep track of.
Juvenile Years – for the next 15 years they migrate around the world to feeding areas until they reach adulthood.
Adulthood – this is when they reach their breeding age, which goes from 15 to 50 years old.
Mating – adult male turtles court females in order for the cycle to continue.
Lifespan – sea turtles can live up to 100 years old, depending on species.
*Unfortunately, only one out of 1,000 hatchlings makes it to adulthood for different reasons:
Natural reasons – during incubation, raccoons and crabs dig the nests and feed on the eggs. After hatching, seagulls target turtles, as they are soft-shelled and easy to digest. Through their first years, sharks and whales can eat them, too.
Human Interaction – ocean pollution, garbage, obstacles on the beaches, accidental fishing, 'hit and run' (when boats hit turtles), and more, are the major cause of death in sea turtles.
How You Can Help and Experience Nesting Season
There are many ways to get involved in the conservation process:
Volunteering – sea turtle camps rely 100% on volunteer work. Here they teach you the proper way to patrol and monitor sea turtles throughout nesting season (working with both adults and hatchlings). Volunteer work costs both financially and physically, but it is worth experiencing.
Eco-touring – the beaches on which these turtles nest are open to the public (places such as Xpu-Ha close the access at night, but you can stay at a hotel there), so the best way to help with conservation is by education yourself as to what you can and cannot do on the beach (such as leaving garbage or obstacles for the turtles). You can contact a sea turtle camp and find out if they offer educational night walks where you get to witness the nesting process, or if they will have hatchling releases for you to see. Donating to these programs is a huge contribution, as they are NGOs and do not profit from their work.
While Akumal is certainly not the only nesting beach in the Riviera Maya, it is the most popular one – specially because there are juvenile sea turtles swimming in the bay every day of the year. It's their home, after all. However, you can witness the nesting season at other beaches such as Xpu-Ha, Xcacel, Sian Ka'an, Tulum and Cancun.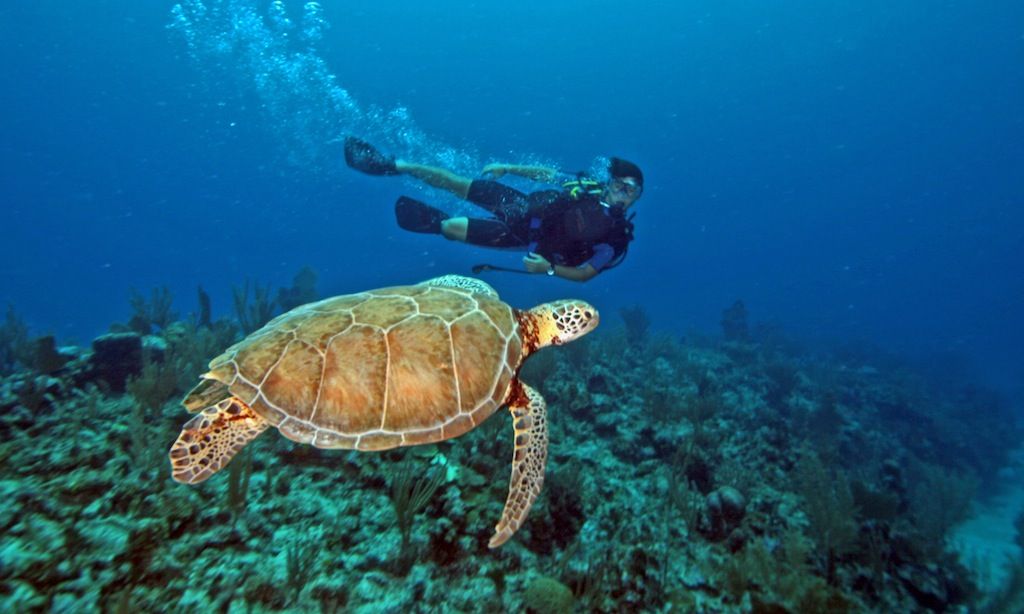 Don't miss the opportunity of experiencing this unique and life-changing event. Sea turtles are beautiful creatures and they depend on you to continue gracing the oceans we all visit the Riviera Maya for.
If you wish their home will someday be your home, please feel free to contact one of our Top Mexico Buyer's Representatives who will gladly help you in the process of relocating and finding your dream home in paradise.
And remember, here at Top Mexico Real Estate…
We Make It Happen!