Yesterday was Canada Day and Canadian expats, tourists and non-Canadians alike gathered at the Blue Parrot beachfront bar to celebrate! For those non-Canadians thinking to themselves… What is Canada day? Well, Canada day is the national day of Canada, celebrating the anniversary of the July 1, 1867 enactment of the British North America Act (today called the Constitution Act), which united three colonies, New Brunswick, Nova Scotia, and the United Province of Canada into a single country called Canada.
So happy 148th birthday Canada!
You might be asking yourself, why celebrate Canada Day in Playa del Carmen?
The Playa Time wrote that, "Mexico is the second most popular destination for Canadians, attracting 25,000 snowbirds every year. Approximately two million Canadian tourists came to Mexico last year, and around 50,000 Canadian Mennonites live in Mexico out of which 25,000 have dual citizenship."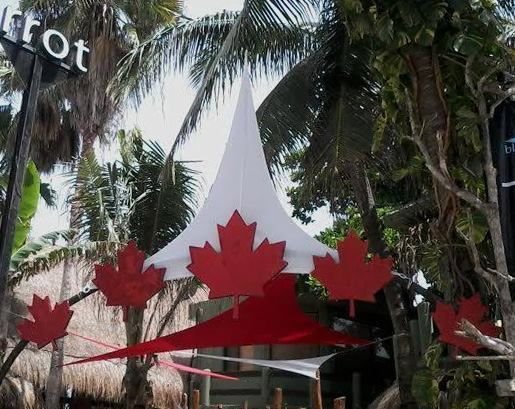 Playa del Carmen is home to people from all over the world and has a large Canadian expat community. From year round retires to those just wanting to escape the winter cold and enjoy some fun in the sun. But no matter how long one has been living in Playa del Carmen… you can't take Canada out of a Canadian. Their Canadian pride runs through and through. This was evident by all the folks that came out yesterday to enjoy the festivities, have a taste of home and celebrate Canada Day in Playa del Carmen.
Related: Why Mexico Consistently Ranks One of the Top Destinations for Retirees
The Canada Day celebration was sponsored by The Playa Times which is owned and operated by a Canadian citizen who wanted to bring this festivity to the local Canadian expat community. The guests enjoyed a barbecue cookout with Canadian specialties such as poutine (French fries smothered in a rich brown grave and topped with homemade cheese curds what took a whole day to perfect) and Canadian sausage… all which were enjoyed by the participants! Additionally, a live band was covering popular Canadian artists throughout the event along with carnival games and other activity to entertain the kids. Fun was definitely had by all.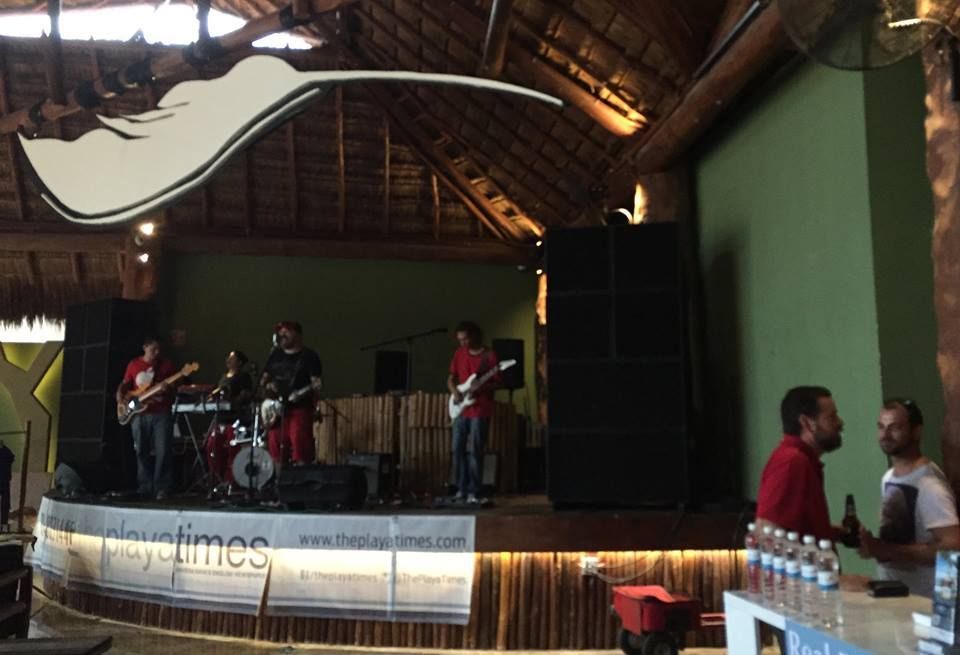 Not being from Canada myself, by the end of the party I was feeling the true Canadian spirit and felt truly welcomed into the Canadian family. I felt the urge to belt out a verse from, "O Canada! Our home and native land!"… but don't worry I held myself back.
Related: Cancun Real Estate Celebrates July 4th & Canada Day
So fear not, there is no need to miss out on native nationality celebrations in Playa del Carmen as there is a huge expat community. Yesterday many Canadian expats, Canadian tourists and non-Canadians alike gathered to celebrate the "Canuck" spirit in the Mexican Caribbean. Canada Day, what a wonderful holiday.