Steelers will come face to face against Super Bowl champion, New England Patriots, to kick off the NFL season on September 10th. This promises to be an exciting season as teams from the East to the West, the North to the South, and everything in between fight for the ultimate title. Regardless of what team you are rooting for, we are all equally excited about the season kicking off! Football season is here and there are several sports bars where you can watch NFL games in Playa del Carmen!
If you're living or traveling in Playa del Carmen during football season, you need to know where to go cheer for your team. Without further ado, here are five sports bars that you can watch NFL games in Playa del Carmen at – because who doesn't enjoy chicken wings, draft beer and football?
1. Wah Wah Beach Bar
This sports bar is an all-time favorite among American expats residing in Playa del Carmen. It is the only sports bar throughout the city on the beach, so that is nothing but a win-win situation, regardless of the final score. Food is delicious, drinks are endless, and the environment is fun, fun, fun. With a huge stage (for music performances), 4 big flat screens and a projector, there is no better way to enjoy NFL, or any sport for that matter.
Location: 2nd Street North and the beach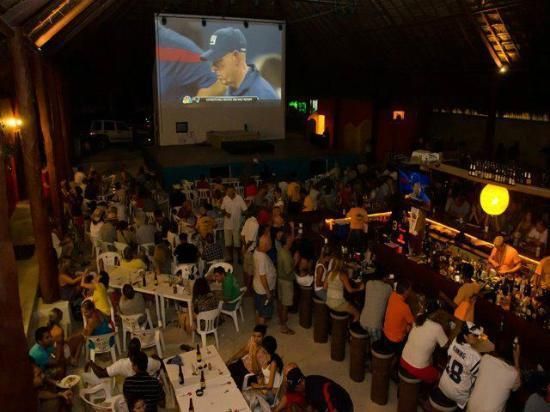 2. End Zone (or EZ Bar)
Another favorite among expats and locals alike, EZ Bar is a unique, down-to-earth sports bar in the heart of Playa del Carmen. There are screens for everyone, often playing more than one game. The backroom projection is always showing the most important game. Drinks and food are relatively cheap and delicious. EZ bar has customers all day long, so make sure to arrive earlier if you want to get a good seat for the NFL game!
Location: 5th Avenue between 12th and 14th Streets
3. Legends Sports Bar
Eight HD screens and a projector decorate this fun and lively sports bar. Legends offers an extensive finger-licking menu (hot dogs, burgers, hot wings), and don't forget their wide array of beer options. This sports bar is up to date with all sports and is more often than not showing the most popular games around; so make sure to check what they will be playing before heading there.
Location: 16th Street between 5th and 10th Avenue
4. McCarthy's Irish Pub
This Irish pub recently opened its doors in Playa del Carmen, but comes from an extensive family of pubs around Mexico. Famous for its live music weekends, it never forgets its sports fans. Their motto "eat, drink, be Irish" could easily be interpreted as "eat, drink, and come watch sports". Again, like many sports bars, they will be playing the popular game, so make sure you know what you are going to go watch!
Location: 5th Avenue corner with 22nd Street
5. Tequila Barrel
For some American expats this bar can be "too American", but it certainly is unique when it comes to sports. An inside air-conditioned room with a huge screen and betting machines are the perfect scenario for sports fanatics. Football, air-con, friends, delicious American food, beer, and an overall exhilarating ambiance make this place a fun sports bar. You can't go wrong in Tequila Barrel. Now if you're going for cheap, head to one of the above mentioned bars.
Location: 5th Avenue between 10th and 12th Streets
There is still a month left until kick off, but if you're a true sports fan you're already planning your calendar and social events around your team's scheduled games! Now you know where to go watch the games if you're looking for entertainment and a little bit of rivalry! Happy football season!
Top Mexico Real Estate is a leading real estate website selling properties in the Riviera Maya and throughout Mexico. If you're looking to enjoy every NFL season for the rest of your life in paradise (which you really should be thinking about), then contact one of our Top Mexico Buyers' Representatives! They will gladly guide you through the process of purchasing real estate and possibly engage in NFL talk with you.
And remember, here at Top Mexico Real Estate…
We Make It Happen!