We have quickly approached that time of the year when everyone is wondering where the time has gone. The end of December if fast arriving and soon we will be saying goodbye to 2015 and hello to 2016.
The popular tourist destination of Playa del Carmen is soon to be swarmed by thousands of tourists and locals alike wanting to give a good farewell to the year in paradise. Who can blame them, really? There is no place like the Riviera Maya for a good meal, a good party, a good time and an amazing location to start the New Year.
Whether you have already landed or are just about to hop on a flight to this gorgeous beach town, here is a list of things you can expect to do to celebrate the arrival of the new year.

Fine Dining
Playa del Carmen is many things, but it certainly is nothing short of hosting an array of amazing and finger-sucking, delicious restaurants. Whether you want to spend your last day of the year eating Mexican, Italian, French, or a mixture of different culinary styles, you are sure to find something to satisfy your cravings.
Go big or go home: Fifth Avenue is known for featuring restaurants upon restaurants serving delicious New Year's meals. This is your chance to spur a little on the cash for an amazing meal and a night to remember.
Heads up: reserving a table a few days in advance is mandatory if you want to secure a place. Remember that thousands of tourists flock south at this time of year and restaurants are sure to sell out.
Party 'till the sun comes up
It is no secret that Playa del Carmen is giving Cancun a run for its money when it comes to the party scene. Year long, people visit from around the world to experience the amazing nightlife that this paradisiac coastal town has to offer. Many people have said that Coco Bongo, one of the biggest and most famous nightclubs in the Riviera Maya, puts Las Vegas nightlife to shame. There is nothing like celebrating New Year's here.
Coco Bongo throws one heck of a party for $150 USD; if you are not too keen on paying too much, you can always head to one of the smaller (and significantly cheaper) bars and clubs on 12th street. Either way, you are sure to have the night of your life.
Heads up: Even though Playa del Carmen has an amazing nightlife, it's quite limited to 12th Street. This means that the area will be overcrowded and clubs might be hard to get into if you arrive late. Be patient and go with the flow.
Beachin' it
It is a common thing to celebrate the arrival of the New Year by the beach. Many beach clubs, such as Zenzi Beach Club, Fusion or Canibal Royal, host special New Year's Eve dinners right on the beach with live music, party favors and a chilled crowd. Places such as Canibal Royal will bring on international DJs to set the music mood, as well.
After dinner and welcoming the New Year, head out to one of the public beaches to witness the first sunrise of the year. The sun will light up the gorgeous Caribbean Ocean for the first time in 2016.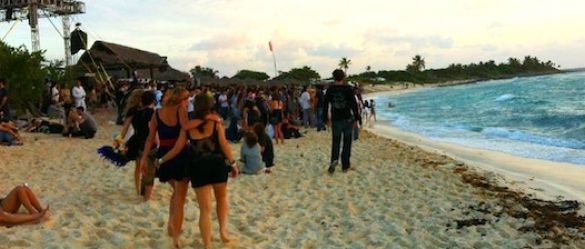 Coincidance Beach Festival 
From December 30th to January 2nd, the Coincidance Beach Festival will feature international DJs for an electronic goodbye to the old year. On the 31st, at Coco Maya, you will be able to dance the night away to DJs such as Robert Babicz and Harold Tellez, amongst many others.
The four-day pass is available for $165 USD and it will be hosted in La Santanera, Coco Maya, Reina Roja and SacBe Jungle.
There are hundreds of options to celebrate New Year's Eve in this beautiful paradise beach town. Be sure not to miss out on any of them, because this is a unique life experience. Happy New Year from the Top Mexico Real Estate team!
Top Mexico Real Estate is an American-owned real estate company catering to Americans and Canadians looking to relocate to the Riviera Maya or anywhere throughout Mexico. Browse through our thousands of property options and contact one of our Top Buyer Representatives who will gladly guide you in the journey to becoming a homeowner in Mexico.
And remember, here at Top Mexico Real Estate…
We Make It Happen!