Beach #7 on the Countdown to the Best Beach in the Riviera Maya: Coco Beach
More than 2 million visitors choose the Riviera Maya for their holidays every year, making it the second most popular destination in Quintana Roo not too far behind from Cancun. Once a sleepy fishing village, Playa del Carmen has become a hot destination for tourists looking for beautiful beaches and a cosmopolitan vibe.
Playa del Carmen has many different neighborhoods and each neighborhood has its own beach, from the popular Mamita´s beach to the least known areas in the outskirts of Playa del Carmen; every one of these have special characteristics that make it special and different from the rest.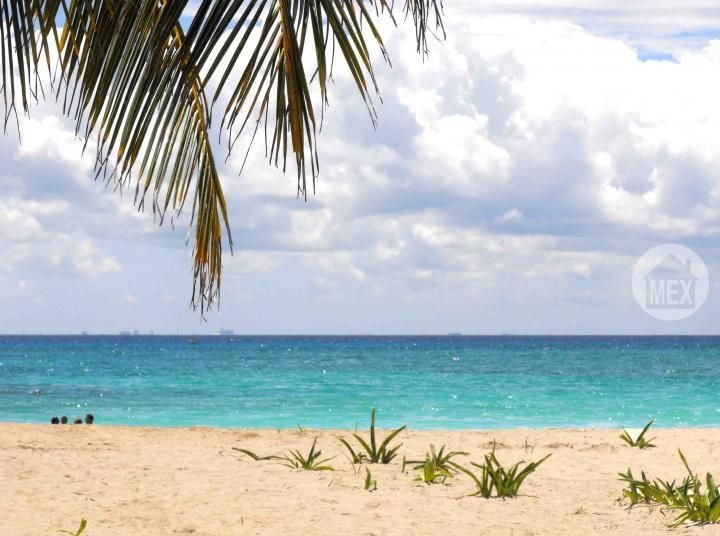 Coco Beach: General Information
Coco Beach is near the Colosio subdivision and for years it was an area visited almost exclusively by local families, as there were no touristic services in the area. Time has changed that, as the city sprawls more and more visitors have made Coco Beach their favorite spot.
Access to Coco Beach is easy nowadays, as there are roads and it can also be reached via 5th Avenue. There are also plenty of hotels, restaurants and bars in the area, in case you would like to grab something to eat or drink.
The access to Coco Beach is free, you can bring your towel, food and drinks, and relax on the beach all day. There is also the popular Canibal Royal Beach Club, which has a lounge area as well as food, drinks, showers and restrooms for their customers.
Coco Beach: Getting There
48 North & The Beach in Colosio
Between Flamingo Rd. and  Albatros Rd.
Playa del Carmen, Quintana Roo
Walking: If you are walking on 5th avenue head north towards Cancun, once you reach Calle 48 turn right and walk a block to the beach.
Driving: From the Federal Highway 307 take the CTM Avenue exit and turn towards the beach (east).
Coco Beach: Things to do
Coco Beach is a perfect place to get in some people watching, sun tanning and relaxation.
There are plenty of fishing boats in the area, you can contact one of the fishermen that are always in the area for a tour or go on a fishing trip.
The water at Coco beach is very calm, an ideal place to practice water sports like snorkeling, paddle board or kayaking.
Coco Beach: Recommendations
There are no bathrooms in the area, you will need to go to one of the local restaurants or bars in order to use their facilities.
If you decide to bring your own drinks and food, also bring a bag for your trash and make sure not to leave anything behind when you leave.
Do not forget to bring your biodegradable suntan lotion and insect repellent, as harsh chemicals harm the coral reef and the local fauna.
We hope you enjoy your visit to Coco Beach. It is a nice beach to catch some sun and relax at. Keep up to date with the best beaches in paradise by following our Top 25 Beaches in the Riviera Maya countdown every Friday! If you are in search for the perfect beach to spend the day at, make sure you check all of the other beaches on the list. We aim to provide you with the best information about living in the Riviera Maya!
If you have been dreaming about owning a home in Mexico, we are here to help! Our company has over a decade of experience in helping foreigners purchase their dream property in Mexico in a timely and legal manner. It all starts with a dream, browse our beautiful properties and find the ideal property for you, our team of certified realtors are going to be there for you in every step of the process.
If you like the Coco Beach area and are interested in purchasing a vacation home or retirement home, Coco Beach has gorgeous real estate options from beachfront luxury condos to beautiful homes, please feel free to contact any of our Top Mexico Buyers' Representatives! Browse our beautiful properties; we are sure you will find your dream home.
And remember, here at Top Mexico Real Estate…
We make it happen!