Foto: Internet
The whale sharks have returned once again to Quintana Roo. Whale shark season runs from June to September, until the time has come for them to move to their next destination.
In the meantime, you have the chance to live one of the most stunning experiences in life, swimming next to them and being able to see them in their natural environment.
Whale sharks are the largest fish on the planet and with a life span of 70 – 100 years they can reach up to 40 feet long (12 meters) and weigh an average of 5 tons, though larger and heavier have been spotted.
Surprisingly for such a large mammal their mouths are filters feeders, meaning that they cannot bite or chew so their diet consists mostly of plankton which makes them completely harmless to humans.
Related: 10 Interesting Facts About Whale Sharks
In the Yucatan Peninsula you can take advantage of this annual gathering of the whale sharks at Holbox or at Isla Mujeres.
With a past record breaking number of 400 whale sharks arriving off the Yucatan Coast at one time, it's one of the largest known gathering of whale sharks on record. You are almost guaranteed not to be disappointed.
The Island of Holbox is located on the north coast of the Yucatan Peninsula and is separated from the mainland by a shallow lagoon.
This Island is well known for its fishing and rural qualities but every year for the few months the whale sharks appear the little fishing village is bursting with people wanting to welcome the whale sharks back.
It is good to consider that with the new toll way to Merida, you can get to Holbox in 1 hour and 30 minutes, for 90 pesos each way.
Related: 10 Things to Do in Merida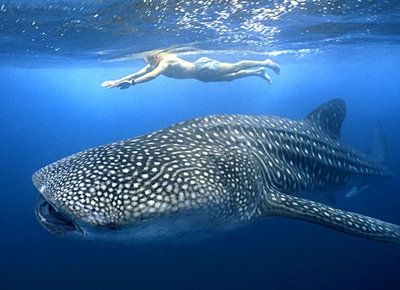 Isla Mujeres (Spanish for Island of Women) is approx. 13 kilometers off the Yucatan Peninsula coast with easy access to the Island from Cancun, which makes this island a great day trip for tourists.
Isla Mujeres is usually a quiet place, but with the whale sharks yearly visit this little island of under 13,000 inhabitants is booming during their short visit.
You can find many tour operators located around the tourist areas both in Holbox and Isla Mujeres (or even on-line).
They usually offer boat trips out to spot these amazing creatures or even to take you swimming with the whale sharks, the experienced tour guides and divers have been doing these tours for many years and will be able to give you the best advice when swimming with the largest fish on the earth.
Be sure to shop around to get the best price and value for your money!
And remember, here at Top Mexico Real Estate…
We make it happen!