Beach #6 on the Countdown to the Best Beach in the Riviera Maya: Lighthouse Beach
For those looking for a beautiful beach, Playa El Faro (Lighthouse Beach) is one of the best places to be. Not only does it have the white sandy beaches and turquoise waters, a winning combo of the Caribbean Sea, but also it is located in the heart of Playa del Carmen.
Lighthouse Beach is just off the famous 5th Avenue, and close to many bars, restaurants and beach clubs. Why bother visiting deserted beaches and having to carry so much stuff? Lighthouse Beach has everything you need for a fantastic day at the beach.
Lighthouse Beach: General Information
Lighthouse beach is a popular spot for those looking to spend a day at the beach without the hassle of driving, carrying supplies and struggling to find a bathroom. Find a comfortable place where you would like to spend the day either on at bar, a beach club or just grab a spot on the sand and enjoy.
If your budget is tight, do not worry as the access to the beach is free and you can bring your own food and beverages, as Lighthouse Beach is also a good option. Another advantage is that several convenience stores are not very far away, so if you need an extra drink or a tasty snack, they are easily accessible.
Lighthouse Beach: Getting There
Lighthouse / El Faro Beach
10 street between 5th avenue and the beach
Playa del Carmen, Q. Roo CP 77710
Walking: If you are on 5th avenue, walk to 10th street and towards the beach. When you reach the lighthouse you know you have arrived.
Driving: From the Federal Highway 307 take the Constituyentes Avenue Exit and turn towards the beach (east). It is really difficult to find a parking place on constituyentes, there is a parking lot under Plaza Alegria on 5th avenue but it also has limited spaces, so if you see a parking space take it and walk to the beach.
Lighthouse Beach: Things To do
There is diving centers and sailing Catamaran tours leaving from this area, you might inquire about costs for these activities.
Enjoying a nice cold drink and your favorite Mexican snacks: Guacamole, Chips and Salsa, Nachos, etc.
Lighthouse Beach is a perfect place to get in some people watching, suntan and relax.
If you are into relaxation, there are masseuses offering massages on the beach.
The beach in this area is very calm, it is an ideal to snorkel, and go paddle boarding or kayaking.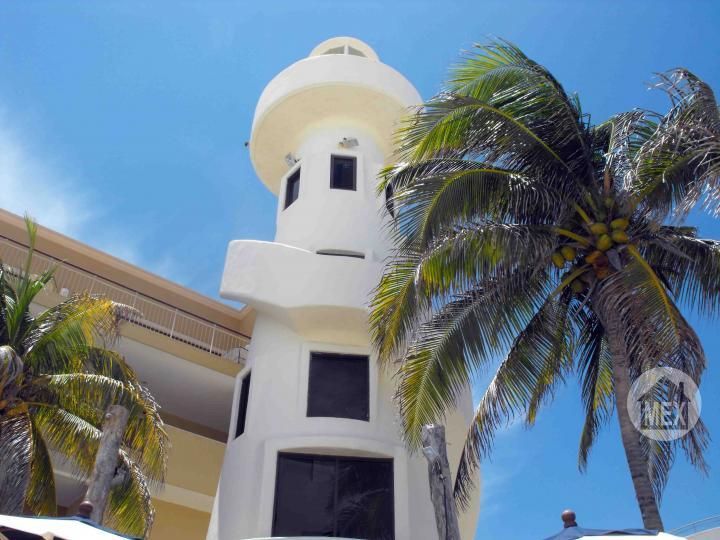 Lighthouse Beach: Recommendations
Arriving early will let you get the best lounge chair or maybe a nice shaded area under a palm tree or palapa. Some bars and beach clubs have specials early in the day as there are fewer customers.
If you decide to hire a tour or partake in a relaxing beach massage, shop around and do not take the first rate offered to you. This will insure that you receive a fair price for the service provided.
Bring a bag to carry your trash with you, as there are no trash cans on the beach. Make sure to leave the area cleaner than when you got there.
Learn about the different beaches throughout the Riviera Maya, and count down with us to the Top 25 Beaches in the Riviera Maya every Friday.
If you are looking for the perfect beach, you can follow our blog and learn about other local popular spots. We aim to provide you with the best information about living in the Riviera Maya!
There are many luxury real estate properties located on or near Lighthouse Beach. If you are interested in Playa del Carmen real estate please contact one of the Top Mexico Buyers' Representatives. We have the credentials and expertise and we are here to help you find your dream home in Mexico.
And remember, here at Top Mexico Real Estate…
We make it happen!