Reading is simply one of the greatest pleasures in life. There are so many new characters to meet, so many new adventures to go on, and so many places to visit without ever leaving the comfort of your (beach) chair. Going off to the beach offers plenty of time to dive into the wonderful world of words and imagination.
The problem is always the same: summer reads, what should I read this summer? With millions of books being printed year after year, it's almost impossible to decide what to read next! Spending a week (or more for some!) at the beach gives anyone plenty of time to eat through one or two books. You know, those types of books you can't let go of.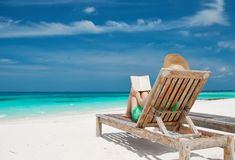 Here at Top Mexico we took our top picks for what to read at the beach this year! We know tastes vary, but hey, you can always try something new:
For the Thriller Seeker
Title: The Girl on the Train
Author: Paula Hawkins
Synopsis: Rachel, a 32-year old alcoholic, witnesses shocking events on a train she takes daily to hide her unemployment from her roommate. With nothing to do, and constantly being drunk, she decides to discover the story behind the disappearance of a pregnant girl named Megan.
For the Romantic One
Title: A Lady of Good Family
Author: Jeanne Mackin
Synopsis: This story takes place in 1930s New England, where one of the first female landscape artists, Beatrix, meets a handsome young man by chance and is forced to face between being an architect or indulging in romance.
For the One Looking for an Adventure
Title: The Shadow of the Wind
Author: Carlos Ruiz Zafon
Synopsis: Daniel, a young boy in Barcelona, sets out to find the author – Julian Carax – of a book he loves only to find that Carax's other books are being destroyed by unknown people. Daniel, and his friend Fermin, get caught up in an exciting adventure to find the whereabouts of this author and find out what is going on.
For the Lovers of Strong Reinventing Women
Title: A Window Opens
Author: Elisabeth Egan
Synopsis: When her husband quits his job, Alice is forced to be the breadwinner at home. As a book lover, she is happy to take a job at a company that aims to revolutionize reading. However, this causes strains both in her work and personal life as she looks to reinvent herself.
For the Science Fiction Aficionado
Title: The Martian
Author: Andy Weir
Synopsis: Mark Watney, a NASA astronaut, gets stranded on Mars after his crew is forced to evacuate due to dust storms. Not allowing himself to give up, and using his engineering skills, he sets off to face all the obstacles.
For the One Looking for a Laugh
Title: Mona in the Promise Land
Author: Gish Jen
Synopsis: In 1968, Mona and her parents move to New York. The story follows her hilarious chronicles into fitting in and figuring out who she is. Although it is comically written, her story, questions and adventures leave you thinking long afterwards.
For the Ones Looking for Hope
Title: A Master Plan for Rescue
Author: Janis Cooke Newman
Synopsis: A man who loses his love and a child who loses his parents meet in WW2 years. Their combined grief pushes them to share the stories of those they have lost and do something memorable that can bring them back, even if it is just in their memories.
Have you decided which one to read? All these books – and many more out there – will have you tanning at the beach, beer in hand, not letting go of them for a second. If you finish one, move onto the next! Enjoy these summer reads. Happy reading!
Top Mexico Real Estate is an American-owned company catering to Americans and Canadians looking to relocate to Mexico. If you are considering moving – whether for vacation or permanently – the paradise, feel free to contact one of our Top Buyer Representatives. Their expertise and willingness to help will make your process of purchasing a property in Mexico much easier.
And remember, here at Top Mexico Real Estate…
We Make It Happen!