The Riviera Maya Jazz Festival, is back! Once again, music lovers worldwide will gather and celebrate the music; surrounded by the magnificent views of the Riviera Maya. Every year, during the thanksgiving holidays; locals and visitors enjoy the performances from great figures in jazz music.
The Riviera Maya Jazz Festival is considered to be one of the best 5 jazz festivals in the world. Celebrating its 12th year, it will provide 3 nights of excellent Jazz under the moonlight, on the beach and to top it all off it is completely free!!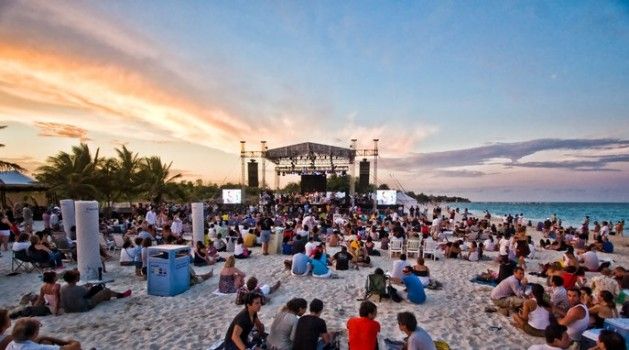 The Riviera Maya Jazz Festival started back in 2002, and is held at the world famous Mamitas Beach; in the heart of Playa del Carmen. The events are completely free and many locals organize picnics on the beach, they bring chairs, blankets, snacks and some beer or wine to enjoy during the festival.
Riviera Maya Jazz Festival 2014: Main Events
This year's festival, music fans will not be disappointed; there is an exciting line-up of jazz stars!
One of the main events is jazz guitarist Pat Metheny, winner of an astounding 20 Grammy awards during his distinguished career. Pat Metheny has also collaborated with the likes of Joni Mitchell, Carlos Santana and Herbie Hancock.
Another star is saxophonist and flautist Kenny Garrett, who rose to prominence as a member of the Duke Ellington Orchestra and jazz legend Miles Davis's band.
The Riviera Maya Jazz Festival will also be presenting drummer Virgil Donati, who has toured with Mick Jagger, Joss Stone and Steve Vai, amongst others.
Schedule:
Thursday November 27th
Colin Hunter
Pato Machete
Take Six
Jorge Vercillo
Friday November 28th
Hiram Gomez
Pat Metheny Unity Group
Saturday November 29th
Virgil Donati
Chick Corea & The Vigil
Kenny Garrett
Riviera Maya Jazz Festival 2014: How to get there?
The event will take place at Mamitas Beach (Calle 28 Norte mza. 10 Lote 8, Centro, 77710 Playa del Carmen).
Admission is free and it starts around 7 p.m., but it is a good idea to arrive early.
Web: http://www.rivieramayajazzfestival.com/2014/
Facebook: https://www.facebook.com/RMJazzFestival
Twitter: @RivieraMayaJazz
There are plenty of exciting things happening in the Riviera Maya, if you ever dreamed of living in this paradise; stop dreaming and let us help you!
Now if you have any question about this event or about how to move to Mexico, please feel free to contact any of our TOP Mexico Buyer's Representatives and we will be glad to answer any of your questions and to help you find your very own piece of paradise.
And remember, here at TOP MEXICO REAL ESTATE…
We make it happen!
We would like to thank Papaya 15 for sponsoring this blog. Papaya 15 is a new development in Downtown Playa del Carmen. To learn more about Papaya 15, please click here.