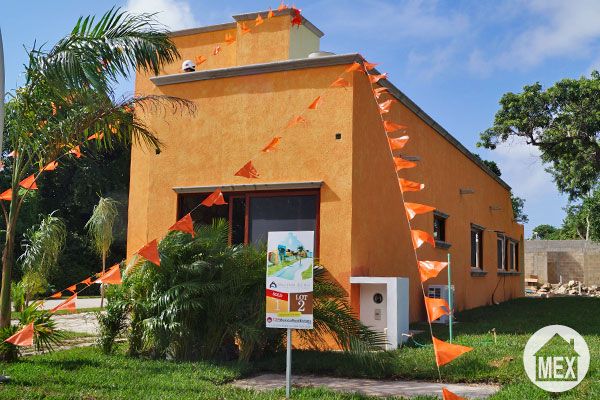 In this Top Mexico Real Estate exclusive video, we talk with Genea Kennedy, from Arizona, who is now a very happy home buyer at Hacienda del Rio.  Genea is no stranger to Mexico as she has resided in Mexico City for the past 4 years.  After multiple visits to Playa del Carmen she decided that it was time to buy!
After being close to putting in an offer on another condo in Playa del Carmen, she saw Hacienda del Rio and fell in love!  So she changed her mind and put in her offer with Hacienda del Rio instead!
She had a lot of faith in Top Mexico real estate and the developer to complete the project as promised; and today she is completely satisfied with her finished home!
We took a tour with Genea through her new Hacienda del Rio custom home as she checked out all the completed details, fixtures and finishings!  This was a very special tour as this is the very first Hacienda del Rio home to be completed!  Definitely, this was something to celebrate for everyone involved!
Genea explains about the buying process and her comfort level working with the developer on this newly constructed development!
The beauty of purchasing a Hacienda del Rio home!
Hacienda del Rio offers a classic Mexican hacienda design with modern comforts and necessities!  The best part about Hacienda del Rio is that each home is built with your taste in mind!  There are many home customization options and layouts for you to choose from.
And to tie the big red bow on this picture perfect package, Hacienda del Rio is completely affordable and comes with a great payment plan option!
Take a look at this video to hear Genea's perspective and to look inside Hacienda del Rio's very first finished home!  For more information about real estate in Playa del Carmen, click here!
(If you can't see the video, click here)
—
Thomas Lloyd graduated from Purdue University Krannert School of Management with a degree in Management/Financial Option Investments. He has been living, investing, and working professionally in Mexico for over 16 years. In the summer of 2009, he received the first federally applied Mexico Real Estate Degree and Mexico Professional Real Estate License S.E.P. #5978657. He is the president of Top Mexico Real Estate. Contact him at (512) 879-6546.
The TOP Mexico Real Estate Network; "Mexico's Leading Network of Specialists for Finding and Purchasing Mexican Properties Safely!"