This morning I visited the spectacular site of one of Playa del Carmen's most amazingly enticing beachfront condos, Mareazul in the Grand Coral community.
Not too much to update but there are a few interesting points to mention:
All 14 buildings (shells) are constructed and now the next step is the fine tuning of the interiors (the wiring, air conditioning, flooring etc). Another step will be to fill in the land up to the ground level condos with dirt, in order to continue the construction of the swimming pool and common area. The development will most likely use the dirt removed from the areas which will soon to be the Nick Price golf course.
2 At this point, the project has been doing very well in sales and is about 18% sold with several units on hold or soon to be. I would seriously consider acting now to take advantage of these prices because I'm told that in September, they will move from 2nd level price list to the 3rd level, prices will increase a certain % (usually about 5 points ). Another bonus to deciding to purchase now, you can still receive a free membership, valued at $12,000 / year, in the upcoming high end beach club. (I had a sneak peak at the renderings, very cool!)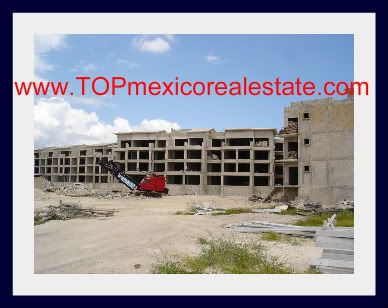 3 I also had a sneak peak at an another wonderful project which is an upcoming release inside the Grand Coral, which will have both golf course views and oceanviews! I'll definitely keep you updated on that!
Just to remind of all the great benefits to owning in this project, see the original blog entry: Playa del Carmen oceanfront Condo Mareazul.
Write to me to find out about the'fly and buy' program that the group is offering Could be worth a free trip down here to Playa to come down for you to come and meet us and see the project.
Andy Welbourne
(512)879-6546