We recently visited some really amazing properties near Tulum in one of the best kept secrets of the area called Akumal Tulum and Akumal are known for their superb beaches, diving, snorkelling and most of all privacy. Many Americans return to this area year after year because of what Akumal has to offer Below is a brief description of a few of the properties that we visited last week If you want to see more options in Tulum Real Estate visit www.TOPtulumrealestate.com, or to view a larger comparison of listings throughout the Riviera Maya please visit www.TOPmexicorealestate.com
TULUM REAL ESTATE LOTS
We first checked out Las Palmas which is an eco-friendly or rustic community across the road from Sirenis There are 65 good sized residential lots about 300 metres from the road with extremely attractive prices ranging from $21,000 up to $165,000. They range in size from 479 m2 (5125 sq ft) up to 2626 m2 (28098 sq. ft). Comparing other smaller lots in the area that are priced at $200 / m2, this is quite an incredible deal!
TULUM REAL ESTATE HOMES
If you dont want to wait for the construction of your dream home, not far down the road heading south, another wonderful private little community exists.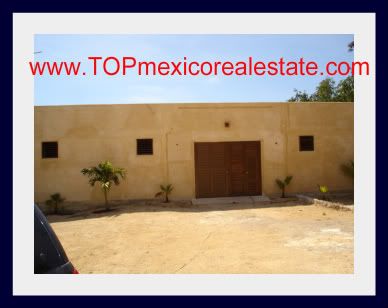 This gated community, has only 6 very large residential lots and currently 3 homes have been built In one of the home that is on the list for sale is a gem This really is a hidden oasis, tropical, private, and incredibly beautiful The house we viewed is designed with the spanish hacienda influence:
all rooms open onto the center courtyard, single floor, open design The center courtyard has been replaced with a convenient pool The kitchen and living areas are extremely wide and open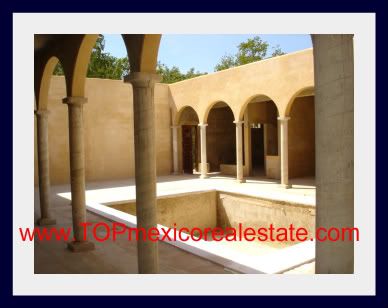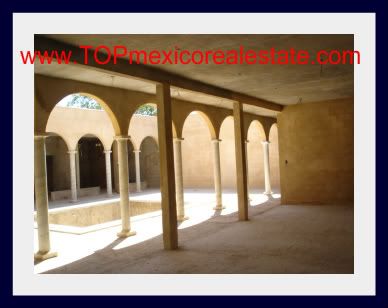 None of the details or finishings have been realized as can be seen, and are waiting for the new owners to come in and define, design, and choose the final details within the existing shell of this home
Within the same little closed gated community, another home is also on the market This home is completed, pool is functioning and large enough to host parties and reunions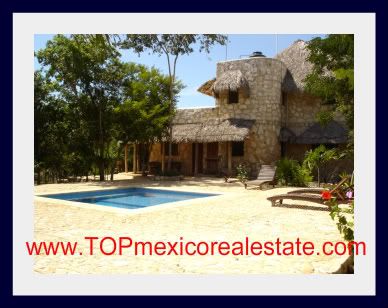 The entire complex, is hidden off of the beaten track, into the jungle, yet close to the Akumal beaches In many of the neighborhoods throughout this area, electricity is non-existent, so the neighbors either pool in together to pay for the costs of putting in poles, cabling, and the contracting of energy or, the homes become self sufficient That is they operate off of solar power, wind power, or some other type of self generating energy source to operate their appliances and accesories For this particular neighborhood, electricity is established and connected thus the alternative energy generators exist for emergency situations
If you seek more privacy, more space to yourself, then the third home that we reviewed should catch your attention This home sits on an entire hectar all to itself
Gardens with laid in stone paths run throughout the spread, little sculptures are scattered here and there, and an inviting pool sits on the higher ground to look down on the rest of the garden The thick walls are one of the first characteristics that stand out, which allows for nice cool temperature within the home
The original owners were fanatics of hard wood and it is found in all corners of the house: in the window frames, closets, cabinets, flooring The main floor is laid out in light imported tile while the upper floor is wooden in all bedrooms, tv room, and halls
If you need any more information or photos about these homes or would like to schedule a tour, please contact us and we will be happy to give you the information
Andy Welbourne
(512)879-6546