Puerto Angel literally means Angels Port and when you visit this part of the Costa Maya real estate region, 14 kms south of Mahahual, you will think you've arrived in heaven!  The sand is very fine and white and as the coral reef is further out from shore than in the centre of Mahahual, you have the inviting crystal clear Caribbean, without turtle grass, and often some gentle rolling waves.  Tall palm trees line the beaches here and provide great shade.    Costa Mayan Properties has several Mexico beachfront lots listed in this area, which is zoned for private residences.
There are in fact a few Costa Maya houses already built here.  We have 5 adjacent lots, each 20 m wide beachfront and another 20m wide beachfront.  More details on this property by clicking here;  Costa Maya real estate listing.
Access to town is easy as you have the quick route, via the good asphalt road, or the beach road, where you sometimes have to dodge the pot-holes, but can stop off to greet your neighbours and catch up on the local gossip.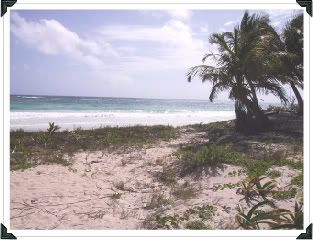 Investors continue to move to Mahahual and on Saturday an elegant new restaurant/bar, Le Terraze, opened its door.  They will be offering sushi (a first for Mahahual), grilled meats along with a variety of other fantastic meals.  Located on the malecon with the advantage of being up on the first floor with magnificent views of the turquoise waters.  This is the place where you can dress up smartly and ladies can wear their high heels and wont feel out of place!  Mahahual offers many restaurants with fresh seafood being the forte on most menus, with some offering an international flavour, however the dress code for all is smart-casual, the emphasis being on casual!
Rebecca Loto is from the United Kingdom and has been traveling and living in Latin America for nearly ten years. Costa Maya has become her home residence in the past 5 years where she and her husband have settled and have become involved and active in various community organizations. Rebecca brings British business ethics and Mexico business experience together to give buyers unparalleled service. 512-879-6546
THE www.TOPmexicorealestate.com NETWORK
"Mexico's Leading Network of Specialists for Finding and Purchasing Mexican Properties Safely!"