As time goes on, a trend among Playa del Carmen condos, as well in Mexico condos on the whole, growing towards environmental responsibility, with always more developments including features such as sustainable design, recycling programs and efficient energy and resource use.  This direction is being supported by the municipal government which is aiming at creating an Urban Development Plan to promote sustainability and green development.
The current program for the upcoming urban development plan covers the municipality on the whole, but focuses on Puerto Aventuras, Akumal and Playa del Carmen.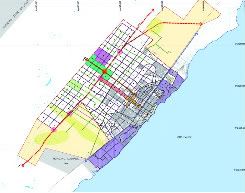 In the presentation of the plan in late August, the mayor pointed out the strong population growth of Playa del Carmen, currently passing 16% per year, and stressed that it was urgent to lay out a plan for cities showing careful design and sustainability.  One of the key features is that of the Municipal Ecological Management Plan, focusing on caring for the environment and to build a culture among the population to do the same.
The urban development plan also encompasses economic growth in the area, balancing and integrating this with environmental care.  The items included are, tourism, housing, a regional economic model, social perspective, attracting investment, economic diversification, modernization of roads, establishment of agro-industry, expansion of the free wireless internet service in parks, a new expressway connecting to the Cancun – Merida expressway, and the possibility of a sub-train.
There are also plans for the creation of a zoo, increased sports facilities, hospitals, a business center, increased access to health supplies.  The plan is expected to be before city council for final approval shortly.
The new plan is expected to bring a emphasis on planned urban growth, economic diversification and increased services available, all balanced with a strong environmental plan.  In the mean time, buyers are continuing to see sustainability and environmental care take a more profound role in high-quality developments including some innovative Mexican retirement communities.
How much does environmental focus count for you when you are choosing your property?
Thomas Lloyd graduated from Purdue University Krannert School of Management with a degree in Management/Financial Option Investments. He has been living, investing, and working professionally in Mexico for over 15 years. In the summer of 2009, he received the first federally applied Mexico Real Estate Degree and Mexico Professional Real Estate License S.E.P. #5978657. He is the current president of TOPmexicorealestate, you can contact him at (512) 879-6546 or through the company's web site www.TOPmexicorealestate.com NETWORK

"Mexico's Leading Network of Specialists for Finding and Purchasing Mexican Properties Safely!"