With the wonderful Mexican Caribbean continuing to grow with a variety upscale Mexico condo hotels and residential complexes up and down the coast in the Cancun real estate market, one impressive location will continue to stand above the rest.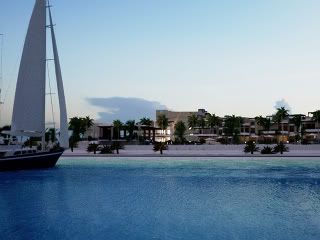 We have seen the success of Puerto Aventuras marina and golf course in the 1980's and 90's continue on to the next millennium with numerous projects and attractions.   We look forward to Puerto Cancun as another impressive centrally located marina and golf course with its 20 storey towers flanking a spectacular view of the Bay of Mujeres with the entrance to Cancun Hotel zone to the south of this growing upscale community.
Although not as well known or expansive, La Amada Residences Hotel and Marina in Playa Mujeres just north of  the Cancun real estate region is truly a secluded treasure that prides itself in being away from the crowd with pampered luxury.  Since the secluded location of¨Playa Mujeres will forever be a low density area, the pristine wide natural beaches just north of the few hotels in the area will continue to be a haven for individuals who are looking for solitude and privacy.  8km of beachfront in the Playa Mujeres Golf and Ecological area with another 10km farther north to the area of Isla Blanca and the northeast tip of the Yucatan Peninsula.
Playa Mujeres with its expansive area over 400 hectares of land including only a few hotels including La Amada Residences.  The Greg Norman signature golf course with its beautiful long fairways and meticulously maintained greens with its natural surrounding fauna nestled between the Caribbean sea and a tranquil laguna to the west.
This enticing atmosphere provides a peaceful surreal setting being only a 10 to 20 minute drive to downtown Cancun and the hotel zone with shopping, services, restaurants and activities.
The recently constructed marina in La Amada Residences is operated by the very experienced Excellence Group, from Spain well known for its numerous impressive hotel developments in the Caribbean and Europe.
This marina is designed to anchor large yachts up to at least 200′
with an on site Pemex fueling facility and Nautical repair needs with a large dry dock with technical assistance available.
Currently La Amada Residences and Marina are in negotiations with other exclusive marina facilities in the Bahamas, Cayman Islands, Dominican Republic and other Caribbean Island resorts to offer potential exchanges of services and accommodations to its exclusive owners.
So if this type of secluded environment in a tropical exclusive Mexican Caribbean setting appeals to you, then please contact me for further detailed information on pricing, yachting information and golfing activities.
John DeRotache, originally from Saint Louis MO., he has been living in Cancun, Mexico for over 16 years. John completed his University studies at St. Louis University in Missouri and their Campus in Madrid, Spain. With a diploma in real estate from a top Mexico University, John comes well prepared to find and help you with your Mexico real estate needs. MexicoRealEstate NETWORK "Mexico's Leading Network of Specialists for Finding and Purchasing Mexican Properties Safely ! " (512) 879-6546