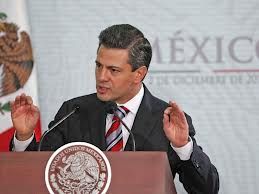 "Another PRI President – oligarchy, bureaucracy, corruption, vote rigging …"
Many Mexicans have a negative image of the country's new president, Enrique Pena Nieto, mostly because of the party he belongs – the famous PRI, the Party of the Institutional Revolution, the one that held an iron grip on Mexico's politics for 71 years in a pseudo-democratic oligarchy that one observer once called "the perfect dictatorship."
Return to the Dictatorship?!?
And now, global investment specialist Martin Hutchinson is saying that the policies of President Pena Nieto are pointing back to the days of Porfirio Diaz …
Porfirio Diaz?!?!?! Bloody murder! The dictator from a hundred years ago who ruled Mexico with an iron fist for over 30 years, who suppressed the people, incarcerated his political enemies, broke the Constitution, rigged elections …
Sounds like a charming man, doesn't he?
"But this confirms everything," you might think, "Pena Nieto is up to no good – back to the bad old days for Mexico."
But Wait, Porfirio Diaz Wasn't So Bad 
Before you go and decide to sell off the Mexico real estate you own (or cancel your plans to buy), there's another side to the story.
While many of the criticisms of Porfirio Diaz are true, especially those concerning democratic process and the constitution – he was a dictator after all – economically the country saw prosperity during his presidency(s) that has not been even partially equaled since.  Even other factors like peace, security and education reached an all-time high.
In his article, Hutchinson points out that during Diaz' rule, Mexico:
was a free-market beacon of rapid economic growth
had low taxes
encouraged foreign investment
reformed its laws to become more business-friendly
pursued a pro-U.S. Policy
invested heavily in education
rejoiced when local and foreign magnates opened new job opportunities for the Mexican people
Although Hutchinson doesn't note it, it's also worth pointing out that the peso was worth more than the dollar – 3 times as much, in fact! Why all bad rap for President Diaz?  Basically, for 71 years the "PRI got to write all the history books and demonized him."
So, yes Hutchinson compares Pena Nieto's policies to those of Diaz, but in a very positive light.
Is Pena Nieto Restoring Good Policy & Democracy?
Is it possible that Pena Nieto, a president from the same party that demonized Diaz as the enemy for almost a century is now returning to the his solid economic and education policies?
As Hutchinson points out, President Pena Nieto in a few short months has:
dealt with the opposition parties so he could get legislation through Congress
had the teachers' union head, accused of embezzling $200 million, arrested
gotten his party to agree to allow foreign investment in Pemex (famously nationalized by an early PRI president)
introduced legislation to allow foreign investment in telecoms (currently a virtual monopoly belonging to the world's richest man)
If he is, then what has over and above Diaz is that he's doing it within the context of restored democracy.  While it was Pena Nieto's own party that autocratically clung to power for so long, that was broken when two consecutive presidents before him were elected from another party.  He was elected fairly (with a clear and unquestionable majority of the votes) and he shows every indication of promoting reform and going against his own party's history of poor economic policy and autocracy.
Now, hearing that side of it makes you want to go out and invest in some Mexico beachfront for sale, doesn't it?
Hopeful Signs
While it's too early to say for sure, Pena Nieto's early actions make it appear to be the most promising presidency in almost a century.  Many Mexicans voted for him and support him.  For those who don't, it may be difficult to see him positive light.  On one hand, those distrustful of the PRI's past will be skeptical; on the other hand, those distrustful of Porfirio Diaz, having learned history from the PRI's skewed school books, may also be skeptical of economic policy recalling those prosperous days.
Let's hope that:
Pena Nieto continues with his path of reform
he can overcome his party's shady past
it benefits both Mexicans and foreign investors.
—
Thomas Lloyd graduated from Purdue University Krannert School of Management with a degree in Management/Financial Option Investments. He has been living, investing, and working professionally in Mexico for over 16 years. In the summer of 2009, he received the first federally applied Mexico Real Estate Degree and Mexico Professional Real Estate License S.E.P. #5978657. He is the president of Top Mexico Real Estate. Contact him at (512) 879-6546.
The TOP Mexico Real Estate Network; "Mexico's Leading Network of Specialists for Finding and Purchasing Mexican Properties Safely!"
De Porfirio Díaz a Enrique Peña Nieto el camino ha sido largo, más de cien años para ser precisos. Hoy el país se encuentra frente a un suceso político que levanta las pasiones de todos: el regreso del PRI a la presidencia. Ya sea que lo odies o lo ames, el PRI como partido político representa, hasta cierto punto, el prototipo del burócrata mexicano. El corrupto, el flojo, el vividor, el incapaz. Sin embargo, con la renovación del partido las dudas sobre la presidencia de Peña Nieto están en el aire.
Cierto es que la controversia de las elecciones presidenciales aún sigue en el ardid público. Es algo que definitivamente levanta las pasiones de los mexicanos. Por el momento es precipitado emitir una opinión, ya sea negativa o positiva sobre lo que nos podría deparar para este sexenio, sin embargo debemos admitir que el comienzo es prometedor.
Con apenas 6 meses al frente del ejecutivo, el presidente Peña Nieto ha impulsado una serie de pactos e iniciativas para reformar algunas de las leyes más controvertidas e importantes del país. El llamado "Pacto por México" ha logrado reformar 2 de la leyes más trascendentales para el crecimiento económico del país: la ley a la educación y la ley de telecomunicaciones, entre otras. Como hemos escrito ya en este blog existen iniciativas para reformas en los derechos de propiedad para extranjeros, algo que podría incentivar la inversión inmobiliaria en el país.
El país se está llenando de reformas y parece empezar a caminar por el lado correcto. Claro, es demasiado temprano para echar las campanas al vuelo, sin embargo, analistas expertos de todas partes del mundo y de todos los sectores, tanto económico como político así como social, concuerdan en que el inicio del llamado regreso del PRI promete. Por el momento nuestras expectativas se mantienen optimistas.