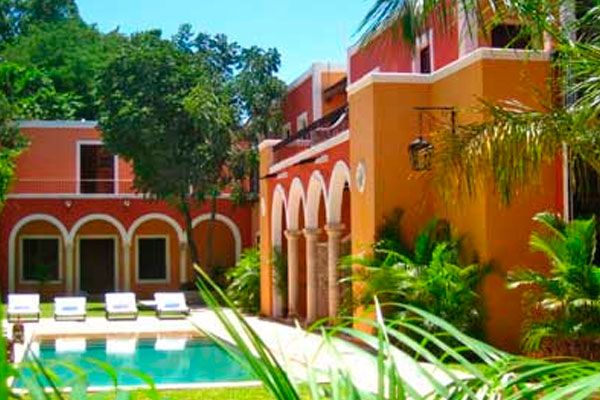 A little while ago we introduced an idea that you should not be turned off to a home because of ugly wall color!  This is basically focused on the idea that once you have purchased you can make your home whatever you want it to be.  Think area and what you can do with that area.  A space is just a space until we fill it with life, our taste and our personality!
So this brings me to my next point about wall color!  Think full of life!  In Mexico color is a very important way of expression.  Like with the concept of Hacienda del Rio, you may see the outside of homes painted yellow or blue or even red!  A red house; why not?  It's a color of passion and love, and makes us feel good!  If you see a colorful house from the outside you can be sure that you will find many different colors of the rainbow on the inside as well.
We are not saying that everyone should paint their house bright orange but there is definitely something to be said for putting some color into your home!  And the best part is that it can be the colors that you love and the colors that make you feel good.
So how do you pick wall color?
Consider how you want to feel.  Perhaps if you spend your mornings in the kitchen you could go for a color that will make you feel lifted and awake when the sun comes through.  Nice yellows or peaches could do the trick for this.  If you spend a lot of evenings in your living room maybe you want to pick something that will make you feel warm and cozy and relaxed.  If you like to switch it up often you can choose by season as well.  In any case, starting with an idea of how you want to feel can get you going.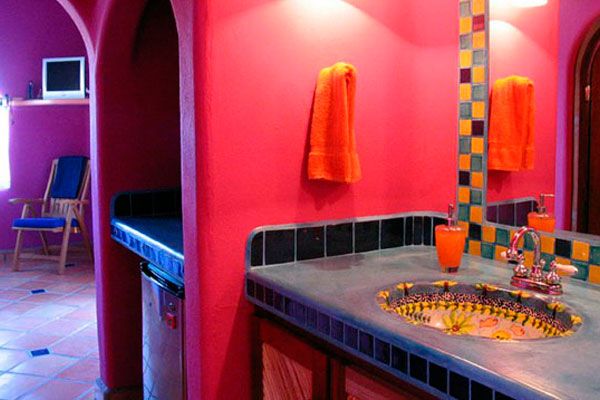 What about your furniture?  This can be a challenge especially if you have distinct colors in your furniture.  For this reason many times people like to go for more neutral colors that can fit with anything.  But a friend of mine recently had a challenge when trying to pick out wall color to go with a purple couch!  Her mind was boggled and didn't know where to start but after doing some reading about color combination she was able to create her living room/bedroom area all around the color of the couch and it looked fantastic!
Think of a theme!
Modern, homey, antique?  I knew of someone who loved the nautical theme and since she had a ton of related decorations and paintings she chose a lovely blue color that made you think of the ocean surrounding all of her nautical decorations.
Where should I go for paint?
 Here in the Riviera Maya the main store to buy paint is Comex.  You will see many locations to choose from! Note: they are generally all closed on Sunday! I learned that that hard way! But there you can talk with a consultant and get samples of different wall colors so you can do a comparison and patch test!  This is always recommended especially if you are unsure or deciding between various samples.
Be patient and take time to choose what is right.  You don't need to rush.  Creating a home always takes time but the time is always well spent!
Aside from paint color you can also find many options for borders, murals, or decals! This can be great for contrast and combining with other colors.  You don't have to choose one color all the way around.  You can introduce many different colors to your space with the good use of color combination and pattern!
Remember when you are out with your buyer's agent looking at different home options, try not to consider how it is currently decorated and don't factor that into your decision.  You can create transform any space into a place that you love!
Bea Lozano holds degrees in business and computing.  With years of intense business experience, she uses her skills to coordinate Top Mexico Real Estate's marketing strategies and web site. To contact Bea, call (512) 879-6546.
The TOP Mexico Real Estate Network; "Mexico's Leading Network of Specialists for Finding and Purchasing Mexican Properties Safely!"