These days we are focusing a lot of attention on Hacienda del Rio! Because of its Colonial Hacienda design matched with modernization and comfort, an incredible lazy river, and plenty of outdoor greenery; it has become one of the most unique designs in Playa del Carmen real estate as of today.
We are very excited since we are just about to see the project's very first finished home!  As interest grows and more potential sales arise we wanted to stress the beauty and flexibility of what you can do with home customization in this very special Mexican community.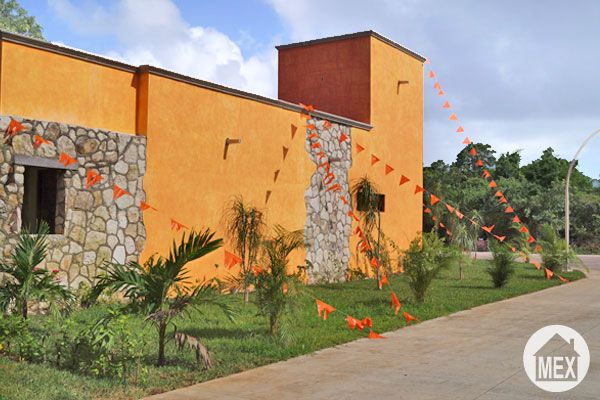 Soon to come Hacienda del Rio will be working on completing the entire development.  They have many floor plans already mapped out in which they intend to use to design homes.  Eventually you will be able to purchase a finished product. However the entire concept and the true beauty behind Hacienda del Rio is that a buyer can choose their space and build their dream house from the ground up, just the way they want it.
Why build a custom home instead of purchasing a finished product?
Some feel that buying land in Mexico as opposed to a finished product is a scary idea.  But in fact you are not necessarily buying land in the middle of nowhere and starting from the beginning to build.  This is a different idea in the fact that building will take place regardless of if you customize or not.  When you design your home you are working directly with the developer. So we stress that this is a safe option to build your home with all your personal needs in mind.
 The Hacienda Del Rio developer has provided many sample floor plans as a guide but will sit down with you to note any changes or additions you want to make to your home.  There is even an option to allow for a third floor addition!  There's a ton of flexibility in how you can construct your new home!
If you love the concept of home customization and you have some concerns make sure you talk with a good Mexico Real Estate agent.  To learn more about buyer's agents click here!
—
Thomas Lloyd graduated from Purdue University Krannert School of Management with a degree in Management/Financial Option Investments. He has been living, investing, and working professionally in Mexico for over 16 years. In the summer of 2009, he received the first federally applied Mexico Real Estate Degree and Mexico Professional Real Estate License S.E.P. #5978657. He is the president of Top Mexico Real Estate. Contact him at (512) 879-6546.
The TOP Mexico Real Estate Network; "Mexico's Leading Network of Specialists for Finding and Purchasing Mexican Properties Safely!"