Hello High Season, nice to see you again!  If you own property in Playa del Carmen then this should be your favorite time of year! The demand for rentals in Playa del Carmen will be at its highest point in the next couple of weeks and will remain fairly high for the next 5 months!
You know what that means? High seasonal rental rates!  The best time of year for you to take advantage of your Playa del Carmen real estate investment and put the most money in your pocket!
Like everything in Playa del Carmen, prices will be going up; even restaurants and bars will add a high season percentage rate onto their normal menu prices! And property owners in Playa del Carmen will be tripling their normal rental rates for vacationers in the coming few weeks.
Reserve your investment for rentals during high season!
While some people occupy their property year round, or otherwise use it for portions of the year, it is important to remember the best time of year to take the best financial advantage from owning a home in one of the hottest vacation destinations in the world!
If earning a good rental income from your property in Playa del Carmen is something that is important to you, it is important search for properties that will be most attractive for travelers.  Here are few tips on what kinds of properties to search for to maximize your rental capability and income:
Location is everything!  Search for properties close to the beach, within walking distance of restaurants, shopping and entertainment!
On site Amenities!  Paying a few extra dollars for a property with a pool or onsite gymnasium can be a big payoff for your pocket book later on.  Vacationers are more likely to look for, and are willing to pay more for, good onsite amenities.
Beachfront!  Everyone wants to be on the beach and this is the prime area where you can charge the highest amount of rent, especially if the property includes good onsite amenities as well.  Properties like this Xamen Ha beachfront condo for sale in Playa del Carmen are sure to be an incredible return on your investment.
Resort Living!  Properties like "The Fives" which include resort style amenities and conveniences to vacationers, and also offer owners an ideal rental pool program, are also a fantastic way to boost your rental capability and income!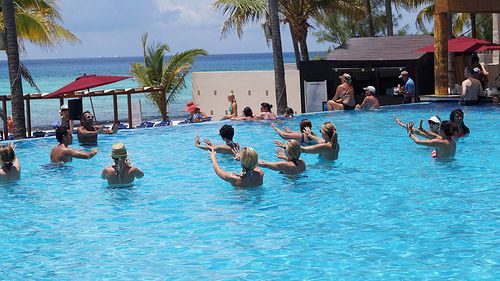 When you have initial contact with your Mexico Real Estate agent it is important to mention that good rental income is important to you.  Your agent has firsthand knowledge about each area, and the best properties to maximize your investment.
Once you have purchased your property in Playa del Carmen it is good to study the most beneficial times to rent your property and schedule your personal use during off peak seasons.
Happy High Season and Happy Holidays from all of us at Top Mexico Real Estate!