Do you like Candy?  Of course, we all do! Even our eyes needs something sweet every once in a while.  It's what gets us to think, to dream, and maybe, just maybe, helps us bring a new passion to our hearts!  Today let's look inside a stunning home in downtown Merida.  One of the many exquisite selections in Merida Real Estate…but be careful!  Your heart may skip a beat or two!
Beautiful Gated Entrance
Let's start at the front entrance as you step through a charmingly designed iron gate to enter, what could be, your private sanctuary!  There you will find an inviting area with a large fountain pool, beautiful gardens and plenty of open air terrace space, greeting you to the elegance of your own front door.
As you enter you will walk onto marble tile mixed with different kinds of polished stone, bringing pure luxury in every step you take!  As you look around you will notice impeccable detailing in the architecture, in the columns and on the walls.  The paint of the walls is perfectly matched to the floors filling a beautiful feeling of light into the home and into your heart.
Fully Furnished and Professionally Designed Home
You find that the home is perfectly professionally designed with exquisite artistry and fine furnishings.  And guess what?  All of what you see is included in the price of this gorgeous home!  Every art work, every appliance, every piece of furniture could be yours.
Elegant Dining Area with Crystal Chandelier
The dining room is made for intimate dining with your family and friends. You will notice an extraordinary crystal chandelier over the dining table which is just enough to bring elegance to this dining room without making it too flashy!  The designer of this beautiful home certainly had an eye to combine luxury with comfort.
Comfortable Living rooms and Bedrooms
The living room is just as comfortable and pretty with beautiful decoration and art work.  Enjoy time with your family or entertaining friends. The kitchen is modernly designed with state of the art stainless steel appliances.  And you will notice it is spacious but not oversized.
The bedrooms are lovely with plenty of room, showcasing high quality hard wood and furnishings.  Your bedroom is always a place that you should feel is your personal space and your comfort zone.  After all, you do sleep there so you should feel at ease in this space.  The bedrooms in this home make you feel happy and relaxed…as they should.
A Home which Screams Comfort, Style and Good Taste
The thing that amazes me about this home is that it is quite large, yet you don't seem to feel like you are being swallowed in by too much extra space. The design of the home was meant to make you feel at home and to bring comfort.  This is one of the best homes on the Merida Real Estate Market as of today!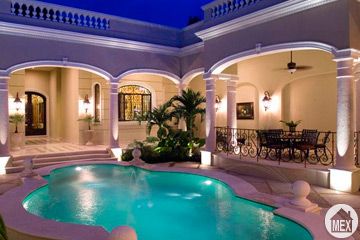 This beautiful home in downtown Merida is being sold for just 695,000 USD, with everything inside included.  For some, that may seem like a pretty penny but when you compare it to what a home would cost like this in other countries or in other areas of Mexico it is a steel.  This could well be a 3 million dollar home in another location.
The Beautiful City of Merida, Yucatan
The city of Merida is rich in history and culture and is known to be a very safe city of Mexico.  Many people visit Merida each year and many more come to Merida to settle with their families or to retire.  In Merida you can find an abundance of museums, theaters, shopping, delicious restaurants and plenty of Mexican culture and entertainment.
In fact, today, January 7th we are saying Happy Birthday to the city of Merida as it celebrates 461 years since its foundation in 1542.
If you love what you see and you want to know more about this magnificent home showcased today, or have interest in seeing other homes alike in Merida Real Estate, contact your trusted Mexico Real Estate Agent.