If you have heard a rumor that a new railroad system is coming to the Yucatan Peninsula you've heard right?  In the moment it might just be a matter of when you will see a final result, but plans are in the works to have a railway system connecting the Riviera Maya to Merida and eventually onto places like Campeche and Progresso.
This is big news for the Riviera Maya and the entire Yucatan as it will provide easy and fast transport to Merida but also to popular areas like Coba and Chichen-Itza.  Good for tourists and even better for locals who are living in the Yucatan and Riviera Maya.
Yucatan Railroad Phase 1
For now the first phase will be planned to run from Punta Venado (about 10 minute drive south of Playa del Carmen toward Tulum) and will run all the way to Merida stopping in places like Coba, Chichen Itza, Valladroid and Izamal.
Yucatan Railroad Phase 2
Eventually, with the second phase, there will be a connection between Cancun and Tulum from Punta Venado and a connection between Campeche and Progresso from Merida.  The future second phase plan will also contain more stops along the initial route including smaller cities and towns in the Yucatan.  In the future, this Trans Railroad will connect all major touristic points in the entire Yucatan and state of Quintana Roo.
The Trans Rail system in the Yucatan is a result of sustainable and healthy growth in the area and is part of the future of the region!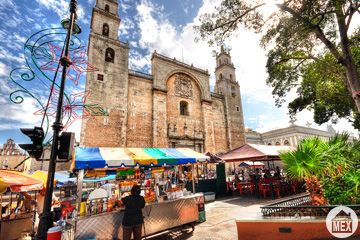 Obviously the creation of this new Trans Rail system is based on growth and demand of the entire region.  With increase in tourism combined with an increase in overall residency, and expats settling here, there is a true need for more options in convenient transportation from one area to the other.
Currently the ADO bus is the main form of mass transportation connecting the two regions together with about a 4.5 hour distance in between.  The railroad will be a faster system and hopefully more cost effective.
If you are thinking of investing in Mexico Real Estate in the Riviera Maya or Yucatan region, this is a clear sign that there is a strong growth for the area brining more value to future investors.