If you have found yourself poking around at the idea of buying property in Playa del Carmen you may ask yourself- when is it a good time to contact a buyer's agent in Playa del Carmen?
Chances are you could be far away from actually making that purchase and you are just sort of dreaming looking at what is out there.  But in reality it is never too early to consult with an agent.
There are different stages in the buying process where an agent can provide you a different level of support in your endeavor.
Stage 1 – The Dream!
This is where your dreaming begins!  Many people feel intimidated or pressure by talking to an agent in this early stage of the process, but in fact, communicating with an agent early on helps you to build a relationship and trust for the future.
A good real estate agent will talk with you to educate you on the buying process, offer you the facts and give you advice about the best properties and areas to choose for your lifestyle and budget.  They help nudge you in the right direction so that you are not searching aimlessly.  This can be a huge step in sending on the right path for your search.
Stage 2 – Seriousness Level Increases!
Once you have had the chance to dream, do your research, and become educated, you probably have nailed down a more concrete plan for purchasing a property in Playa del Carmen.
The good news is you have already established a relationship with an agent who knows your situation, budget and preferences.  So you are already a few important steps ahead!
At this point you may want your agent to become more active in your search.  If you are planning a trip to the Playa del Carmen area, this is the point where you may be interested in a preliminary tour with your agent to physically see a sampling of different price points and listings in Playa del Carmen.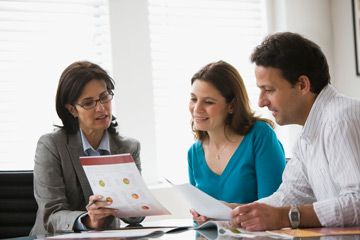 Face to face communication with your agent also helps to build the relationship. This is when you can feel if your buyer's agent has your best interest at heart.  You will review facts about the area and your agent will be realistic with you about what you can find for your budget preference.
Stage 3 – The Decision to Buy!
The dream may continue to linger for quite some time.  And maybe even after your first tour you might be a little ways away from buying. But when you do decide to take that leap, and are ready to purchase, the process has already become that much easier.
By now, you have complete trust with your agent and you are well educated, prepared and have confidence in the buying process, as well as having a clear idea of what you will buy.
Now is when your agent will be fully emerged in helping you search for your perfect dream home.  At this point you will be scheduling a tour to actively look at homes with your agent. This could take one day or perhaps an entire week of searching but it will definitely more intense than your introductory tour.
Stage 4 – Making it all a Reality!
Once you have decided on a property and you are ready to buy, your agent stays with you until you move in to your new home in Playa del Carmen.  This is the stage that gets more logistical and new people get introduced into the process-closers, lawyers, title companies, and banks. But your agent will stand by you so that you do not get overwhelmed in the process.
If you are starting the process of searching for property in Playa del Carmen talk with a trusted Mexico Real Estate agent to get you on the right path.