What if I said there is a way you can live on a 5 star vacation every day?  Have I perked your ears up? Ok, perfect!
Although this seems like a far-fetched idea, it's actually a little bit more realistic than you think!  Among the many home buying options in Playa del Carmen, and throughout the entire Riviera Maya, is the option of purchasing in a condo hotel.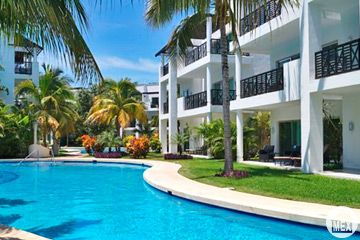 The Azul Fives is one of the most well-known and prestigious condo resorts in the Riviera Maya Region, offering nothing but high quality living and beyond exceptional service.  This property a strong investment on the Playa del Carmen real estate market today.
While the first stage has already been completely sold out we have an amazing opportunity to own an amazing penthouse unit which has recently been put up for re-sale in Azul Fives Playa del Carmen.
This exclusive condo unit has beautiful pool views from the terrace and amazing views of the colorful Caribbean Sea from the private rooftop area!
The interior has a contemporary style, modern everything and every luxurious amenity that you can think of!  This condo for sale at Azul Fives follows the standard of 5 star resort style living which is also integrated into its surroundings and lifestyle.
This outstanding condo unit at the Azul Fives has 2 very spacious bedrooms, on-suit Jacuzzi tub in the master bathroom, a fully equipped kitchen, living and dining area, and huge sliding glass doors leading to the terrace which captures plenty of natural sunlight.
Walk upstairs to the pent house where you can lose the day just by laying in the sun, listening to some music and sipping on a cold drink; or invite your friends for an exclusive party or rooftop BBQ.  The penthouse comes with a phenomenal outdoor kitchen to make entertaining easy!
While the interior is enough to totally wow you, it should be noted that the amenities that you are privileged to take advantage far surpass any of the other wonderful reasons why you should own a condo at the Azul Fives.
Let me say a few words here to sweeten the taste just a little bit more: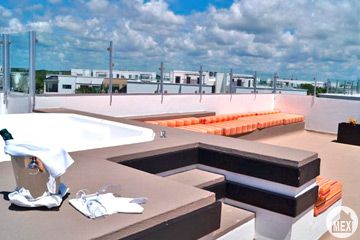 5 gourmet restaurants, 4 swim up bars, Onsite Spa, Kids Club with top notch babysitting service and fun kid sized amenities, private beach club on a beautiful stretch of Playa del Carmen's famous beach, a huge infinity pool overlooking the incredible blue ocean, a sky bar with outstanding views of the ocean and the jungle, lazy river style pool running nearly the entire length of the property, onsite sports activities and games, hammocks.  Would you believe there's more?  Oh but there is, and it's all located on an amazing stretch of professionally landscaped and perfectly maintained grounds.
The Azul Fives exclusive rental pool program
If you don't plan on occupying your property year round then you may want to take advantage of a great opportunity to join the Fives Rental Pool Program.  As part of the program you will have reserved dates for your own personal use and when you aren't there your rental affairs will be handled 100 percent by the very well-known Karisma Resorts.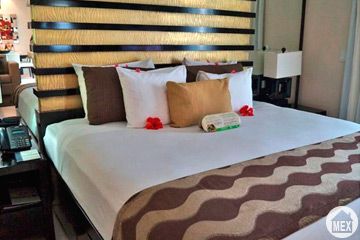 As part of the rental program you can be completely worry free while you are away since Karisma will, not only operate the rental logistics of the property, but keep your condo maintained and up to 5 star resort standards.
Joining the rental pool program is ideal for anyone that wants to earn good income to cover some of the costs associated with maintaining the condo.  And when you arrive, all you have to do is unpack your bags and relax!
The idea that you can live on vacation is something that is well within your reach!  Come and see how!  To schedule a viewing of this exclusive property at the Azul Fives in Playa del Carmen contact your trusted Mexico real estate agent.