For some, the answer to this question will vary, but what would it take for you to spend 3 million dollars on a home in Paradise?
I love beautiful homes! I have a passion for them! But a beautiful home is not just about size or features; it is how they combine together to make something creative and special!  Each aspect comes together to create a personal value.
I would like to show off the beauty that can be created within space by showcasing this amazing beachfront home for sale in Akumal!  Whether you've got 3 million or not this house is like jumping head first into Pinterest with lots and lots of ideas on how you can use color, light, pattern and upholstery to make any ordinary space into something extraordinary!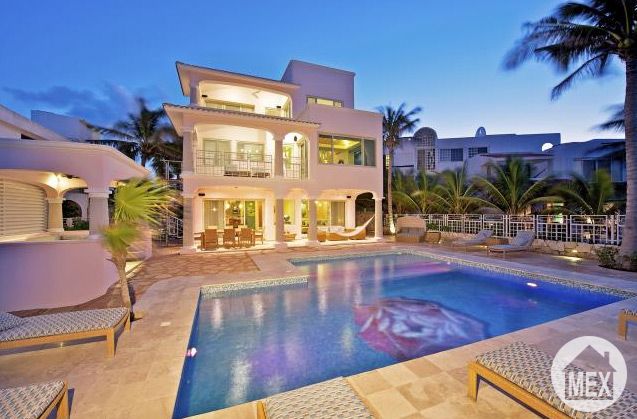 As you enter through the doors of purity you will find luxury is done in a tasteful and quite creative way.  The first floor is made up of an open spaced design living, dining and kitchen; all which are compellingly complimented by light colors of green, blues and yellows, along with a tasteful selection of pattern and light!  Whoever designed this home was a genius in my mind!
Custom and uniqueness shine throughout the 7000 square feet of heaven!  There is not one inch of counter space or one piece of tile that exists in any other home, and certainly not with this level of coordination!
All furniture including sofas, beds, and rooftop lounge furnishings are all built in and upholstered with beautiful colors and designs.  The lighting in the home is extenuated by marvelous contemporary chandeliers and artistic shapes!
I am marveled by every aspect of this glorious beachfront home in Akumal!  Look at the master bath splashed in Brazilian Granite Counters with feel good light colors.  Enjoy ocean views from your free standing bathtub surrounded by beautiful big windows.  I mean, it's just incredible!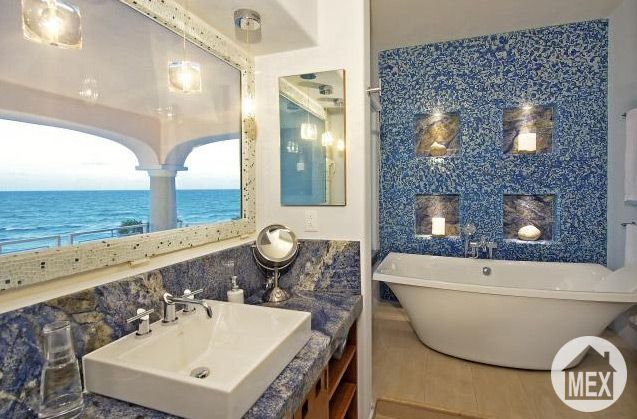 As if there were not enough spaces with incredible views and places to relax in style, head on over to the private roof top where you can shake hands with the sun, lounging on built in furniture with custom cushions.  Everything you need for peace and serenity.  And don't forget the amazing view of the outstanding Half Moon Bay of Akumal!
The most outstanding and glorious aspect of this incredible beachfront home in Akumal is the backyard pool area! During the day it hosts a perfect venue for sea breeze and sheer relaxation.  The pool is quite large and uses the design of a colorful rose right in the middle to make an impressionable statement!  Surrounded by beautiful walkways and patio space you have plenty of lounge room or space to throw an intimate party or glorious event!  With Palm trees whisking in the wind and a breathtaking ocean view who wouldn't want to live in this priceless dream?
So what kind of beautiful would it take you to spend 3 million dollars?
To view more Akumal beachfront homes for sale check out our Akumal listings page and interactive listings map.
TOPMexicoRealEstate.com NETWORK; "Mexico's Leading Network of Specialists for Finding and Purchasing Mexican Properties Safely!"