So you've finally made the decision to buy a home in Mexico!  Congrats!  So what kind of home will you buy?  Condo or single family?  Do you want modern or more traditional?  White walls or bright colors?  So many decisions!
We all know life is always about making decisions.  Even after we have made a big decision there are always those follow up decisions to make in the process. This is normal!
First part is to relax and take your time to decide what you really want.  We want to help you sort through some of those thoughts and help you to understand some of the best options for you.
Today's Decision making question answered:  "Should I buy build or buy new?"
There are always pros and cons to any decision.  And both of these options have their own set of benefits.  Let's explore a little further to help you sort through the facts.
Buying a new finished home or condo in Mexico!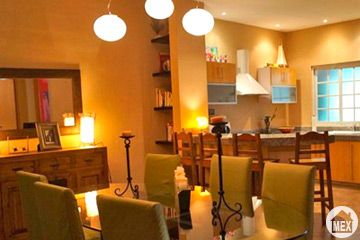 This is usually the most considered option by most people.  Why?  First, because it is most convenient and does not require much investment of time.
Buying a new finished home only requires you to enter the buying process as normal, sign the papers and move in.  In some cases, furniture is even part of the package which makes the process even more seamless.  You don't have any further decisions to make about the construction of the home.
This is a preferred option for someone who wants to start taking advantage of their Mexico property right away, whether it's to use it personally or to start earning rental income from prospective renters.
Mexico Property we LOVE: Playa del Carmen Fully Furnished Condo for sale in Las Olas Condos
Buying private land and building your dream home in Mexico
This is an option that many people explore because there are some great benefits in regards to how your home is built.  The first, you decide what every detail of your home will look like from the inside out and when you buy land you don't have to be in a rush to build.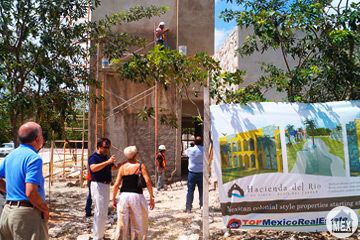 You can take your time and then when you are ready you can seek an architect that can work with you to design your perfect home in Mexico.  And since the land is private you should not have to follow requirements about color or exterior style.  It's your home, you decide!
Mexico Land we LOVE: Choose the area that synchronizes with your lifestyle-Mexico land for sale
Buying a lot through a developer in Mexico
Here's a twist!  In Mexico there are plenty of opportunities to buy a pre-constructed lot.  In this case, the land is already owned from a developer who has already laid out plans to build. This could be condos or single family homes.  For this option, most likely there is an exterior design with multiple interior layouts for the buyer to choose from.
The general idea is to choose your space or lot and then work with the developer to customize the interior of your home and even the exterior in some cases.  Investing in pre-constriction means that you might have to wait a bit for your home to be built, but the process should not take longer than 6 months after you have put your down payment.  This is also a perfect option to pay as you go since payments are separated for each stage of construction.
Mexico Preconstruction property we LOVE: Playa del Carmen Colonial Style Homes for sale at Hacienda del Rio
If you are starting your search for Mexico property be sure to talk to an experienced Mexico real estate agent who can walk you through all the details of all your options. These should be fun decisions since they are on the ones which will finally get you into a Mexico home that you LOVE!
And for more great Mexico Property options check out or website or connect with us on our Mexico Real Estate Facebook Page!