Just in time for Valentine's Day I've got a Playa del Carmen property spotlight that will put a spring in your step and dream in your heart!  El Faro Condominiums are a pretty well-known and also loved staple in Playa del Carmen.  The famous lighthouse (El Faro) on the beach right in the heart of Playa has been a special landmark for years.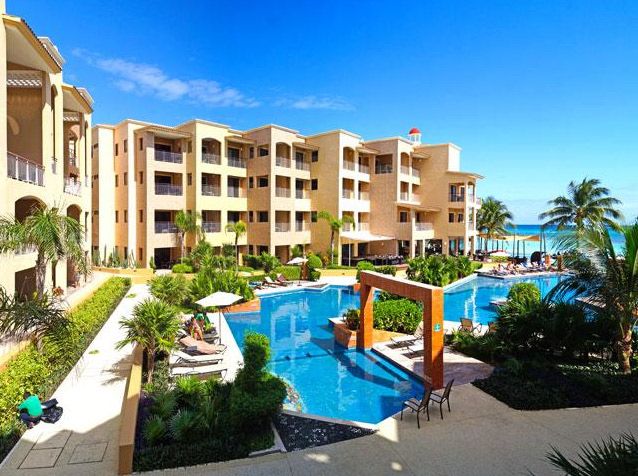 Due to the prime central location of El Faro, the beautiful beach of which it lies upon and the well-known Wicky's restaurant and beach club, El Faro has become one of the most sought after residence and vacation rental picks in the entire Playa del Carmen area.
Love at First Site!
Owners at El Faro enjoy pure luxury from the inside out.  Even before you walk through the doors your heart is captured by the magic and beauty of its ocean front location surrounded by turquoise waters, white sand beach and a huge infinity pool that seems to blend right in with the crystal colors of the sea.
Exceptional Interior Space and Home Features at El Faro!
The interior of this El Faro condominium in Playa del Carmen is all luxury and all quality making you feel comfortable and at home with everything you need right at your fingertips.
As you walk through the front door of your condo you are invited by sunlight entering through large windows and sliding glass doors from which you have a wide and unobstructed pool and ocean view.
It's truly a scene that can take your breath away and make you feel that you have truly arrived to live in sheer paradise.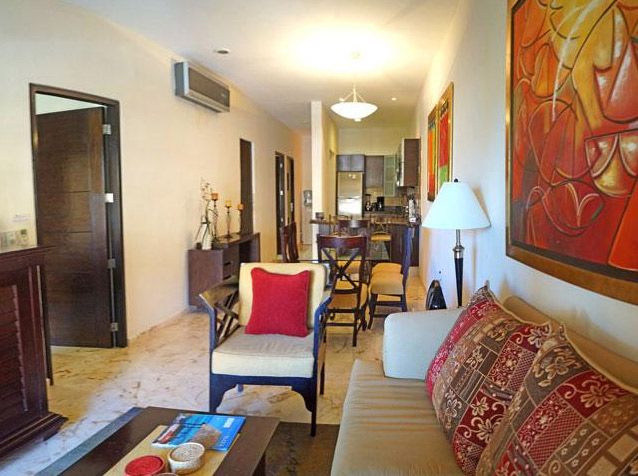 Each and every detail of this 2 bedroom/2 bathroom condo in El Faro is modern, cotemporary and luxurious with marble floors and tiles, granite counters, neutral colors, and contemporary furnishings and décor.
The condo comes with a fully equipped kitchen with every necessity including stainless steel appliances and dishwasher. The kitchen also has a double sink, custom cabinetry and beautiful counter tops with plenty of space.
The living, dining and kitchen area has an open spaced concept perfect for entertaining guests!  Every room in the condo has ocean view!  You couldn't escape the view if you tried!  But who would want to?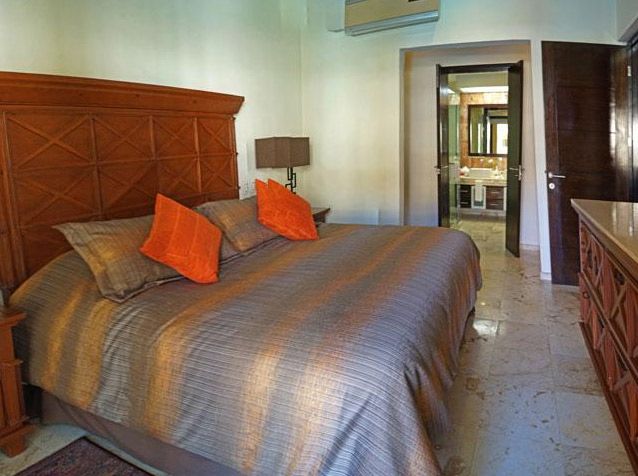 The master bedroom is made for kings and queens with its huge king sized bed, plenty of closet space, AC, and an on suit bathroom with a jetted Jacuzzi tub and separate shower.
There is also a guest bedroom with two beds to accommodate guests or to make for more attraction to prospective renters.
Enjoy beautiful morning sunrises and the evening ocean breeze from your large terrace!  There's no better place you'd rather be while reading a book or having quiet afternoon cocktail overlooking paradise.
Relax and Don't Worry About a Thing!
Aside from the beauty of the condo itself what makes the property even more lovely is that you can enjoy your own home as if you were living in a resort, with daily maid service and replacement of towels and linens.
Because El Faro operates like a resort you get to enjoy every single convenience that is offered to vacationing guests on the property.
Owners get special discounts and preferred seating at Wicky's beach club where you can spend the day basking in the sun at the beach or in the beautiful pool exclusive to residents and guests at El Faro Condominiums!  There is daily waiter service courtesy of Wicky's restaurant serving up drinks, appetizers and entrees throughout the day.
Need to hit the relax button a little harder?  How about on-site massage service by professional massage therapists offering outdoor service right by the pool and overlooking the ocean? Sounds great to me!
A Strong Playa del Carmen Real Estate Investment!
If you are looking for a solid Playa del Carmen property investment it doesn't get any better than this!  El Faro has been rated high in excellence on trip advisor and other popular rating sites.  It is a preferred rental property in Playa del Carmen and is consistently sold out during high season months.
You can be sure that you will have an incredible payback on your investment at El Faro.  And while you are there all you have to worry about is which swim suit to wear that day; El Faro takes care of the rest.
Playa del Carmen is more than beautiful beaches, Playa del Carmen is a unique lifestyle, everyone's lifestyle!  Love and Dream Playa del Carmen!
Check out a full list of Playa del Carmen properties for sale on our brand new map feature on our website!