Mountains may be tough to climb but once you arrive to the top you can experience the most incredible breathtaking views of your life!  Now imagine experiencing those views every day of your life without having to climb a thing!
This home for sale in Puerto Vallarta real estate is something beyond extraordinary, with its exceptional panoramic ocean and city views from the top!
Dream terrace perfect for entertaining!
How is this for the terrace of a lifetime?  Not only can you sit and relax watching the beauty of the ocean and the entire city, but you are literally sitting in an entertainer's gold mine.  Take advantage of a unique open spaced window between the terrace and kitchen so that you can easily socialize with your outdoor guests, even when you are busy making those perfect preparations.
The terrace has plenty of space that combines both open air and shade from the large palapa!  Rain or shine this terrace is your retreat!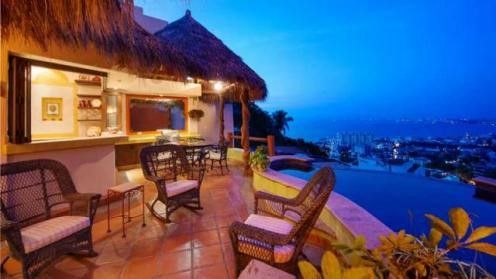 Waking up to brilliance in your master bedroom!
Let's talk about "waking up" shall we!  The way we wake up in the morning can set the mood for your entire day ahead.  If you wake up grumpy, chances are you will stay that way.  If you wake up happy, that good vibe carries through the day.  Now, how about waking up with brilliance?  What does that even mean?  It means that every morning that you wake up you get a clear picture of the beautiful life you have right in front of your eyes, making it seemingly impossible for your mind to escape anywhere but a brilliant place!
This incredible master bedroom, which runs along the entire third floor, has the most outlandishly outstanding views!  I mean Holy….Sweet view!!!  One of the best views you will find among many other Puerto Vallarta properties.
Not a bad view for a Chef
If you to cook this kitchen will blow your mind and give you true inspiration from the bright city lights of the night!  It is just incredible that from nearly every room in the house you can capture this level of excitement.
What I love about this kitchen is that it is a cozy kitchen.  And if you have read some of my other dream blogs you will know how I feel about cozy.  It is not overdone, it has everything you need and plenty of space, but insuring that charm and a comfortable home feel is a part of your whole experience.
Serve your dishes and your drinks through the special window leading out to the terrace and see the excitement and fun on the faces of your family or your guests.  If you are having a party and don't feel like doing the cooking, how about inviting over a special chef to come entertain the cooking while you entertain your guests!  I'm sure he or she wouldn't mind the view!
Life with a view is a happy life!
This magnificent home, shining from the city lights, creates the setting for a beautiful life in paradise.  This 5000 square foot Puerto Vallarta home is made up of 3 floors, has 3 bedrooms and plenty of comfortable living space.  It features a classic colonial design inside with unique Mexican architectures and finishings, showcasing quality hard wood and custom features.
It is no doubt that life is greener on the top of the mountain!
Click on the link to view the full gallery of this beautiful home for sale in Puerto Vallarta.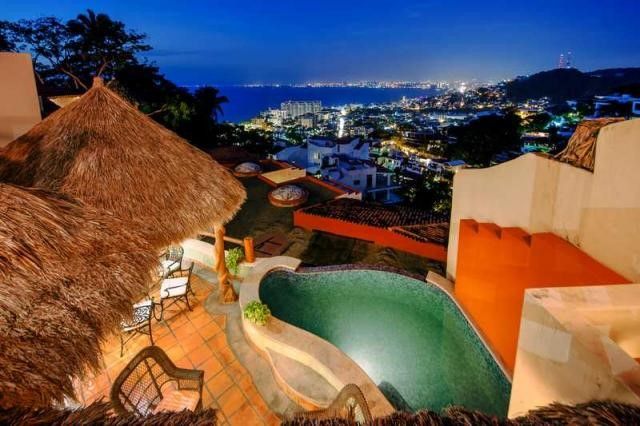 -By Michael Green
TOPMexicoRealEstate.com NETWORK; "Mexico's Leading Network of Specialists for Finding and Purchasing Mexican Properties Safely!"