For the third year in a row, the Riviera Maya Film Festival is bringing more glitz and glamour to Cancun and Riviera Maya area, with big Hollywood names like Ethan Hawke (2012), Patricia Arquette and Christian Slater (2013) or Maggie Gyllenhaal and Peter Sarsgaard (2014). Among the attendees, there´s no room for doubt that this is the place to be for stars and celebrities.
So, in order to attract these stars, the area needs some 24k Gold venues for them, beachfront views with the most exclusive services and amenities that can be found. But for people like you and me, there are amazing properties that – if you have room to stretch a little on your budget- will give you the lifestyle of a big Hollywood star without being a zillionaire, and will still make you feel like you are the celebrity.
First stop, Cancun!
Cancun has been known for the past 20 years as the place to go for Americans, Canadians and European travelers. It also has always been known for its clear blue waters and white sand beaches, glamorous lifestyle and high end shops and services which combine to make it a hip and trendy place to be.
It's no wonder why you are able find properties like this modern and luxurious 4 bedroom Cancun beachfront condo in the well-known upscale Hotel Zone, just minutes away from all the gourmet restaurants, fancy shops and nightclubs.
What about in Puerto Morelos?
This beach town is a very special and unique place in the Riviera Maya! Here you get the feel of the quaintness of an old fishing village along with relaxed beach clubs, restaurants, small hotels and walk-everywhere lifestyle. It is also a place where you can easily find gorgeous homes and very cozy -not to mention affordable- Riviera Maya beachfront property with sparkling amenities like a beautiful infinity pool. It is also very likely that you could receive a very nice rental income if you do not plan to personally use the property year round.
Playa del Carmen, the heart of the Riviera Maya!
The amazing and beautiful "Riviera Maya" is a strip that goes all the way south of Cancun and ends in Tulum, making Playa del Carmen, which is halfway between these two locations, the heart and center of the entire area.
It is also the "home" of the Riviera Maya Film Festival, hosting up to 3 different venues to go and enjoy the best films from around the world – only steps away from wherever you may live in Playa.
Our favorite venue in Playa for the Film Festival would always be the beach downtown; with the movie screen being only a short 15 minute walk on the beach makes this gorgeous Playa del Carmen beachfront home for sale in Coco Beach so convenient. Relax on a lounge chair or bring a blanket to have your own evening picnic on the beach while you enjoy a great movie.
Last but not least, Tulum!
Tulum's bohemian and artsy vibe could never be left out of this Riviera Maya movie fest! In this paradisiac spot, you can also watch movies, where else but at the beach! As most people know, the majority of properties here are far from the shore, mostly because is a protected area where little can be built, but that doesn´t mean that you can´t wake up every morning to a spectacular sunrise.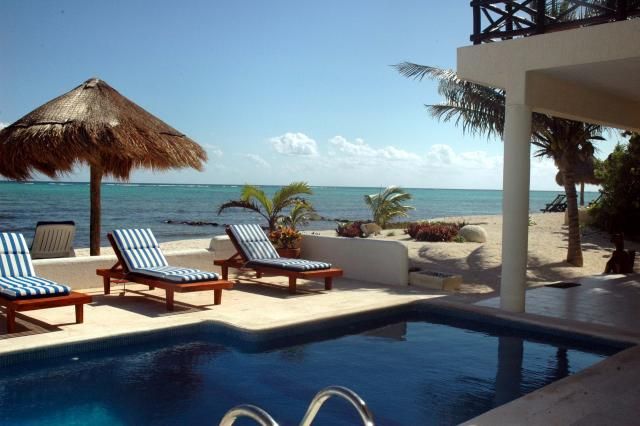 A little north of Tulum you will find Tankah, which is a more private and secluded area, with beautiful properties nestled in the flora and fauna! Check out this amazing beachfront home in Tulum, only 5 minutes' drive from Tulum center, the perfect place to have peace, quiet and relaxation… the perfect movie star situation anyone? Yes, that´s what I thought!
So, now you know that you can get the  same spark, same luxury, the incredible luscious lifestyle a privacy settings that most movie stars look for in a home, all without spending a million dollars on a Riviera Maya beachfront property.
Just take a look at your options, study how much are you willing to pay and the community you want to live in! Also make sure you have the best Mexico real estate team to back you up and find the best deals for you.
For more information about Riviera Maya properties be sure to talk to your trusted Mexico Real Estate agent!