A few nights ago I was at home trying to relax when my wife started to watch one of her favorite chick flicks of all time which is – surprise! -the Sex & The City movie. I know that she has watched it tons of times but I´m not really sure why I paid more attention to the dialogs than usual and there is a scene where the main character played by Sarah Jessica Parker says to her love interest "Don´t give me a diamond, just give me a big closet" and this simple and yet powerful phrase got stucked in my mind.
As a real estate agent in Playa del Carmen, I have attended tons of clients over the years, mostly snowbirds and retirees who usually are downsizing from what they owned back home into a simpler home or condo and closet and storage space always come up as an important item on their wish list.
With that in mind, I got to say that in recent years, most of the developers TOP Mexico and myself have had the pleasure to work with, are paying a lot of attention to what American and Canadian buyers want and that translates into really nice walk.in closets and even dressing rooms in properties that are mind-blowing for both finishes and spaces as well as price point.
TOP Walk-In Closets in Playa del Carmen.
Let me share with you the properties that in my own humble opinion have the best closet and storage space in the Playa del Carmen real estate area, considering space/square meters, finishes and price point:
Hacienda del Río:

These Custom Homes for sale in Playa del Carmen are great, not only because of their unique approach to traditional Mexican hacienda style and details, but also the way these homes are being designed, with huge master bathrooms that include onyx sinks, gorgeous tiles, fantastic layout with great air flow and a huge walk-in closet. The guest room and other areas of these homes also have very nice closets for linen and plenty of storage space.
AWA:

This has been another great success Playa del Carmen condos project from the developer; the master bedroom has one of the nicest Walk-In closets and dressing areas I have seen. Dark wood, very modern door and cabinet handlers, gorgeous granite countertops and Italian tiles, one could easily put a sofa and a flat screen tv in this area and watch your favorite show or watch the news while you (or the wife) while getting ready for the day.

Nick Price Residences:

right in the middle of the amazing Grand Coral Golf&Beach community, the two bedroom units of these condos for sale in Playa del Carmen are identical twin suites, so both of them are master bedrooms with really nice and up to date walk-in closets. I´ve stayed in these condos during the Christmas holidays with friends from Canada and one of the features of the condo that my wife enjoyed the most was the walk-in closet, so trust me on this!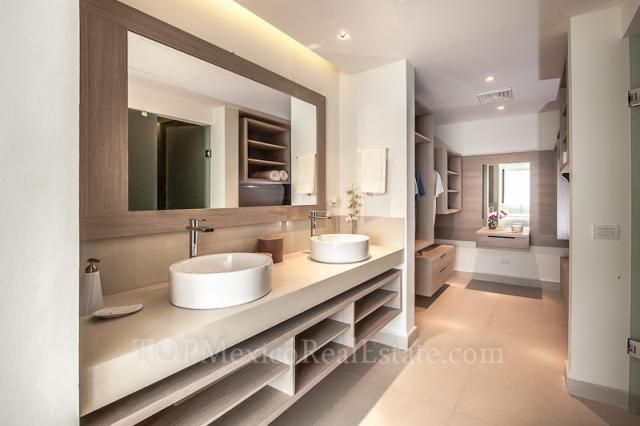 Well, I´ve probably run short of ideas, but based on affordable yet luxurious and spacious properties in Playa del Carmen that would offer you enough a great amount of storage space and a dream closet for your significant other, I think these three properties take the cake.
Remember, whatever you want for your home in paradise can be done and if not, it can be at least negotiable by your trusted agent, I am very proud and happy to say that here at TOP Mexico "We make it happen!" for you.
TOPMexicoRealEstate.com NETWORK; "Mexico's Leading Network of Specialists for Finding and Purchasing Mexican Properties Safely!"